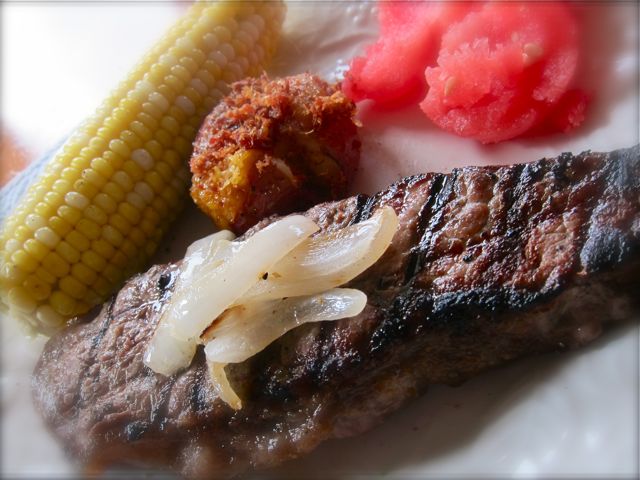 On Facebook today  I asked " What is your husband's favorite dinner?"..looking over your answers, you girls really know how to please your men!  I saw everything from Shepherd's Pie, to meatloaf, to homemade tortillas! Just talking about this buffet of deliciousness is making me hungry!
I know it may seem like a very small thing, but taking the extra time  to make your husband's favorite meal can be such a gift to him. If your husband is like mine, he works all day long  and has many stresses…He tells me that the best part of his day is coming home to seeing me and the children. On most days, he is so busy he doesn't even taken a lunch break! Certainly, coming home to his favorite meal would be a blessing.
My days are long and stressful too, but it isn't about me. It's about God. I am not a robot..I'm not without fault….and I'm not expected by my husband to make dinner every night (he's not hard to please). I do this because I want to…By blessing my husband, I bless my family and myself. We have a happy and loving home that glorifies God and there is nothing anyone can ever say to me that would make me change the way I feel or do things. Does making a nice dinner make everything perfect? Nope. But it sure doesn't hurt anything! Call me old fashioned, but I feel closest to the Lord when I am serving…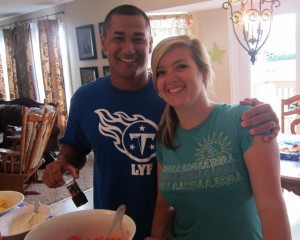 Our buddies Miguel and Michelle
I wanted to share with you a fun evening we had the other night. Geoff's best friend Miguel and his wife michelle came over for Geoff's favorite dinner- Steak n Potatoes!  When I married Geoff, in addition to his family, I also hit the jackpot with Miguel and Michelle. What a blessing their friendship has been to both us. They are very much like family. The four of us have multiplied to 10 throughout the  past 11 years. Not only have we grown as families, we have also grown in the Lord together…again, what an awesome blessing! We laughed until we snorted (well, Michelle and I-and it makes us laugh even more), ate until we couldn't move, and watched 6 young and very active children play until they ran out of energy (which is quite the feat! ha!).
So about the eating until we couldn't move part….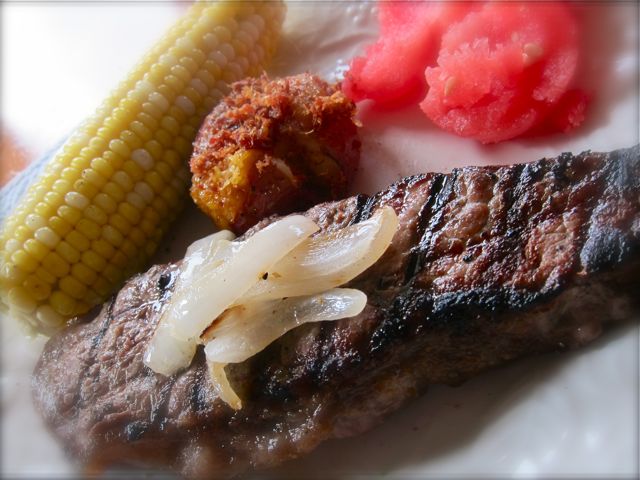 Our meal: NY Strip with onions, Corn on the Cob, Smashed Potatoes, and Watermelon.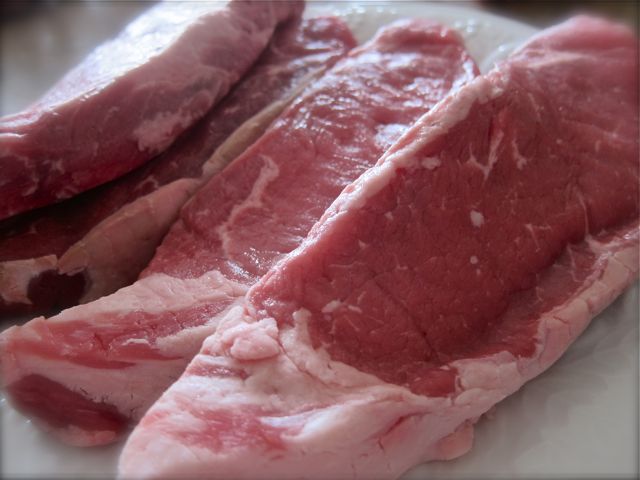 I purchased the NY Strips from a local butcher. Can't you see the difference? These steaks have slight marbling, but mainly the fat is on the outside-which cooks and adds flavor and and makes the steaks nice n juicy! Take your steaks out of the refrigerator for about 20 mins before grilling.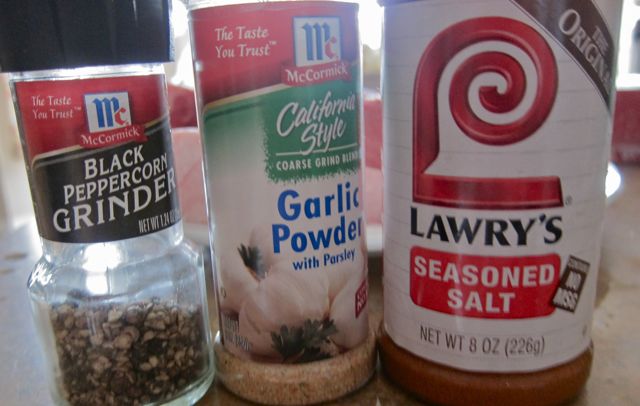 I keep it simple with steak- fresh ground pepper, garlic powder, and seasoned salt.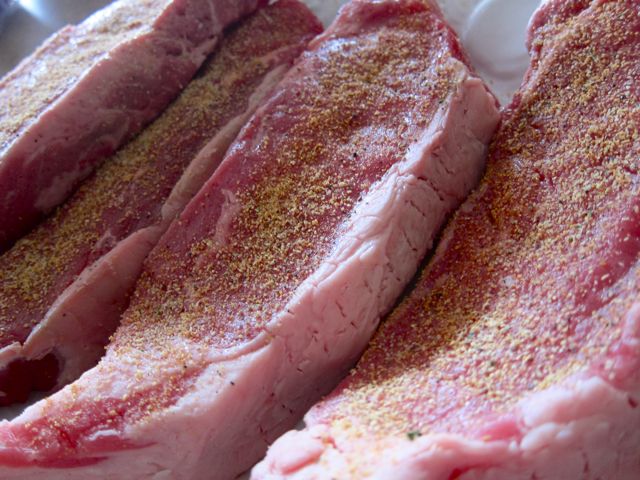 Sprinkle it on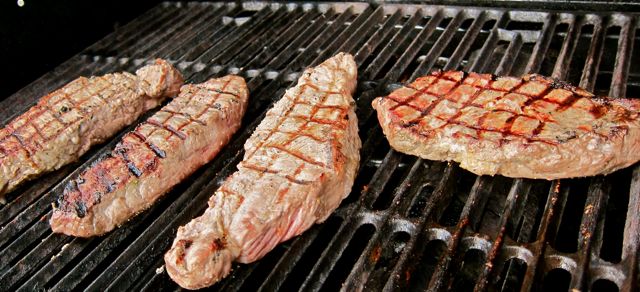 Heat grill to med-high heat.  Place the steak on the grill, wait 2 mins and turn the steaks slightly to give that nice criss cross pattern. Cook for another 5 mins. Then, turn over and repeat. 7 mins a side will get you medium for a thick steak. Take off grill with tongs and let sit for a couple mins to let the juices soak through.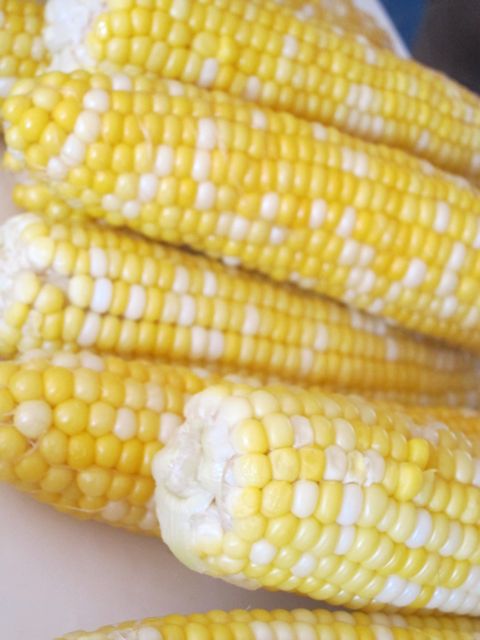 Corn on the cob- I purchased this sweet corn at a local farm. YUM! Look for a multi-colored corn (white and yellow) All you do is husk it, place it in a pot of cool water, turn on the heat- when it boils the corn is done! Butter and salt!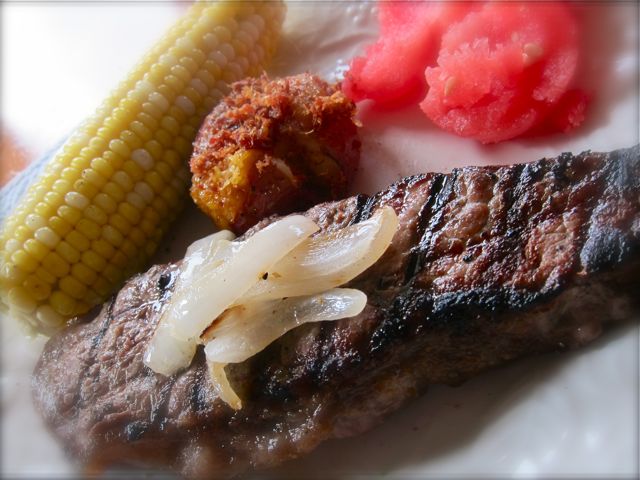 I also sliced and sauteed onions in a pan with butter, salt and pepper. The only thing that would make this dinner better for my hubby is adding sauteed mushrooms- I love him, but I have yet to make these because I just.don't.like.mushrooms.
Ingredients
4 NY Strips (butcher preferred)
Seasoned Salt
Pepper
Garlic Powder
1 Onion sliced (optional)
Mushrooms (very optional)
2 Tbsp butter for sauteing
Instructions
Take steaks out of refrigerator for 20 mins
Grease and heat grill to med-high heat
Place steaks on grill for 2 mins and turn sideways, cook for 5 mins longer
Flip over and repeat
Take off of grill with tongs and let sit for 5 mins
While steak is sitting, heat a pan with butter and add onions/mushrooms. Salt/pepper. Takes 5 min
Notes
Steak is a ton easier to make than people think...especially when you have a good cut from a good butcher. Try it!
My challenge to you today is to make your husband's favorite meal…let me know how it goes!
Many prayers going out to you and your families.
I am participating and guest posting for my friend Darlene at A Time Warp Wife in her 31 Days of LOVE Challenge
Check it out!