Thursday, October 31st is a BIG day for Comfy in the Kitchen!
(it's 2 out of 3 of my kiddo's birthdays and…….)
Part 6 out of 7 of the Women Living Well Conference !!!!!!!!!
Please join me then (Thursday, Oct 31st) at 10 pm EST / 9 pm CST at WomenLivingWell.tv (this webcast is only available for 24 hours, so you won't want to miss it!). I'll be sharing about God, a little about my life, my ministry, and how YOU can minister to others.
I'm praying that you will identify with what I share and that God has used me to motivate you in love.
To kick off this big night, Art Bookbindery is sponsoring Comfy in the Kitchen's "My Favorite Things" Giveaway!!!!
In a nutshell, Art Bookbindery is a self-publishing company that guides you through the entire process of preparing and printing your book. They do self-published novels, children's books, poetry, family histories, etc.
*By the way, my dear friend Darlene from Time-Warp Wife is married to this very generous sponsor!
1. Kitchen aid 7-speed Hand Held Mixer
This stylish Architect Series hand mixer features a 7-speed electronic digital control that includes three slow stir speeds and one high whip speed. A $79 value!
2. Non-Stick Anodized 6 -Qt Wok with Glass Lid
This great non-stick anodized wok will become an essential part of your cookware collection! It also looks great on the stove top. Heavyweight, quick- and even-heating anodized aluminum cookware is mirror-finished outside. Super-durable, triple-layer Xylan Eterna non-stick finish inside for flawless food and a vented tempered glass lid and riveted stay-cool handle. A $39 value.
3. Conair Jumbo Ion Shine Instant Heat Soft Hair Setter
Beautiful, soft, and bouncy curls will never again be a distant dream. The Conair Jumbo Ion Shine Instant Heat Soft Hair Setter gives you lovely, elegant curls with much ease. It includes four 1 ¾" super jumbo rollers and eight 1½" jumbo rollers, each of which heat up in 2 minutes to give your hair that instant make-over. The Conair ion shine hot rollers stay cool end rings make sure you get your desired curls the easy and safe way. The ready dot indicator tells you when this instant heat jumbo roller is ready to go, whereas the 6-foot cord adds to the convenience. So forget bad-hair days as long as you have the Conair ion shine hot roller at your disposal. A $16 value.
*What do rollers have anything to do with Comfy in the Kitchen? Bahaaa!!! Well, for some reason I get asked about how I do my hair almost as much as I get asked how to cook. Here is my hair tutorial.
The goal of the webcast is to encourage you in your walk with the Lord. This week's topic is ministry.
HOW TO WIN:
AFTER the webcast – Come back here to Comfy in the Kitchen and comment below what you might have gained by watching the webcast. Please be sure to tell me which item you'd enjoy most!
For a bonus entry to win – share the link to the webcast on Facebook, email, a blog post, Twitter, or Pinterest and say "I shared" in your comments!!!
Please note. You will be asked a question when you go to claim your prize. To ensure that you have actually watched the webcast, I'll ask you: While I was on stage, which one of my relatives was in the audience who ended up getting aplause?
* Open to residents of Canada and the US only (due to shipping).
*I'll choose one winner and announce it here on Saturday.
There's MORE! Join me on MY FACEBOOK PAGE for a party AT 9 PM EST (AN HOUR BEFORE THE WEBCAST) for more giveaways!
1. 3 copies of "Women Living Well", By: Courtney Joseph
2. 2 copies of "A Life That Says Welcome" By: Karen Ehman
3. 10 FREE copies of "The Ultimate Marriage Vow" by: Darlene Schacht
4. A Comfy in the Kitchen "Keep Calm and Get Comfy in the Kitchen" T-shirt!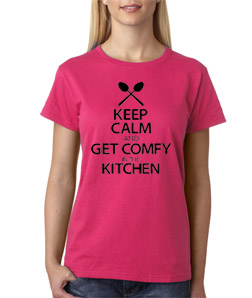 5. A beautiful engraved heart necklace from New Lily
6. Stunning pewter "Tree of Life" earrings from New Lily.
These gifts are Ahhhmazing! But, do you want to know what gift is always free and is the most amazing?
The Gospel of Jesus Christ.
There are times when we get wrapped up in talking about Jesus, that we don't actually talk about the "Good News" ….the BEST news. Jesus came and lived a perfect life, he died on the cross for our sins and rose from the grave. He did this to reconcile us with God. He also left a "helper" , the Holy Spirit that will work within those who believe in Him. In order to be "saved" we must acknowledge we have sinned and realize we are in need of a Savior…this is called "repentance". John 3:36 says, "Whoever believes in the Son has eternal life, but whoever rejects the Son will not see life, for God's wrath remains on them." How could I not share this?