My family loves classic French toast. 
When the delicious aroma of vanilla fills the air, my kiddos bolt into the kitchen to pull up their chairs close to the griddle. Their little mouths water as they anxiously watch me flip this batter- soaked bread. We have a system. They've gotta have "real" butter, the syrup must be warmed, and I've spoiled them with a sprinkle of powdered sugar. 
Because we love this breakfast so much….we are also just a little picky about the bread we use. We can't just use regular bread out of a bag- oh no, it has to be thick. Our favorite bread to use is Rhodes. I typically let the frozen dough rise and bake the night before, then I slice it in the morning for French toast. 
I hope your family enjoys this as much as mine does!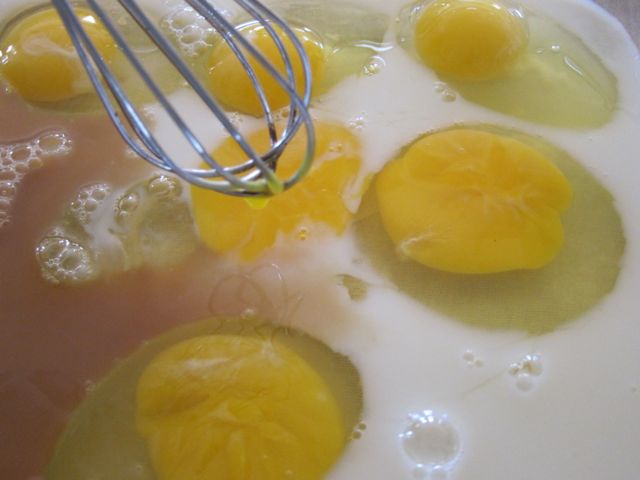 In a casserole dish, combine eggs, milk, and vanilla.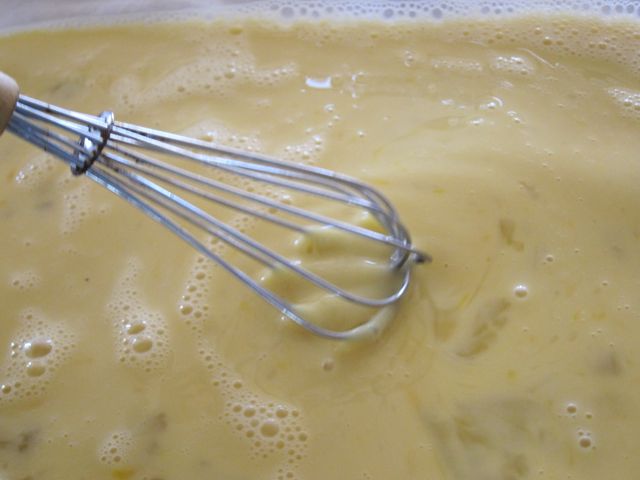 Whisk this mixture together well.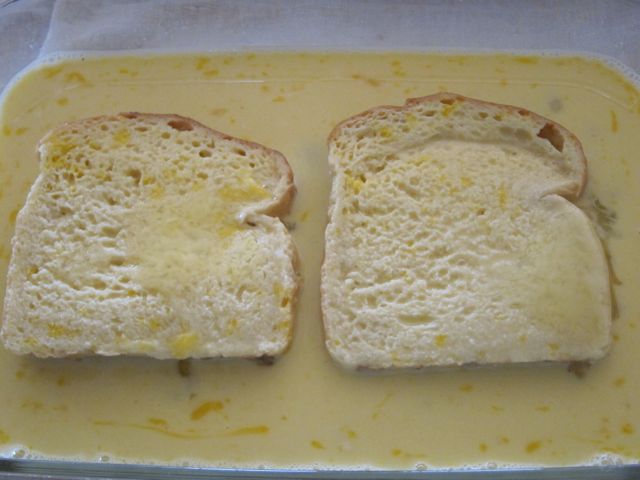 Dip both sides quickly.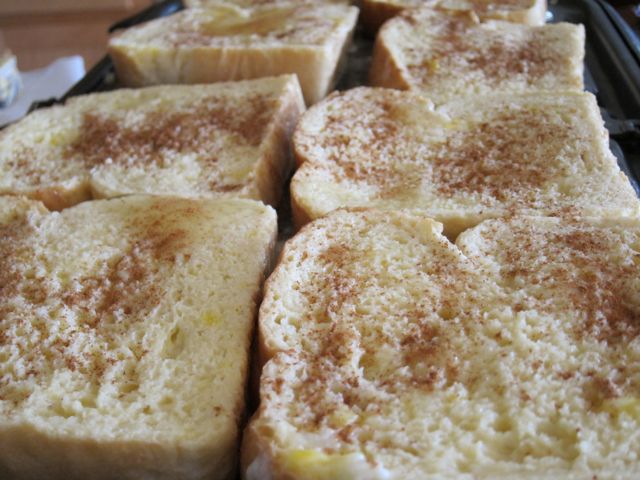 Place soaked bread on a buttered griddle on medium-high heat. Sprinkle with cinnamon.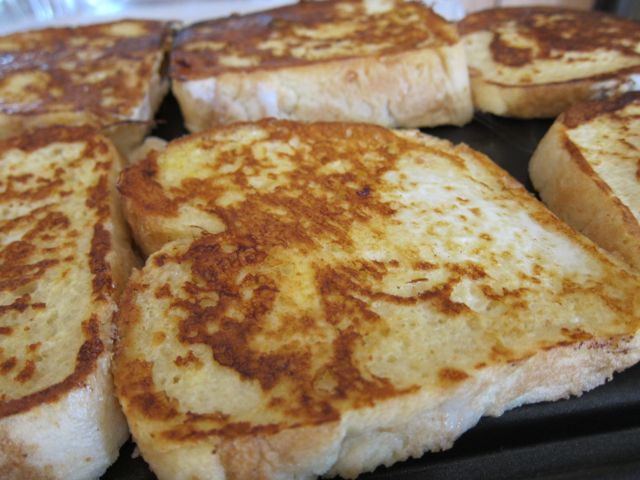 Let toast for approximately 3 minutes per side until nice and golden browned.  
Serve with butter, warmed syrup and a sprinkle of powdered sugar!

Rhodes French Toast
Ingredients
1 frozen loaf of Rhodes white bread
8 eggs
¼ cup milk
1 tsp vanilla
Cinnamon
Syrup
Butter
Powdered sugar
Cooking Spray
Instructions
The day before:
Spray at loaf pan with cooking spray and place a frozen loaf of bread inside.
Spray the top of the bread with cooking spray and cover with plastic wrap.
Let rise for 3-4 hours.
Pre-heat oven to 350 and bake for 20 mins. Cover until morning.
In the morning:
Slice bread into 8 slices
In a casserole dish add eggs, milk, and vanilla, whisk well.
Coat both sides of bread slices in mixture and place onto a buttered griddle on medium heat.
Toast approximately 3 min per side.
Serve hot with warm syrup, butter and powdered sugar
This is a "Comfy" recipe, meaning a basic/staple recipe that you will use over and over again. However, do you know that you can make hundreds of different recipes using Rhode's bread? Check out this book Rhodes sent me!  They are the kindest company I've ever worked with…Thank you so much Rhodes!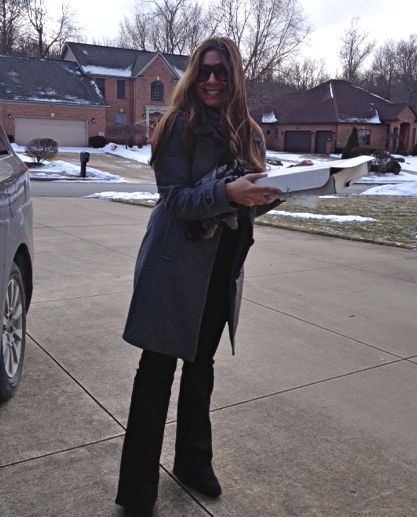 Who doesn't love getting surprise packages?!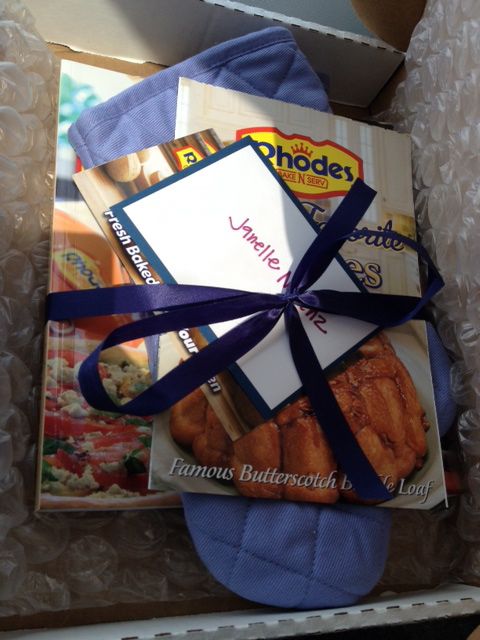 My heart melted when I opened this. A personalized card (who does that anymore?), a blue oven mitt (my favorite color), and an ahhhhmazing cookbook.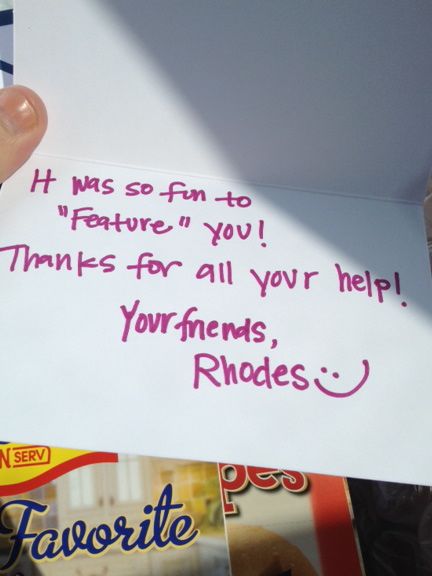 My pleasure!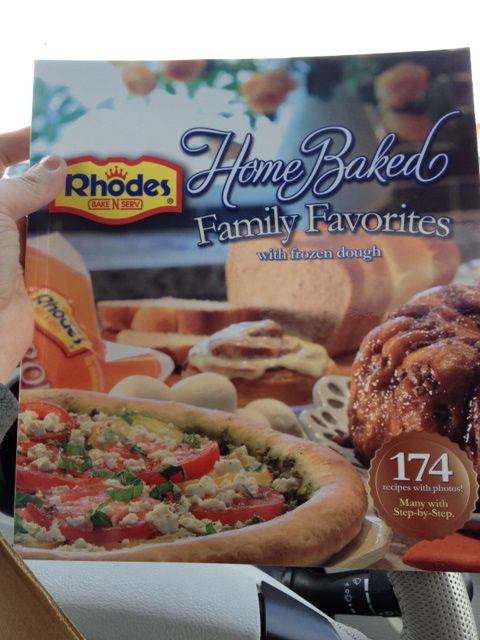 This book is out of this world! I stand amazed!  Some of my favorite recipes are:
Elephant Ears
Waffle Sandwiches 
Buffalo Chicken Pizza 
I have great news, Ladies! Rhodes has offered to do a GIVEAWAY for us! I would love for my readers to have a chance to win the same package that was sent to me. Thank you, Rhodes for being so kind.  All you have to do is:
 Comment below!

For additional tickets into the drawing let us know that you shared this post on FB, Twitter, and/or Pinterest! You can earn up to 3 tickets!