Feasting in Fellowship Friday is here!
I want to see how comfy YOU are in your kitchen! Please share your favorite recipes with me and with other viewers every Friday HERE at Comfy in the Kitchen!


Keep cooking for the King!
~Janelle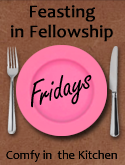 * Please place on your blog post (with your featured recipe) that you are participating in Feasting in Fellowship Fridays with a link back to Comfy in the Kitchen! Thank you for sharing and God Bless you! Keep those recipes coming!