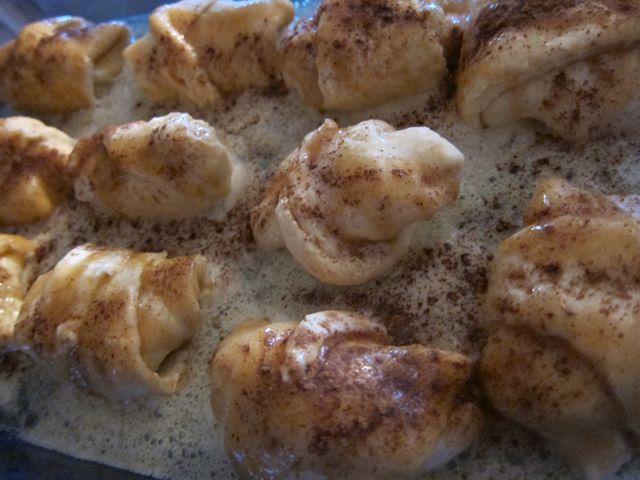 One of my favorite recipes of all times. You would never believe the secret ingredient …once you try this recipe, it will be your "go to" for quick and easy desserts. I love, love, love these. Serve them warm and a la mode. Trust me, you'll be asked for the recipe over and over. Enjoy…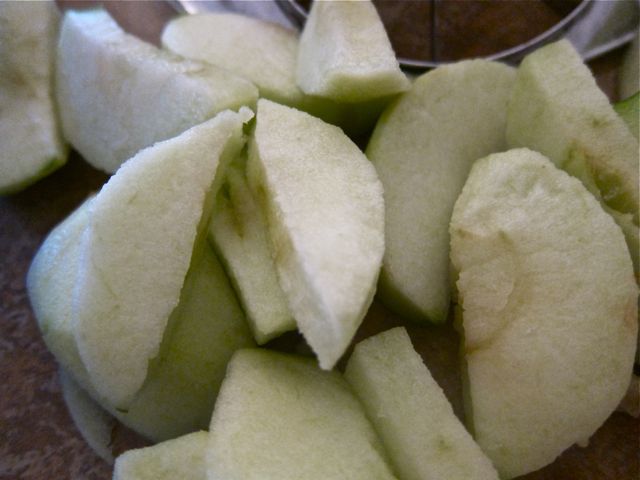 Peel, core and slice 3 Granny Smith apples (that is all you will need, honest).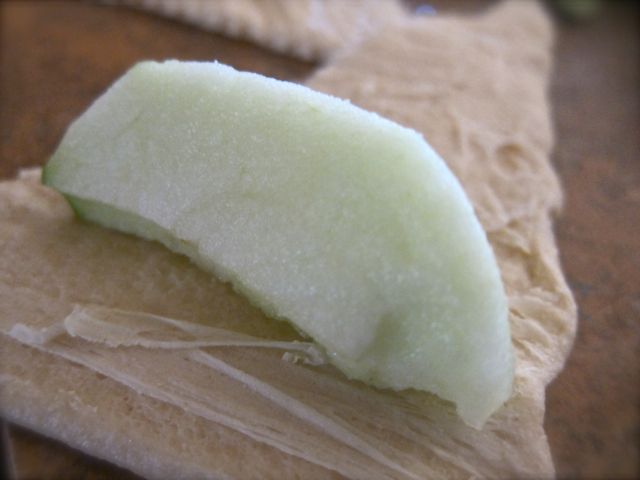 Place one slice of apple onto one triangle of crescent roll. Start at the wide bottom side and roll up a bit, tuck in sides , then continue rolling.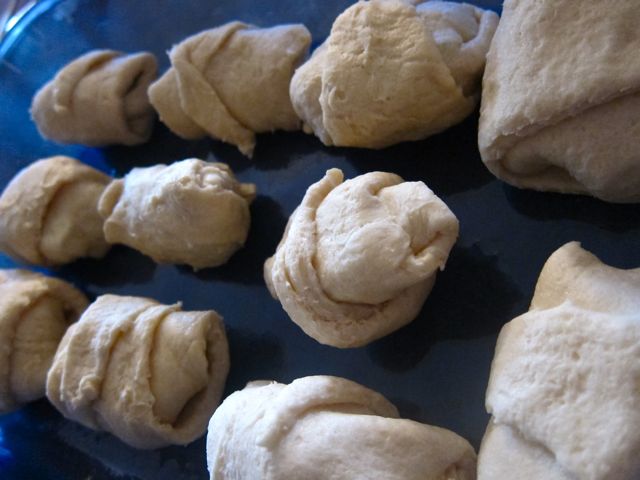 Place in a buttered 9×13 pan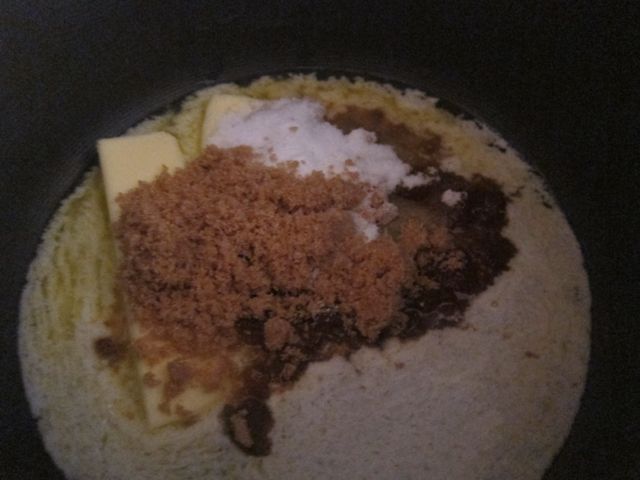 In a medium sauce pan add 1 cup butter, 1/2 cup white sugar, 1 cup brown sugar, and 1 tsp vanilla. Heat on medium high heat until boiling.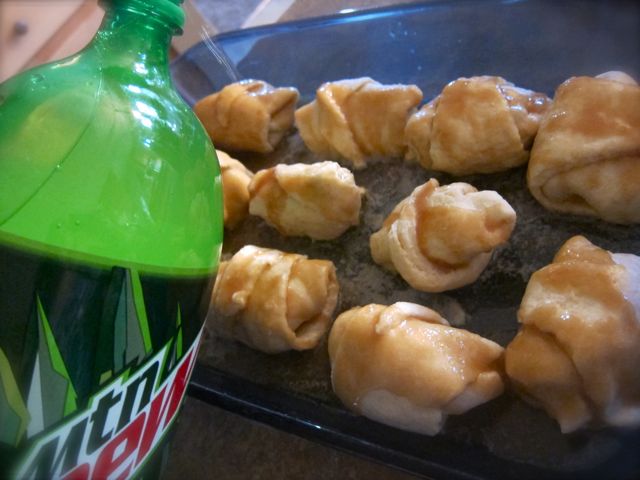 Pour sauce over apple dumpling then add Mountain Dew to the sides.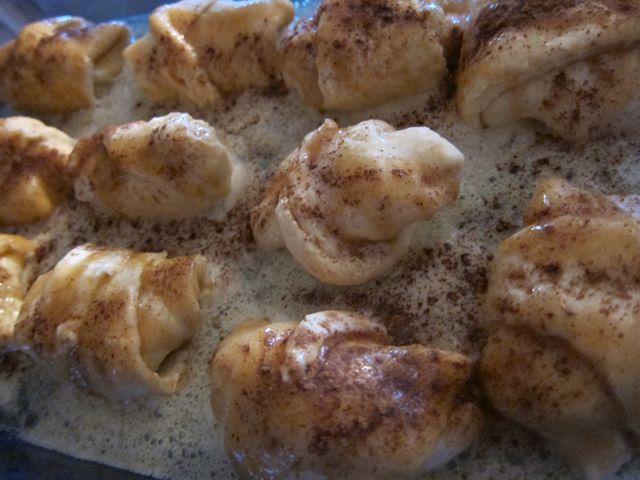 Sprinkle cinnamon on top. Bake uncovered in a 350 oven for appx 35 mins.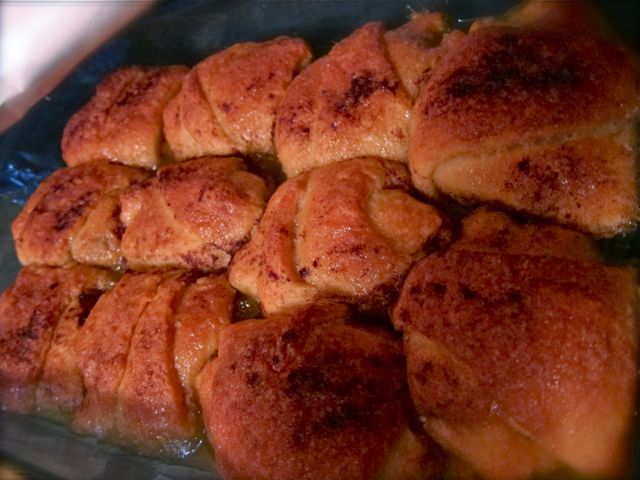 Here they are fresh and piping hot out of the oven. Serve with vanilla ice cream. This recipe makes a GREAT conversation piece…ask everyone to guess the *secret ingredient…they never will, hehe.

Ingredients
3 large Granny Smith Apples, peeled, cored, and sliced
2 (10 oz) cans pillsbury refrigerated crescent rolls (I used Grands)
1 cup butter
1 cup brown sugar
½ cup white sugar
1 tsp vanilla
1 tsp cinnamon (for spinkling)
1 (12 oz ) can of Mountain Dew
Instructions
Preheat oven to 350
Butter a 9x13 dish and set aside
Peel, core and slice apples
Unroll crescent rolls
Take one crescent roll and place one piece of apple at the bottom of the triangle- roll up enclosing the sides. Make sure the apple is completely sealed and enclosed.
Continue doing this - if your apple slices are small, put a couple in.
Place your dumplings into your 9x13
Make your sauce by combining butter, sugars, and vanilla in a saucepan on medium high heat- bring to a slight boil.
Pour sauce over dumplings.
Add Mountain Dew to the sides.
Sprinkle with cinnamon
Bake uncovered for 35 mins.
Serve with vanilla ice cream!