Girls, I have to tell you… I am going to need some PRAYERS today. I am ANOTHER year older AND my little girl is starting Kindergarten!!! How is this fair? There should be no tears allowed on birthdays, but I have a feeling they will be flying.
HAPPY BIRTHDAY also to my birthday TWIN Courtney at Women Living Well!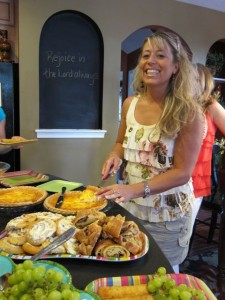 Dear Courtney,
Your friendship has been such a blessing to me. Thank you for all of your sound advice, for hostessing bible study, and for being a wonderful friend and Sister-In-Christ! I believe our friendship was God-made and am so thankful for you! Have a BLESSED birthday my friend!
Aug 26 rocks.
Friday's Top 3
Made by: This.That.And the Other…
Made By: Catz in the Kitchen
Made By: Chocolate isn't a vegetable?
It's Feasting in Fellowship FRIDAY! Please link up as many recipes as you wish and place my button on your post.(on sidebar)
Can't wait to see what YOU have cooking!