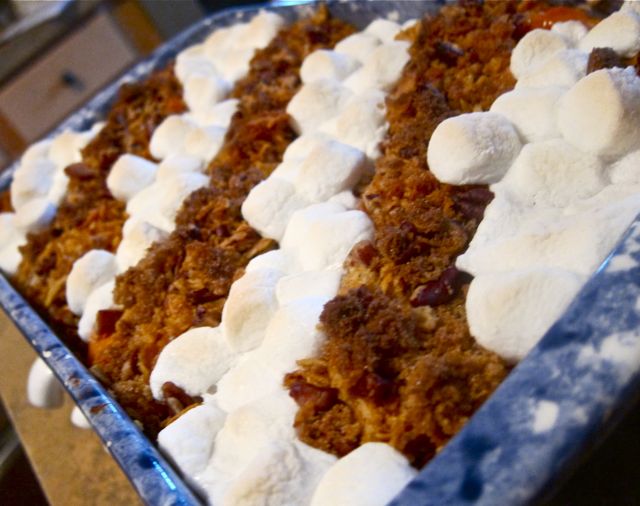 This is the most delicious sweet potato dish I have ever tasted…period. This recipe comes from Southern Living. Not only is it absolutely scrumptious, it is beautiful! The perfect side dish to add to a special Thanksgiving meal.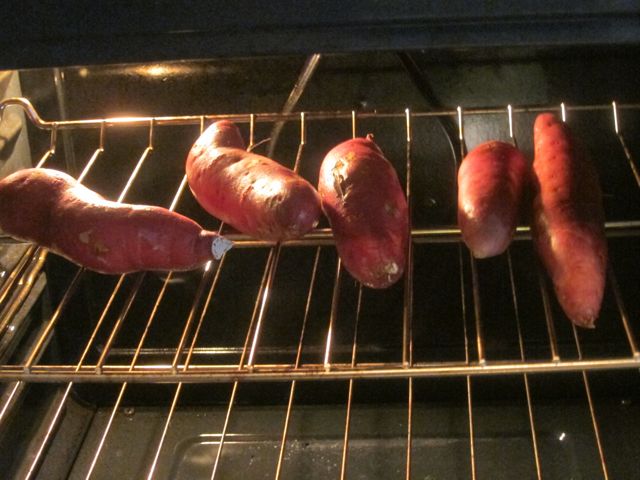 Clean and pierce sweet potatoes. Bake in a 425 oven for an hour.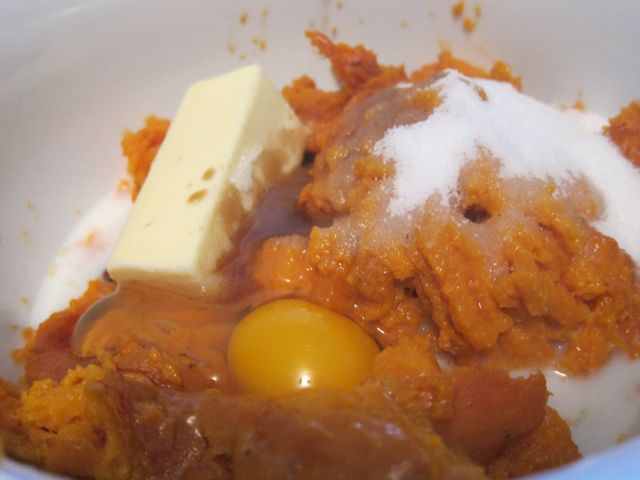 Take potatoes out of oven and let cool enough to touch. Slice open and scoop out insides into a large bowl (I use a serrated grapefruit spoon for this). Add sugar, egg, vanilla, salt and butter.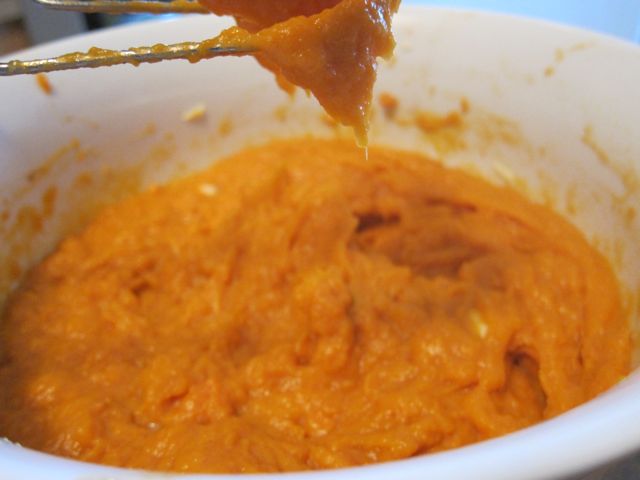 Beat well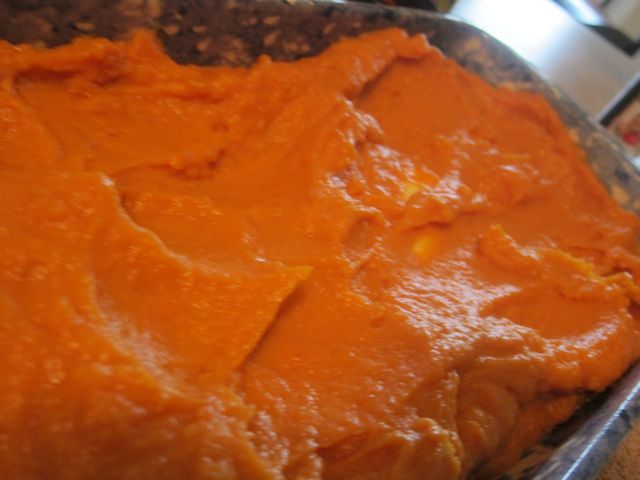 Spoon mashed sweet potatoes in a casserole dish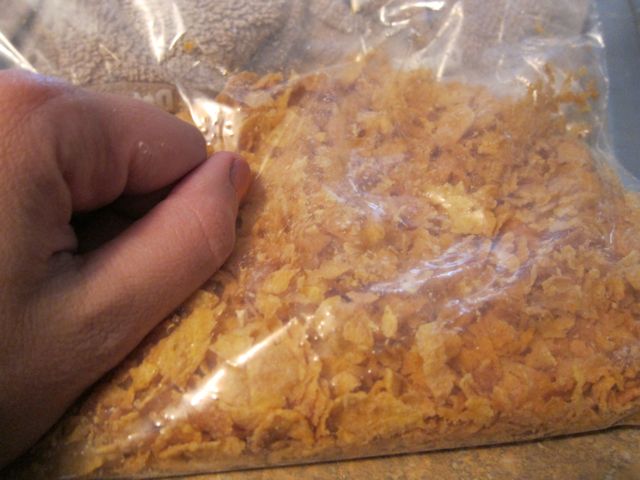 For topping, crush cornflakes in a ziploc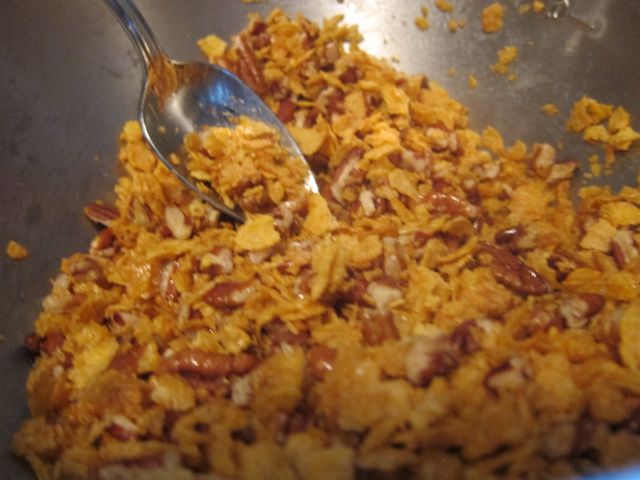 Mix together butter, brown sugar, crushed cornflakes and pecans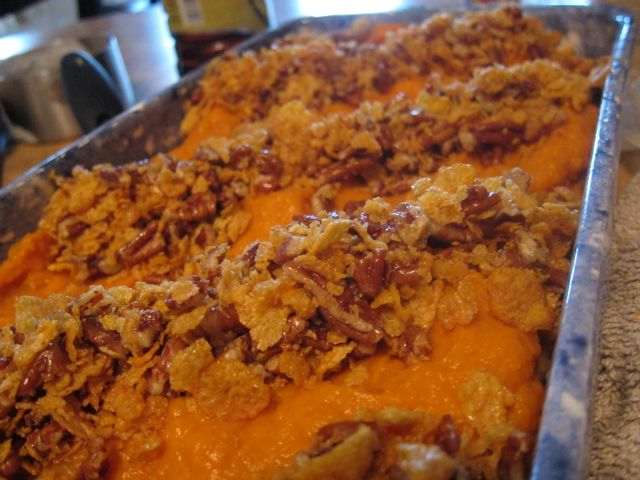 Place topping at an angle onto mashed sweet potatoes and bake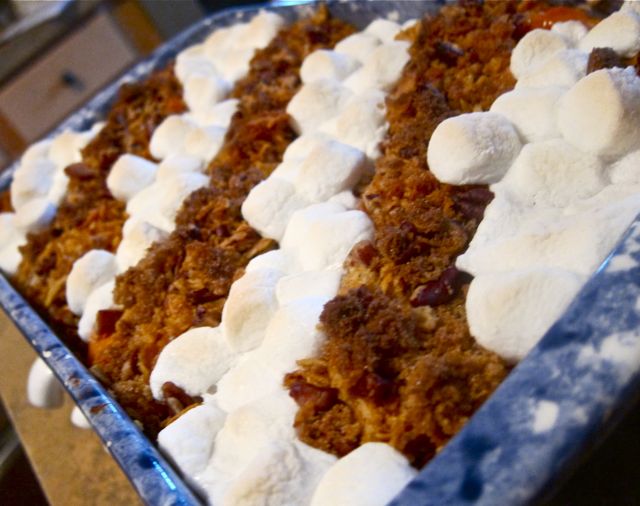 Add marshmallows in between the other layers and place back into oven until golden brown.
Ingredients
4½ pounds sweet potatoes
1 cup granulated sugar
½ cup butter, softened
¼ cup milk
2 large eggs
1 teaspoon vanilla extract
¼ teaspoon salt
1¼ cups cornflakes cereal, crushed
¼ cup chopped pecans
1 tablespoon brown sugar
1 tablespoon butter, melted
1½ cups miniature marshmallows
Instructions
Preheat oven to 425
Clean and pierce sweet potatoes and bake for 1 hour or until tender
Let stand until cool to touch (about 20 minutes)
Reduce oven temperature to 350°.
Slice open sweet potatoes and take out insides, place in a large mixing bowl
Beat mashed sweet potatoes, granulated sugar, and next 5 ingredients at medium speed with an electric mixer until smooth.
Spoon potato mixture into a greased 11- x 7-inch baking dish.
Combine cornflakes cereal and next 3 ingredients in a small bowl.
Sprinkle over casserole in diagonal rows 2 inches apart.
Bake at 350° for 30 minutes.
Remove from oven; let stand 10 minutes.
Sprinkle marshmallows in alternate rows between cornflake mixture; bake 10 minutes.
Let stand 10 minutes before serving.
 This is a featured recipe from …..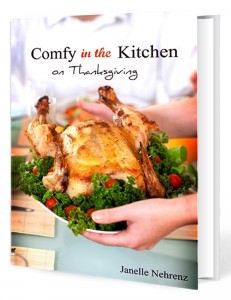 I hope you will enjoy:  
It's a Feasting in Fellowship Link up!!!
Please link up as many recipes as you like- Thanksgiving ones especially! All I ask is that you place my button (located on my side bar) onto your post. Please tweet or FB that you are sharing on Comfy in the Kitchen so friends can come and see! God bless you all- have a great weekend! Love to you, Janelle