Hi Ladies!
You know I LOVE a good ministry and is this one EVER good indeed. Kristy, my friend, sister in Christ and one of my "Good Morning Girls" amazes me in her ministry to young girls who live in the city. I know Kristy wouldn't want me to boast about her, but about what the Lord has done through her .  When I was praying the other day God really laid it on my heart to ask her to post on the Comfy blog…she so graciously gave me this post AND a recipe (wohoo!). I pray that this story encourages others to share God's love in their community. I am so fortunate to have such amazing friends…reading her post made me realize just how lucky I am in this way:
"Iron sharpens iron so one person sharpens another" proverbs 27:17
 Here is her story: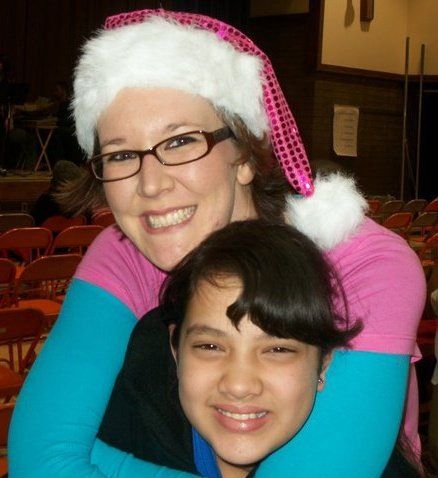 (Kristy and one of her sweet girls)
I clearly remember driving to church 4 years ago & praying, "God, please let me hear your voice today, I am ready to serve in a ministry!".  That very morning, in my Sunday school class, a woman stood up & said, "I work in Urban Ministry & we have such a need for a new female mentor, please pray that God will speak to a woman's heart today.
"  OH NO!  I remember thinking, "God, I can't hear you, did you just loudly say, "Go!", I think that was a little muffled, was that real?I don't know if I like working with kids, I don't have anything to offer, I am a suburban girl!"  I went up to her after class & said, "I will do it, just tell me where to show up." 
Well, over 3.5 years later, I have been involved in a ministry that I never thought I would love, but thank you Jesus, that His plans far surpass what mine could ever be.
Working with urban ministry girls has got to be one of the most stretching experiences of my Christian walk. I now lead the mentoring program, called South Akron Youth Mentor, for girls K-5th grades & absolutely feel that this is exactly where God wants me to be.
I thought it would be difficult to minister to girls that come from backgrounds so unlike mine, they come with a lot of baggage, abuse, fear, distrust, broken homes,  a sense of hopelessness & lack of self worth, & sometimes there is a lot of hands on hips attitude.  When I get on the bus to drive to their neighborhood to pick up the girls for our Tuesday night mentor sessions, I get excited because I know that in minutes, I will have at least 4 girls sitting on my lap, the other mentors have the same smile anticipating !
I can't help but think of 1 John 4:18-19:
"There is no fear in love; perfect love drives out all fear,  So then, love has not been made perfect in anyone who is afraid, because fear has to do with punishment.  We love because God first loved us."
The ministry of bringing hope to the hopeless & telling a little girl without any doubt that she has a Father that will never abandon her, hurt her, or stop loving her is like showering her with continuous Christmas presents.  Her eyes light up, her smile gets bigger & she snuggles a little bit closer into your arms.  Perfect love drives out all fear, how amazing to see this in action.
As I watch these girls grow into young women, some of who I still mentor one-on-one now, it is amazing to see that even though the world has such a grip on many of their families, Christ has set them free, offered unsurpassed redemption, & has enabled them to see others through His love.
They are all not success stories, but I am not called for my success rates, I am called to obedience .

God has blessed me in ways I cannot fathom when through obedience I said, "Yes", when my mind was screaming, "Oh no!".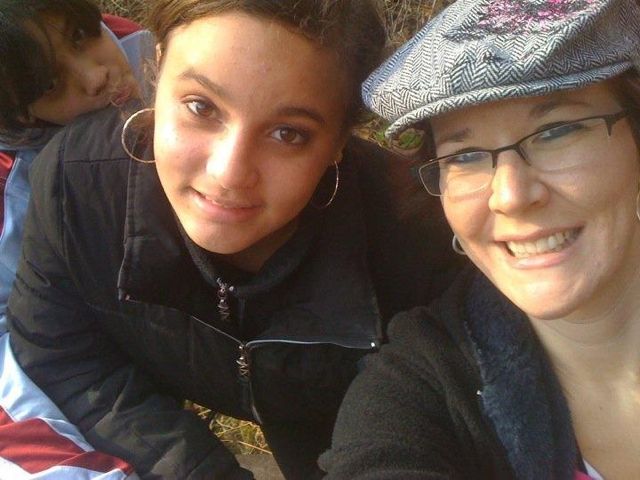 Kristy, I can't thank you enough for writing this post and sharing God's love the way you do. It is just beautiful. I know those girls are every bit as big as a blessing to you as you are to them..God. is. so. good. 
Shepherd's Pie
My girls love food & we try to provide them with a snack or meal every week.  Since it has gotten cold outside, I love comfort food, here is my very easy, very tasty Shepherd's Pie Recipe based on Paula Deens recipe.
 (photo credit: www.pauladeen.com)
Ingredients
1 medium onion
1 ½ lbs ground beef, the leaner the better
2 (8oz) Cans tomato sauce
1 ½ cups mixed vegetables (I prefer corn & carrots), prepared
4 cups of prepared mashed potatoes (homemade or box made are fine), recommended to add ½ c sour cream to potatoes
1 c milk
2 c instant biscuit mix
4 T butter
Instructions
Spray a 9x9 pan or casserole dish.
Potato Layer: spread prepared mashed potatoes halfway up pan.
Beef Layer: Saute onions in 2 T butter.  Add ground beef, when browned add tomato sauce.  Pour into prepared pan over potatoes.
Add vegetables on top of beef layer.
Biscuit layer: Combine biscuit mix & 1 c milk.  The mix will be thinner than normal biscuit mix, but not runny.  Pour over top.
Melt 4 T butter & pour on top of biscuit layer.
Bake at 350 degrees for 35-45 minutes until top is golden.
Notes
Can also be easily modified to vegetarian/vegan by using coconut or almond milk in potatoes & biscuits & substituting a nondairy margarine for butter, & vegan meat crumbles for ground beef.