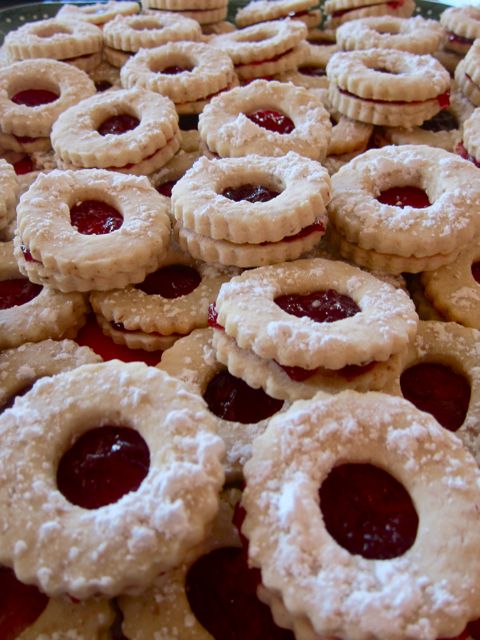 Ahh…Linzers. Aren't they beautiful? These are my all time favorite cookies. I simply cannot resist them! Some people shy away from making cut outs, but once you get the hang of making these, they really aren't as hard as you think! Make sure to have plenty of flour and don't be afraid to grab up all the dough and start over if they stick to the counter. Trust me- these cookies are worth it. Have I failed you yet? 😉 Love you girls…ok, here we go..
Put almonds in processor…
 Chop until very fine..
In a medium bowl combine flour, almonds and cinnamon.
Mix and set aside.
In a large bowl beat butter and sugar until light and fluffy.
Add egg and vanilla
Beat well.
Add flour mixture
Divide dough into quarters and wrap separately in plastic wrap and refrigerate.

Place flour onto a flat surface (about  a generous 1/2 cup)-this dough can be somewhat "sticky". Do not get discouraged! You can always re roll and start over-it won't hurt this dough one bit. Add some flour to the top of the dough and roll out until its about 1/8 inch thick. Then use a Linzer cookie cutter (I bought this at Jo-Ann Fabrics) You want the dough to get "stuck" like this (above) so you an push it onto your baking sheet.
Like so…see the little lever on top? It is that easy. There are additional cookie cutter pieces that go in the middle to make the tops of the linzers with the cut out shapes. You will want to cut out an equal amount of tops and bottoms.
Bake on parchment paper lined cookie sheets. These cookies will not spread, so they can be close together during the baking process. Bake 8 mins in a 350 oven.
Sprinkle tops (the ones with windows) with powdered sugar.
Spread a small amount of jam on a bottom cookie (invert it)

Aren't these beautiful? I LOVE these cookies. I have to say…they are my favorite (Yes…I cheated and ate one and got a big headache, but it was WORTH IT! haha!)
I added these beautiful Linzers into cookie boxes for my husband's clients.
This is one of the boxes- From Jo-anns, with a doile to look like a snowflake, with toile and a decorative accent. Very inexpensive, but elegant.
The other boxes I used with an ornament for decoration (these I bought for pennies at Marcs)
These cookies were taken to the children's school for their teachers!
Old Fashioned Linzer Cookies (My Favorite!!!)
A traditional recipe from Wilton- I triple this recipe each time I make it!
Ingredients
2 cups all purpose flour
⅔ cup finely ground almonds (2 oz)
¼ tsp ground cinnamon
2 sticks softened butter (not melted!)
⅔ cup sugar
1 egg
½ tsp vanilla
½ cup jam (I used strawberry)
Confectioners sugar for dusting
Parchment paper for lining baking sheet
Instructions
Grind almonds in a food processor
In a medium bowl combine flour, almonds and cinnamon. Set aside
In a large bowl beat butter and sugar until light and fluffy.
Add egg and vanilla. Mix well
Add flour mixture
Mix only until incorporated
Divide dough into 2 pieces
Press into small disks about 1 inch thick and wrap each one in plastic wrap
Refrigerate for 4 hours or overnight
Preheat oven to 350
On very floured surface roll out one disc of dough at a time to ⅛ inch thick
Cut half of the dough with top press and half with bottom press trying to keep the dough in the press and not on the counter- then push the dough out onto a parchment paper covered baking sheet.
Dough scraps can be formed into a ball again and rolled out again and again...no worries.
Bake for 8 mins or until lightly browned.
Let sit on the cookie sheet for 2 mins and transfer onto a cooling rack
Dust the tops with confectioners sugar
Spread jam on an inverted bottom cookie
Make a sandwich with a top cookie