Last week whenI had my Mother and Father-in-law over for dinner we had this delicious Jambalaya! My Mother-in-law about fell out of her seat when she saw my Father-in-law get up from the table to help himself to seconds off the stove top…it made me feel good that an otherwise moderate eater would want more of one of my homemade meals 😉 I have to say…this is very tasty! I love adding a bunch of ingredients to one dish…this is also naturally very food allergy friendly.

Saute onions, green pepper, celery and garlic in a large wok.

Slice sausage (of your choice- this is Kielbasa I had in the refrigerator already)

Add parsley, sausage, diced chicken, bay leaf and spices to the wok. Stir for about 5 mins

Here are my seasonings of choice! YUM!


Add tomato sauce, chicken broth, and diced tomatoes.

Rinse fresh de-shelled and de-veined shrimp

I sauteed the shrimp in a separate skillet (you can just add shrimp if you would like). Here I used butter, garlic, and parsley. My kidos love sauteed shrimp over pasta…I had a feeling Jambalaya would be a bit too spicy so I made a little pasta for them and this is what they had. I added the remaining shrimp to the Jambalaya at the very end.

Add rice and cover to cook to 45 mins until liquid is absorbed, add shrimp. If you wish, you may add more chicken broth to your desired consistency. I added 1 Tbsp of sugar and additional spices at the end to my liking.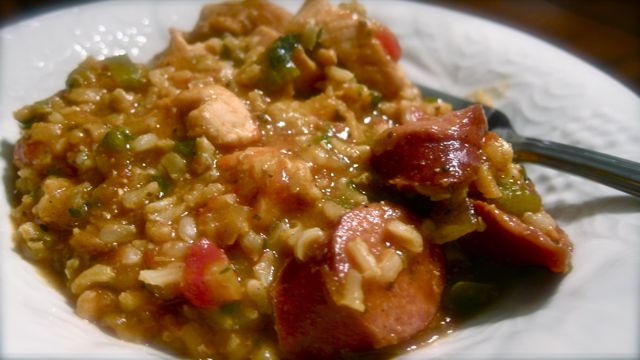 revised from Epicurious
Ingredients
1 Tbsp olive oil
1 large onion, chopped
2 medium cloves garlic, peeled and diced
1 large green bell pepper, cored, seeded and chopped
2 celery stalks, diced
3 tbsp fresh Italian parsley, minced
2 cups of Kielbasa (sliced at an angle)
4 Chicken breasts cubed
1 large bay leaf
1Tbsp Cajun Spice
1 tsp Old Bay
1 Tbsp Sugar
Salt/Pepper as desired
1 can (28 oz) diced tomatoes
1 can (8 oz) tomato sauce
2 cups cup Chicken Broth
1 cup brown rice, uncooked
1½ lb medium shrimp, peeled, deveined (sauteed in butter, garlic, parsley)
Instructions
Add oil to a large nonstick saucepan.
Over medium heat, sauté onion, garlic, bell pepper and celery until onion
Add parsley, kielbasa, chicken, bay leaf, and spices.
Saute for 5 mins
Add tomatoes (with juice), tomato sauce, and Chicken broth. Let Simmer 5 mins.
Pour rice into the pan and stir well.
Bring mixture to a boil.
Lower heat and simmer, covered, 45 minutes or until rice is cooked and absorbs most of the liquid.
Saute shrimp in 1 Tbsp butter, 1 clove chopped garlic, 1 tsp parsley - cook 5 minutes.
When rice is fully cooked, add shrimp.
Remove bay leaf.
Taste and season to taste with additional seasonings if desired. If you desire, add more chicken broth for desired consistency.