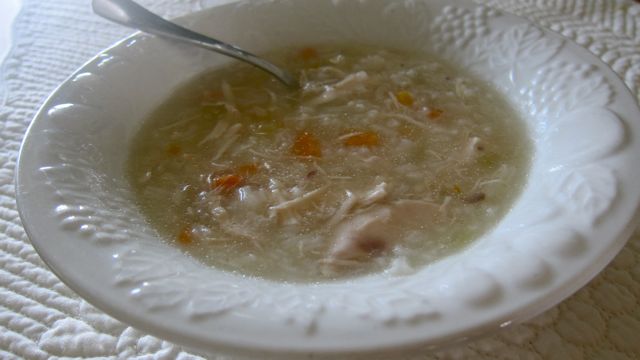 This Chicken and Rice soup is so savory, so yummy, so allergy friendly, so kid friendly….so blog worthy 🙂 This is a great recipe to make for someone who is not feeling well- the combination of chicken (boiled with bones on) and rice is very easy on the stomach and has healing properties to boot! Love IT! 
Don't let the "time" it takes to make this scare you off- it is a very easy soup to make…it's just simmer time. Make this on one of your cleaning days (thats what I did!)
Making the broth:
Chicken breasts- very important that it has skin on and bones in- this gives more flavor to the water and adds healing properties. carrots, onions, parsley, garlic, celery, bay leaves.
Boil all together
Add lemon juice and let boil for 2 1/2 hours.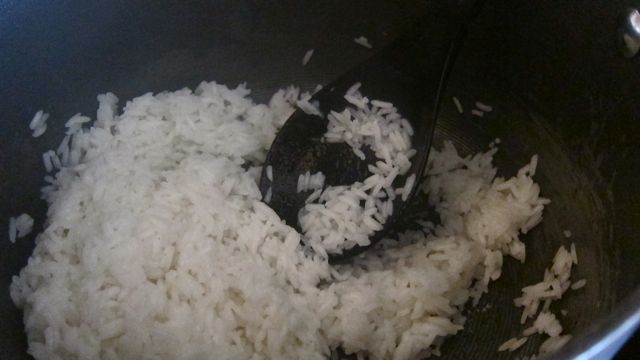 Prepare rice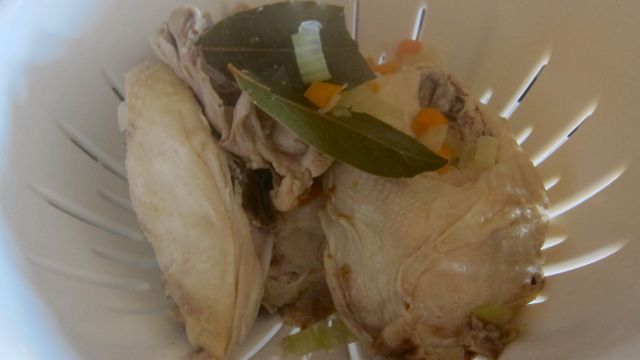 When stock is done simmering, take the chicken (and bay leaves) out.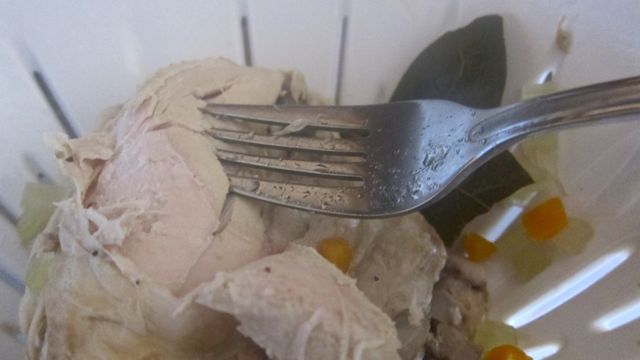 Pull skin aside and "fork" the meat off of the bones. Place chunks of chicken back into broth.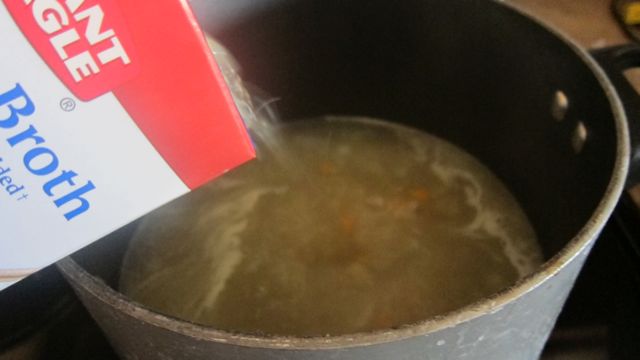 Add a 32 oz carton of chicken broth to homemade chicken broth. This gives it added flavor without adding "bouillon cubes"  – if you have a gluten intolerance bouillon has wheat in it, so stay clear- if you do not have an intolerance, you may certainly add them instead of adding broth
(appx 4 bouillons and appx 2 more cups of water).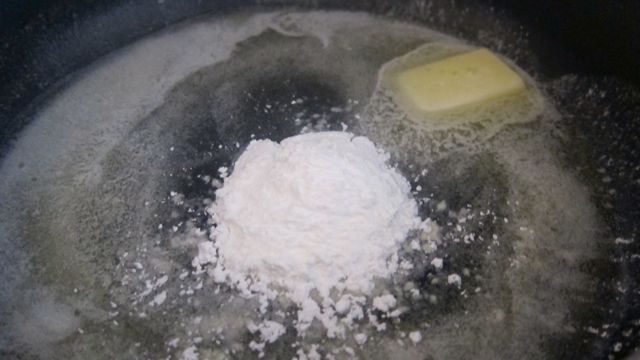 Melt 1 stick of butter and make a roux by adding 2 Tbsp of cornstarch
(for those with no allergies- you may use 4 Tbsp of flour in place of cornstarch)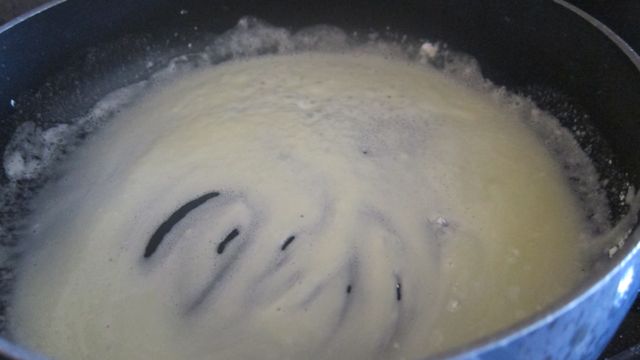 This is a thickening agent for the soup…add this to the broth.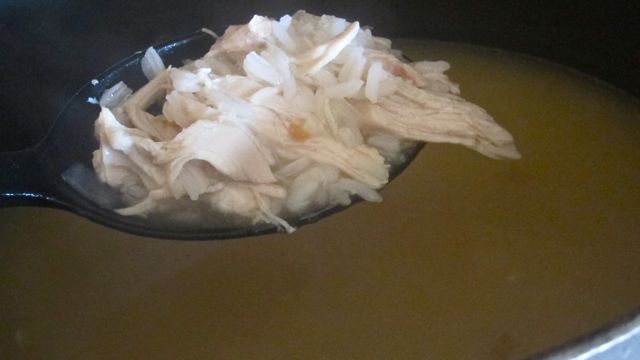 Add rice and let it simmer for 1 hour on low heat. Season to you liking with salt and pepper.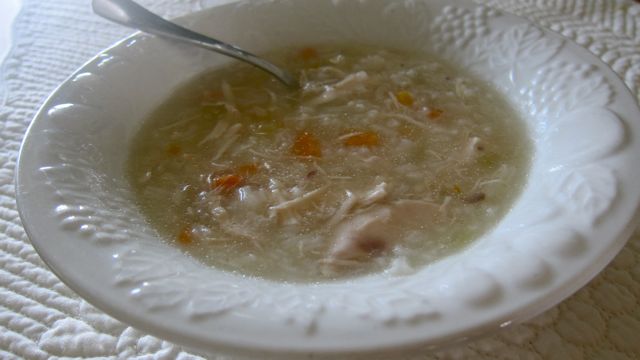 Some seriously delicious soup…Mmmmmm…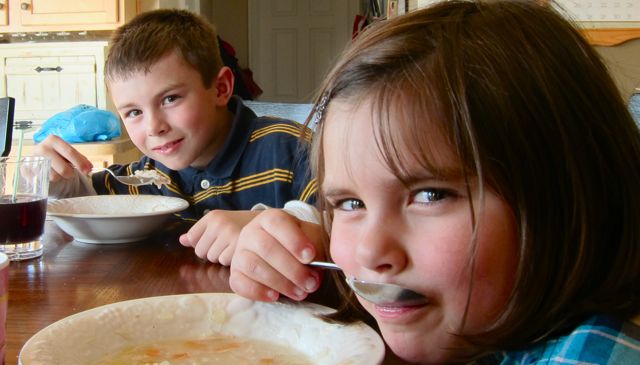 And best yet, kid approved and loved! YES!!!
Ingredients
Broth:
8 cups of water
4 chicken breasts with bones and skin ON
2 cloves of chopped garlic
¼ cup chopped parsley (you can use a few shakes of dry if you need to)
1 cup chopped onion
1 cup chopped celery
1 cup chopped carrots
1 Tbsp lemon juice
2 bay leaves (whole)
32 oz carton of chicken broth (this adds flavor)
½ cup (1 stick) butter
2 Tbsp corn starch (you may use 4 Tbsp of flour if you prefer/have no allergies)
4 cups COOKED rice (per package instructions)
salt and pepper to taste
Instructions
In a large pot on the stove place chicken, water, garlic, parsley, onion, celery carrots, lemon juice, and bay leaves on medium high heat. Let simmer for 2½ hours.
After 2½ hours, take bay leaves out.
Take chicken out of pot (leave veggies in). Pull aside skin and fork meat off of bones, place chunks of chicken back into pot of broth.
Add carton of chicken broth to homemade broth.
Prepare rice per package instructions and add to broth.
Melt butter on stove top in separate pan- add cornstarch (or flour) to make a roux. Add this to broth.
Let soup simmer on stove for one hour.
Season with salt/pepper to your liking.