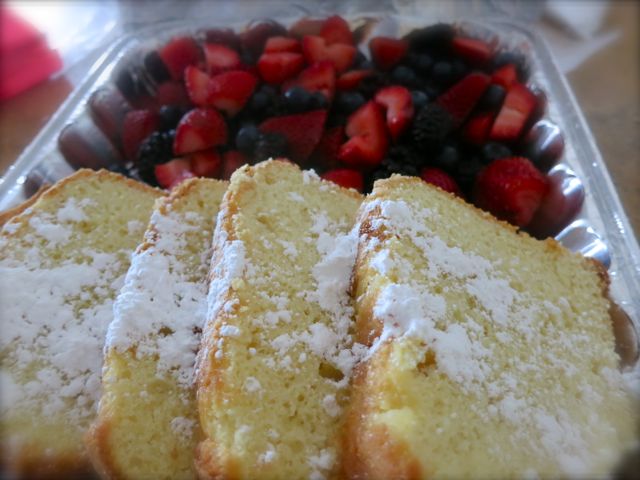 This delicious, dense, buttery pound cake is one of Paula Deen's favorite family recipes. I'm always impressed when "sour cream" is in a dessert recipe…it makes breads like this so moist. You're going to love this one.  
This particular photo was another "meal ministry"- You may actually have all the ingredients just sitting around in your refrigerator already…so go ahead and make your neighbors morning tomorrow 😉 Serve with berries or slice and grill in a pan with butter. YUM!
Ingredients
1 teaspoon vanilla
½ teaspoon baking soda
6 large eggs
3 cup flour
1 cup sour cream
3 cup sugar
½ lb (2 sticks) butter
Instructions
Preheat oven to 325 degrees.
In a large mixing bowl, combine and cream the butter, sugar, and add the sour cream.
Sift the baking soda and flour together.
Add the sifted flour to the creamed mixture alternating with eggs, beating each egg one at a time.
Add the vanilla.
pour the mixture into a greased and floured 10- inch tube pan.
Bake for 1 hour 20 minutes.