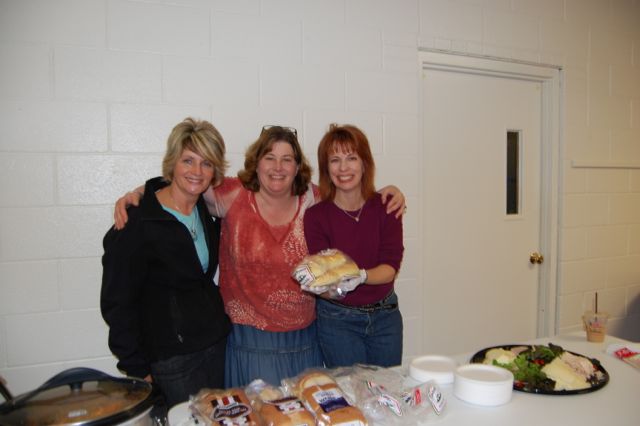 Today's guest is no stranger to Comfy in the Kitchen…Suzanne from Blueberry Cottage shared with us at the beginning of my blogging journey. She's been a blessing to have as a fellow blogger, reader and friend. Today she's giving us a sneak peak into the Meal Ministry she has helped start at her very own church!
If starting a Meal Ministry been on your heart- she has the perfect tips on how to do just that!
Suzanne writes:  
A couple of years ago I started a Wednesday night meal ministry at my church. I had this on my heart for a couple of years before I brought this to the leadership. At our last church there was such a ministry and I served on the team of "chefs". Cooking once a month was easy, but running the whole ministry was going to be a huge time commitment and I wanted to make sure this is where God wanted me. I had been chatting with one of the deacons wives one Sunday and she had shared they were having a leadership meeting and wanted to know if I had any women's ministry requests. The Lord prompted me to share my idea for a weekly Wednesday evening supper before service. At the meeting she presented my idea and the Pastor shared he had been praying for a year about such a ministry on Wednesday's! Needless to say this gave me some serious goosebumps! God was giving his blessing, I had my husband's blessing and the Pastor was totally on board and ready to give me whatever I needed. When it is God's timing everything falls into place so easily.
We are now on our second year providing home cooked meals on Wednesday's and I feel a lot of the kinks have been worked out during the first year. Many people have remarked that this ministry has enabled them to feel more connected to the church and the body of believers. Sunday's, for a lot of us, can be a bit rushed. We dash from service to Sunday school , or we serve in the nursery, and often times we just don't have time to chat and get to really know one another. Sitting down to a meal that isn't rushed and you didn't have to prepare gives a person time to converse. A lot of folks come right after work. Many that never attended Wednesday evening Bible study are able to come because they have a bit more time in their schedules due to not having to provide a family meal. As I have watched from the serving line I notice people who don't know each other introduce themselves and have wonderful fellowship time over their meals. There is always lots of laughter and joking around! Teens hang out together and also help me, especially when dessert time comes! There are babies in high chairs and toddlers sneaking under tables. It's really like having a big familyget together each week.
Like Janelle, my gift has always been hospitality and it always involves food. Being from a large Italian family where you saw all your relatives over meatballs and pasta after church on Sunday, I think has groomed me for this calling. There is no better feeling for me than providing a meal for a new mom, someone who is sick or going through a difficult time, or that person you know just needs a bit of help. We can certainly encourage one another by such gestures. When I am on the receiving end of a meal I feel so blessed and cherished. It is my hope no one reads this and thinks they can't run something like this, it's just too much. Well, that may be true for the season of life your in now. Yet, perhaps you could consider cooking once a month or helping with set up or clean up. There are a lot of little jobs and details that need to be attended to. However, if this is your season to just be blessed by such a ministry, then do come to dinner and enjoy yourself. Introduce your family to another and build relationships. Just eat and laugh!
How to start a weekly meal ministry in your church:
• Pray! Make sure you feel this is the Lord's will not your own or you will burn out.
• If married, make sure your husband is on board. Listen to his wisdom, he knows you best.
• Approach your pastor and leadership and present your idea.
• Assuming you have your pastor's blessing, develop a questionnaire with questions such as: Would you attend a weekly meal here at church? How often? How much would you be willing to pay per family member for a home cooked meal? Would you be interested in helping in this ministry? Would you cook once a month? Twice a month? Then add your contact info. Do this for one month by adding this paper into the weekly bulletin. Document the results and bring them to the leadership.
A few things to consider:
• Your church must have a kitchen with ovens and adequate refrigeration. You do not need a professional kitchen, although that would be great.
• Which space will you use? Do you have a fellowship hall that can accommodate a large crowd? Are there enough tables and chairs? Do you have serving containers for water, salad, and baskets for rolls.
• Are there serving spoons, tongs, knives and cutting boards?
• You may have to obtain a permit to cook, check with your local board of health.
From your survey determine how many people may show up to start. This will give you an idea of how many servings of food you will need. Our church averages 50-60 each Wednesday. I have a team of 4 chefs (12 different ladies) each Wednesday that cook the main dish only. Each lady cooks between 15-20 servings of her recipe. They bring this already warm to the supper or leave it earlier for me to warm up when I get there, in a disposable foil pan. This cuts down on dishes that need to be done and returned!
What is on the menu?
Each Wednesday has a theme:
The first Wednesday of each month is Italian Night. Each chef cooks whatever they want that is Italian for the amount of people I have specified. I used to assign recipes, but found this too stressful on the chef. Not everyone is proficient in the kitchen and many have their old family standby's that work just great. So, for example; one gal may bring two lasagnas, another American Chop Suey and then another may bring meatballs and spaghetti. I never know what I am getting so it is always a surprise! I make, at the church, a large salad and provide rolls with butter.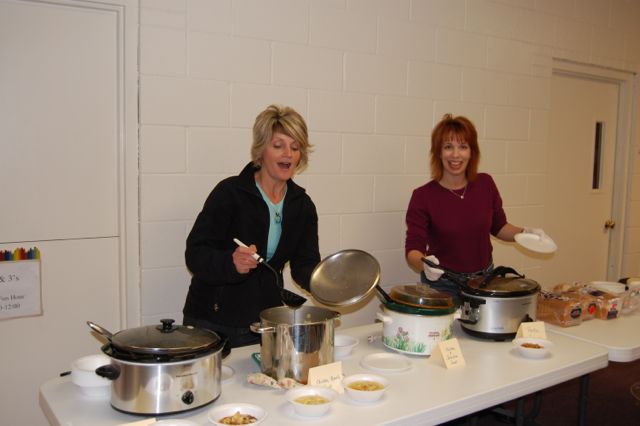 The second Wednesday is Soup du Jour and Sandwiches. Each chef brings a crock pot of her favorite soup or stew. I order a couple of deli platters or sub sandwiches from the market. I provide some lettuce, tomato, mustard and mayo. I also provide the breads or rolls.
The third Wesnesday is Chicken a la Chef. Each chef cooks up her favorite chicken recipe and I also have one woman do a large pan of rice pilaf. I cook baked potatoes, provide salad/dressings and sour cream and butter for the taters.
Fourth Wednesday is Pizza Night! Yes, we order pizzas from the local pizza parlor. We only do plain as I get a large for $5.00. I provide the chips, salad and soda.
What do you usually provide for drinks?
Iced water in pitchers with lemon wedges. This is placed on the table with all the napkins, plates, etc. A separate smaller table holds coffee, stirrers, cream, sugar, etc.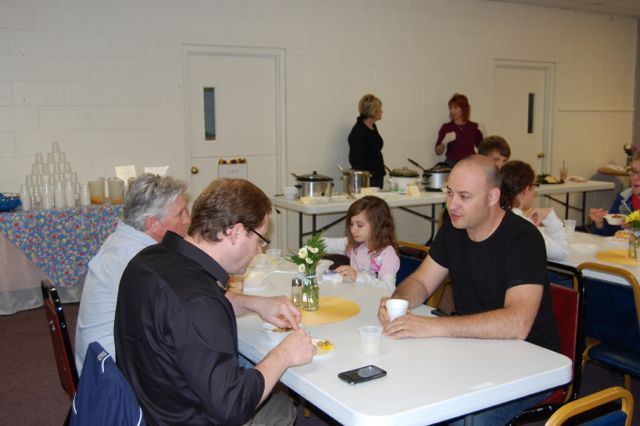 What do kids eat?
I do have a kids table set up with one loaf of wheat bread, peanut butter & jelly and a half gallon of milk. There are smaller plates, cups and napkins. Kind of make your own. Once in awhile I will make hotdogs, but mostly they eat what the adults eat.
What about plates and napkins and all?
Yes, right now we use disposable. I am looking into eco- friendly alternatives, but until I find something, weekly we use what the meals need, this includes dinner plates, soup bowls, napkins, cups, plastic knives, forks, spoons and soup sized spoons. These are all on the same table when the diner walks in. They take what they need and proceed to the serving line.
Who serves?
Often times I will and one or two ladies that have cooked. Depends on the crowd if we need more helpers here.
Who does the shopping for the salad and drinks and other items needed?
The coordinator, that's me(or you) . Each week I make the salad, shop for rolls and butter, etc. I will often time make any sides I want served.
What's for dessert?
Ice cream! Yes, each week, in order to keep it very simple, ice cream. One styrofoam cup full of Blue Bunny oreo cookie or vanilla/chocolate swirl. Sometimes an adult will bring a different treat for the adults, but I don't go crazy here, just keep it simple☺
What do you charge?
We charge $3.00 per person for diners ages 3 and up with a max of $12.00 per family. I have a flyer typed up and it is in a plastic upright holder with a basket in front of it to put the money in. It is an honor system. Also, because this is a ministry, at the bottom of the flyer is a bolded notice that reads: If your unable to pay for your meal this evening please enjoy your dinner compliments of your church family. We never want to deny a meal or fellowship to anyone. This may not be financially possible for all churches, however.
How do you and the chefs get reimbursed?
Most of my chefs do not ask to be reimbursed they view this as a ministry. If they choose to not be reimbursed they and their family eat free that night. If anyone needs reimbursement I take it out of the money collected, if there isn't enough then the church gives reimbursement. This is also another area that all churches may not be able to accommodate, but I have found our church has really not had to put out a lot for this. The church does provide all paper goods, however.
How about set up and clean up?
I set up the tables and chairs and arrange the condiments, napkins, etc., with the help of my husband, when available, or children. I do have a few teens show up early and pitch in too. I make the sides and put out the rolls, etc. I usually arrive 1.5 hours prior to serving and find this is plenty of time to be prepped and ready.
What time is supper?
We serve from 5:30 pm-6:15 pm. We have a 7pm service and our youth group starts at 6:30 pm so this time frame works well for all as well as clean up.
When do you start and end?
I have found October to be a good month to start and I end in May. There is another woman who keeps the ministry going all through September with weekly barbecues. She sets her ministry up the same way as I do, but it is all grilled items. It's great and I have a needed break!
Last things….
Each week the church secretary puts the following week's menu with info in the bulletin. I also type up a schedule with all the dates of the dinners and who is cooking which night for the year. Each chef gets a copy as wells as the church secretary and pastors.
I do jazz up the tables a bit as funds allow. Often I will dress up tables with a seasonal theme such as a jar of candy corn in a glass jar with pumpkin scented candle. I do not use table cloths as our tables are new. However, a placemat is in the center with the centerpiece and S&P, butter or sour cream.
Also, once during the year I have a meeting with all those on my team. It's important to get new ideas and feedback from everyone involved.
If anyone has questions feel free to ask, I love talking meal ministries☺You can contact me at  Taketimefortea@comcast.net
Thank you SO much Suzanne- your church body is so blessed to have you! I love your themed weeks and ideas on how to keep costs low. Keep cooking for the King!!!