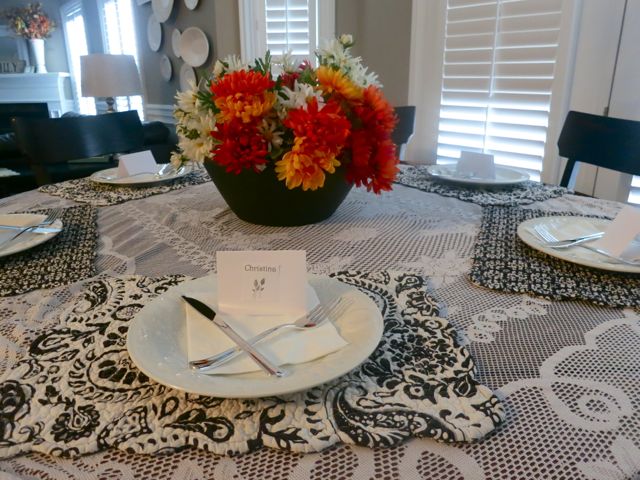 "I am the good shepherd. I know my own and my own know me."~John 10:14
He know's us by name..isn't that amazing? The God of the universe, the All Mighty King, The One who keeps our hearts beating and lungs breathing…knows our names.
That makes me feel special…Think about it. If Elvis, Justin, Michael, whoever it is that just melts your heart in a most  silly (and yes, idolizing way) yelled out YOUR name in a large audience- wouldn't you just be giddy beyond words? I bet it would be your Facebook status , you would tell people next to you…you'd call your moms,  daughters, neighbors and friends. I know it because I sure would!
Well guess what Sister- the most powerful, loving, true, honorable, Maker of all things knows YOUR name- brag about it. You are something. It's true.
The reason I bring this up is because sometimes it's nice to remind your loved ones how special they are. One way I've done this is by making very inexpensive place cards at their table settings. Nothing fancy…just "Comfy". The above place cards are simple index cards – I typed in "Word" the names of my friends and taped them on the cards. You can also write a note , a prayer for them, or encouraging bible verse inside. Those of you who are "Comfy crafters" could probably give us  more ideas 😉
In some instances it's also  nice because it gives ladies a specific place to sit. They don't have to worry about offending anyone – They were assigned a seat and  can blame it on the hostess (haha). It's also nice because, as a hostess, you can predetermine conversation by place settings.  It's comforting to sit next to a person you know well, and with and a person you don't know as well but may have something in common with. This could encourage a bond and possibly another friendship. That's what it's all about. Loving and connecting people to Him and to each other!
So, just a comfy little tip on hospitality. I hope you will take the baton and pass it along! Much Love to you! ~Janelle