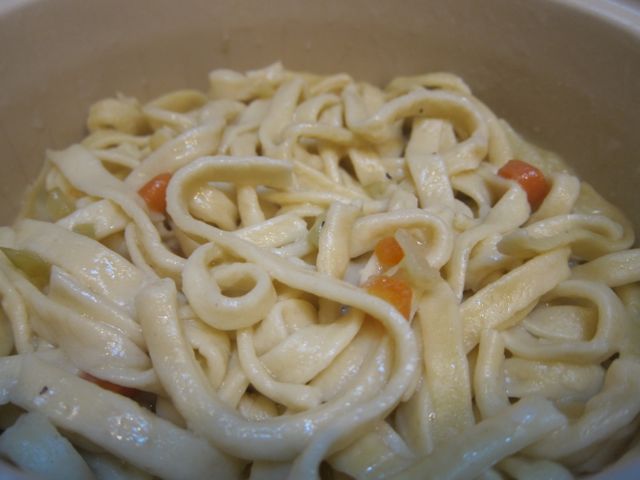 As I was reading my sweet friend, Karen Ehman's post over at Proverbs 31 Ministries, it brought me back to the times I, myself, walked into my grandma's house while she was making homemade noodles. There were even times when Grandma was so busy with the other parts of the meal, she would yell to my grandpa, "Ray! Can you please come in here and cut these noodles, the broth is boiling and I'm doing a million things in this kitchen to get dinner ready!" (Us Italian women can get a little bossy- Grandpa was a good man).
Anyways, Grandma didn't make those noodles because she had to…it was because she wanted to. Trust me, there were times when she'd make the "already made" egg noodles and we would all "call her out on it" saying, "What are THESE?!"…she'd grin and say, " You people are spoiled, I have a full time job, I've raised 5 children,I keep a clean home….if you want homemade noodles, you make em." We'd all laugh knowing we'd get her riled up -we were honestly completely content with the delicious meal we were eating… It was just fun seeing her make a fuss over noodles.
Now, as I've grown,  I can understand why Grandma made homemade noodles-and why she still makes them. Cooking, for some people, is like knitting for others. It's relaxing…It may sound crazy, but it is. Cooking something homemade is also giving someone else the labor of your love…there is evidence in the smell, taste, and texture.
You can tell when something is homemade- a card, a meal, a floral arrangement, blanket, etc…it feels nice to make it and receive it.
Are there any homemade recipes that bring about good memories in your life? Would love to hear about them…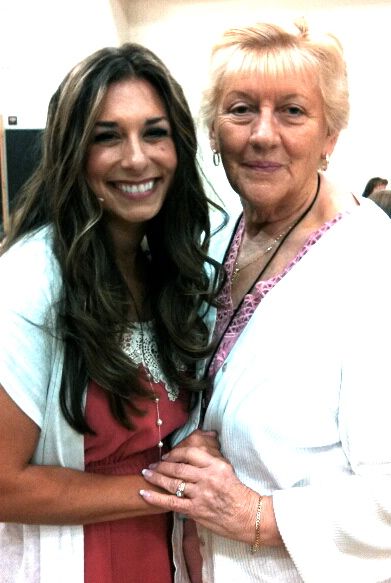 Grandma Ruth and me- I LOVE you, Grandma 🙂
Grandma Ruth's Homemade Noodles
Ingredients
The Noodles:
4 egg yolks
2 eggs
½ tsp salt
1 tsp baking powder
3 Tbsp cold water
2 cups flour plus more to desired consistency and for rolling
Chicken broth:
Small chicken cut up (legs, thighs, breast, wings); throw away the bag of the insides
Water enough to cover chicken
2 tsp of chicken granules
2 carrots
1 stalk celery
1 onion cut in half
1 tsp black pepper

Instructions
In a large bowl put in eggs and additional egg yolks and beat with a fork.
Add salt and baking powder and water.
Use fork and mix well again.
Add one cup of flour at a time and mix with hands (take rings off your hands). 5. Add flour slowly to form a ball. This will be sticky.
Add more flour if you need to so that you can roll it out.
Roll out on a floured surface using a floured rolling pin until medium-thin thickness. Sprinkle with flour on top and let dry for 2 hours.
After 2 hours, roll up dough into a cylinder shape..it will be long.
Cut in half and slice noodles with a sharp knife/noodle cutter/pizza cutter.
Lift up and the dough will fall into a noodle.
To make the broth:
Place chicken parts in a large stock pot and pour water enough to cover chicken.
Skim the top to get fat foam off.
Add chicken granules, carrots, celery, pepper, and onion for flavor .
Boil chicken until tender..simmer on low for about 40 minutes.
Pull out chicken and put in dish.
You may add chicken back into the pot or use it for another recipe.( Our family likes just the white meat).
Bring chicken broth to a boil, drop the noodles into the boiling broth and let simmer for 20 minutes.
Notes
If you don't want the chicken in your noodles you can save it for another meal. Grandma says her dad's favorite was when my great-grandma would take that chicken and coat it in flour and fry it in a pan with butter. That sounds good to me!