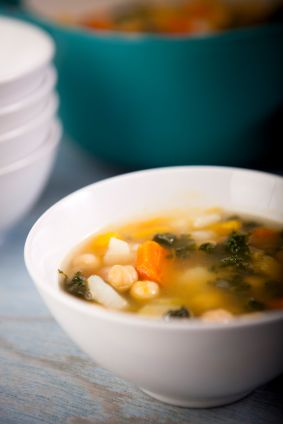 Hi Ladies, I have a special guest today sharing a recipe that will be sure to warm you up on these chilly fall days….Mmmmm….
By Tricia Drevets
As soon as the leaves turn and the days start to get a little shorter, I think about making soup. There's something so comforting about coming home to the smell of soup on the stove — or a crockpot as the case may be.
I serve soup as an entree about once a week in the colder months. I have experimented with many soup recipes over the years– sometimes with success, sometimes not – but I can tell you that the kids' favorites seem to revolve around what they call "Mom's Soups." Here's one our favorites:
Kale/Lentil/Tofu Soup
My eldest daughter decided to become a vegetarian when she was 16, so I have become adept at substituting vegetable broth for chicken broth or leaving out the meat and adding tofu to certain recipes. Usually those changes leave the meat-lovers in the family cold, but this is one vegetarian recipe I morphed from a chicken soup recipe that we all really like. In fact, my meat loving boys usually get seconds. It's really healthy too, so you can't beat it! If you have yet to discover kale as a soup ingredient, hopefully this recipe will introduce you to it. Kale's taste and texture is a wonderful addition to many soups and stews.
The soup we like tends to be hearty and filling, but we like to make enough for more than one meal. We suggest investing in a large soup pot like the Belgique ones found here. After that, all you'll have to do is re-heat the soup, and add bread and a salad to complete the meal. Happy Cooking!
Tricia Drevets is a freelance writer, a community college instructor and the mom of six. She enjoys acting, gardening and keeping up with whatever her kids, who range in age from sixth-grader to college graduate — are up to. She lives with her family in beautiful Southern Oregon.
Thank you, Tricia for sharing with us today! So many readers ask me for vegetarian recipes- this one sounds amazing! Not only that…it's "Comfy" 🙂
Tip: Tofu is often sold in big blocks. If you are short on time, grab a tofu knife like this one from Tmart that will help you cube your tofu in minutes
[yumprint-recipe id='3′]