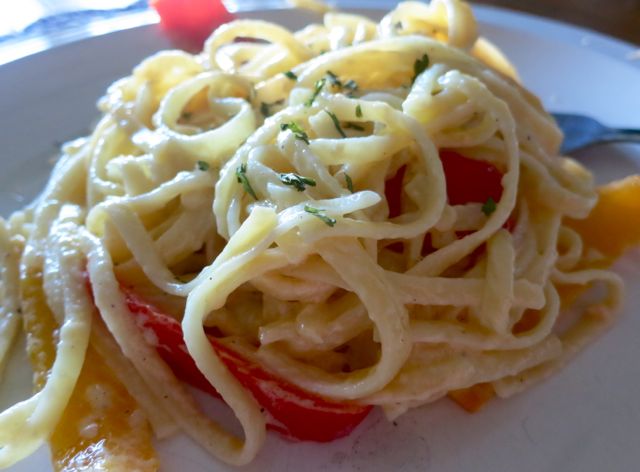 This is such a simple recipe for a great reward. The sweet peppers balance deliciously with the savory garlic and cheese sauce. It looks fancy….but alas, it's just "Comfy".
My Aunt Kelly gave this to me at my bridal shower nearly 12 years ago and I've loved it ever since. It's a wonderful meal to serve for company …just add add a dinner salad and garlic bread. Mmmmm…
So, to my vegetarian friends-keep this one pinned. For my GF friends, use rice noodles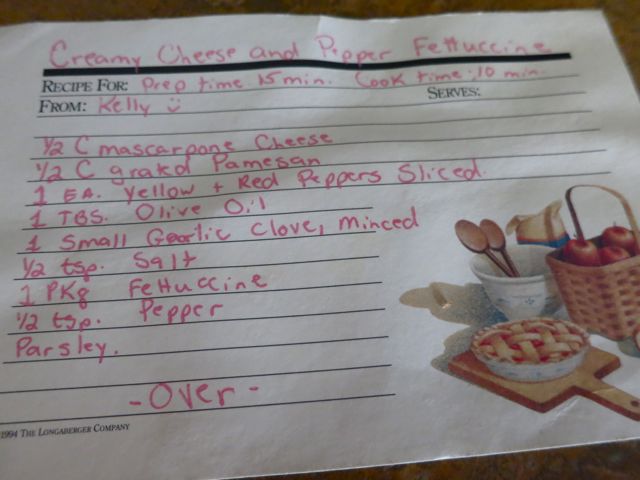 Got to love those family recipes!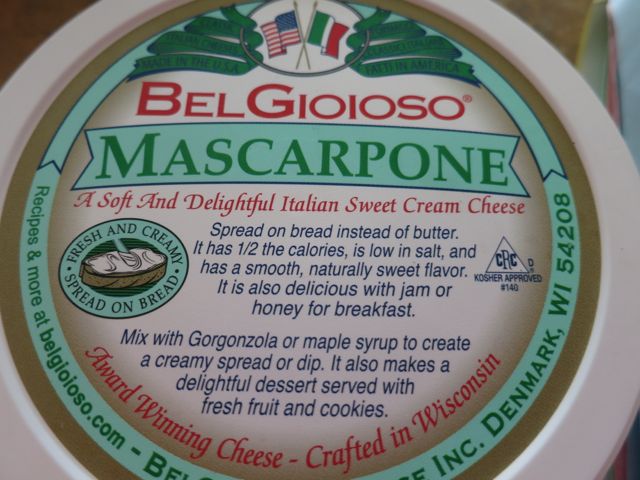 If you can't find Mascarpone cheese, you can use cream cheese as a substitute. The recipe says 1/2 cup, but I just threw in the entire container- I didn't have any use for the remains and I lika the cheese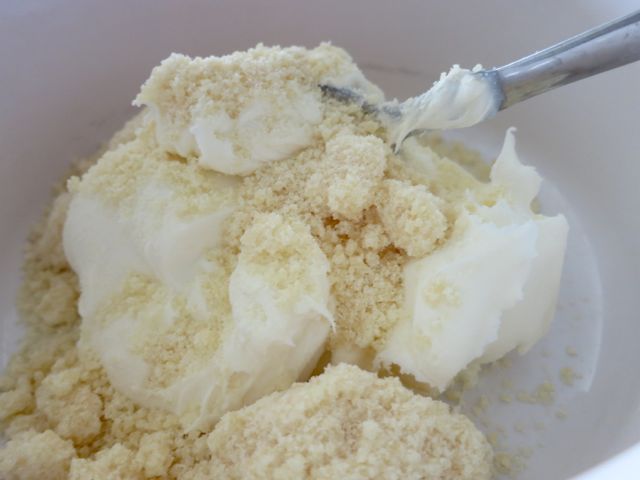 In a medium bowl, combine your Mascarpone and Parmesan …mix well.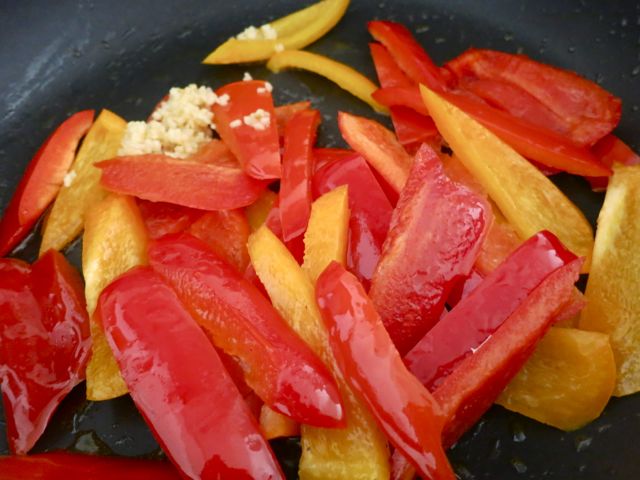 Sauté your sliced peppers in a medium pan in olive oil for about 5 mins. Add garlic and sauté an additional 2 mins.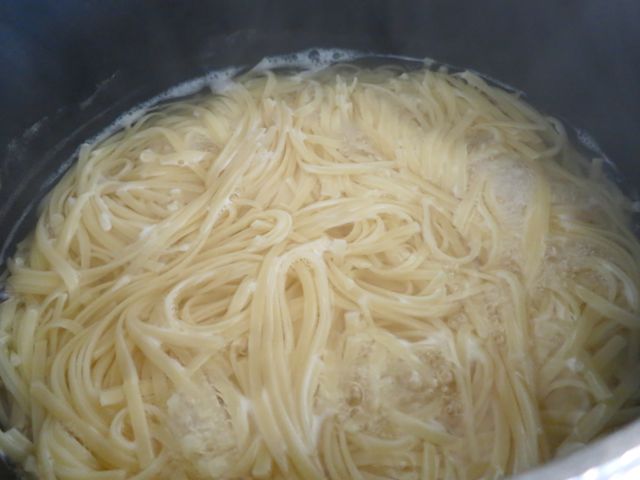 Boil your fettucini by package directions. When noodles are done, pour into strainer and reserve 1/2 cup of starchy water for the sauce. This will serve as a natural thickening agent.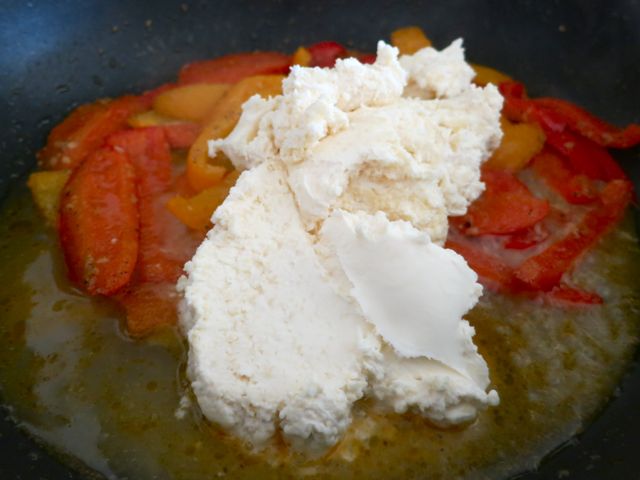 Add water and cheese mixture to the peppers.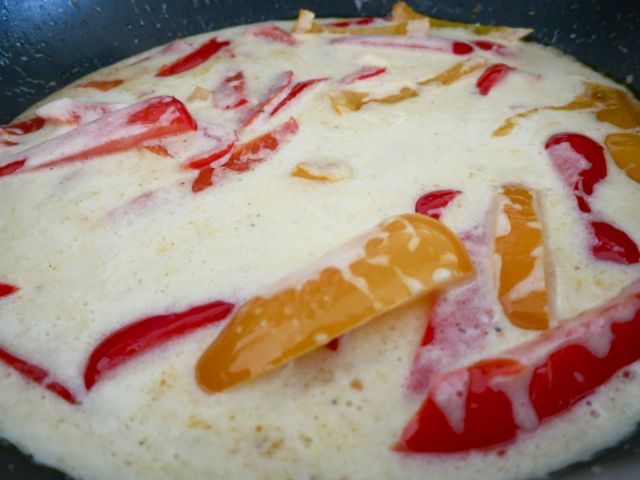 Stir on medium heat.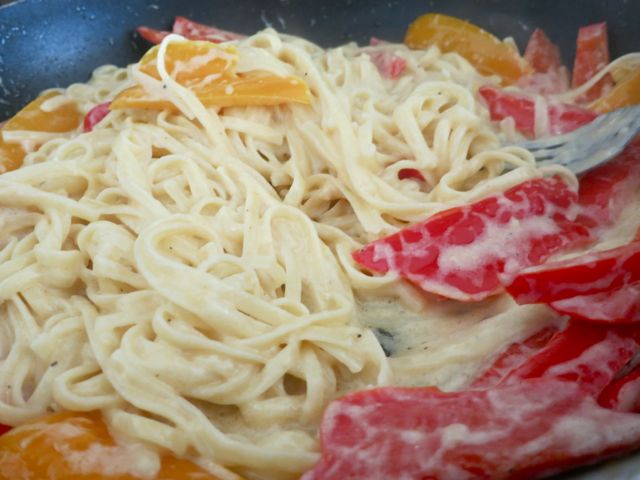 Add your noodles to the pan and stir well. Season with salt, pepper and if you want a little more garlic you can add some garlic powder.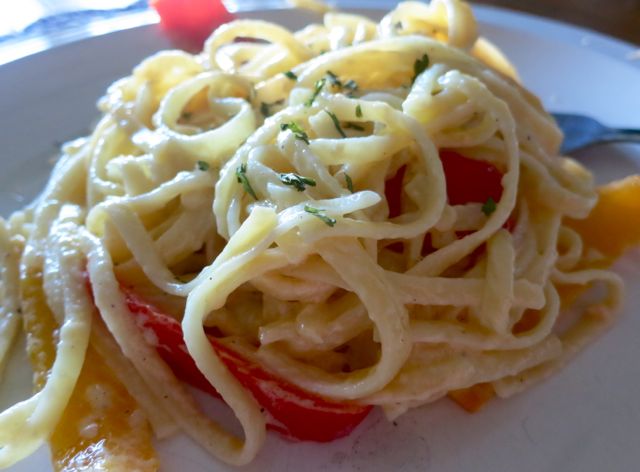 Serve with a sprinkle of parsley! This is honestly soooo delicious.
Creamy Cheese and Pepper Fettuccine
2013-10-01 09:47:08
Serves 6
A delicious mixture of sweet and savory. It looks fancy...but alas, it's just "Comfy".
Ingredients
1 Pkg Fettuccine noodles
1/2 cup Mascarpone Cheese
1/2 cup Parmesan Cheese
1 red pepper sliced
1 yellow pepper sliced
1 Tbsp Olive Oil
1 small garlic clove, minced (or 1 tsp of already minced garlic). You can also use garlic powder.
1 tsp salt (as desired)
1/2 tsp pepper (as desired)
Parsley for garnish
Instructions
Combine Mascarpone and Parmesan in bowl. Mix well.
Cook peppers in oil on medium heat until wilted (about 5 mins). Add garlic, salt and pepper, cook an additional 2 mins. Remove from heat.
Cook Fettuccine according to package. Reserve 1/2 cup of pasta liquid.
Add cheese mixture and reserved pasta water to peppers. Add pasta. Toss well. Garnish with parsley and serve immediately.
Comfy in the Kitchen http://comfyinthekitchen.com/