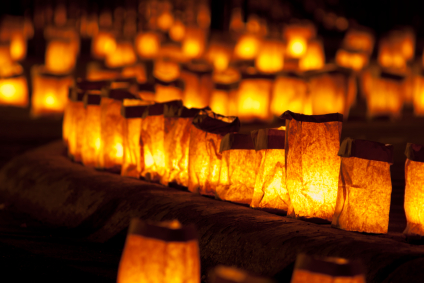 Everyone has certain traditions that they partake in this time of year, whether if that's decorating the tree on Thanksgiving Day or volunteering at the food bank to spread Christmas cheer. However, it's all too easy to take a look at your bank account on January 2nd and cringe with buyer's remorse. You don't have to sacrifice a merry holiday season in order to save money; here are four traditions that we do in my household that are not only fun, but budget friendly as well.
Decking The Halls
To add a bit of spirit to every nook and cranny, we remove the labels from jam and sauce jars, wash them out thoroughly, fill them with tinsel, pine needles, pinecones and more, and scatter them throughout the home. Additionally, we utilize solar powered Christmas lights like these to decorate the outside of our home and keep the walkway well-lit. Not only do they operate without an ugly power cord, but they also save money on the electric bill. To add additional glow, employ traditional paper bags and put a candle with some sand inside each one. The sand will hold down the paper bag and secure the candle. Light each one just before dusk to affordably create a whimsical appearance. See if you can get your neighbors to participate as well to make the whole neighborhood gorgeously illuminated.
Gift-Giving
We are always trying to instill in our children that gift-giving is not just about the tangible present, but the good intentions behind it as well. Although we do give our family some of the things they want, we also use service jars as gifts. We like to decorate jars and put favors each side each jar for each family member. Inside each recipient's container, we place handwritten slips of paper that outline favors we plan on doing for others. Our children have put down activities like "washing dishes after dinner" and "walk the dog for a week," and my husband and I have documented ideas like "play tag in the park" and "bake whichever dessert the family chooses." This is not only easy to do on a low budget, but helps us to further our appreciation of one another.
Holiday Party Treats
When any of our children's social circles or classes has a holiday party, parents are expected to contribute, no matter whether it's a fiesta for Spanish class or a party hosted by the swim coach. My husband and I are also invited to more adult get-togethers in which it is polite to bring some sort of dish along. Needless to say, being invited to a series of holiday bashes can be quite costly.
Over the years, we've found two signature treats we love making that are also affordable: rice crispy treats and hummus. In order to make them particularly festive, we prepare our rice crispy treats with marshmallows, rice crispy and butter, but instead of cutting them into squares, we'll shape the mixture into balls, add a little bit of food coloring and turn them into Christmas ornaments like this (SO cute). You can even use a cookie cutter to make them into candy canes or Christmas trees with M&Ms and peppermint pieces for decoration. For "holiday hummus," we buy the traditional form of the spread (you can make it from scratch as well) and mix it with avocado to make it green. After that, we put red tomatoes or peppers as garnish in the middle, and chips all around the bowl.
Christmas Fun
Going to an opera house or a theatre can get expensive, especially if you have a large family. We love going to Christmas shows but, instead of paying a lot of money per person to go to a formal theater, we'll visit church performances and community centers for a much cheaper price. Furthermore, supporting these local organizations are a phenomenal opportunity to give back to the community.
We hope these ideas fit into your "celebration" regimen, making your life a little easier, but still festive, and saving you some money along the way. From our household to yours, have a very, Merry Christmas!
~Samantha Cummings