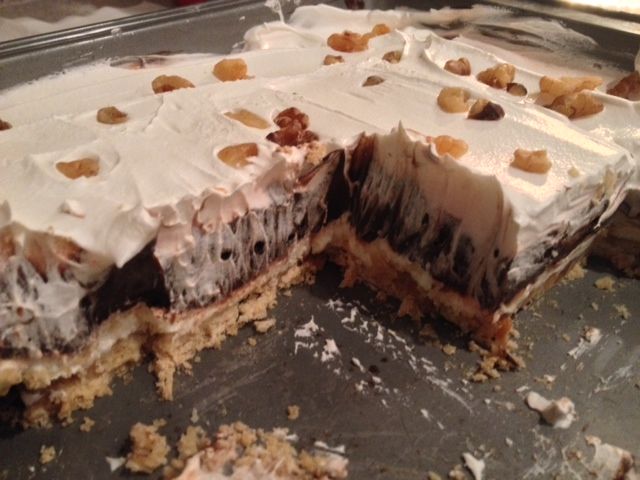 Happy New Year everyone!
I just got home from having a delicious meal over at Mom's with family and friends. The annual New Year's Day pork and sauerkraut dinner is always a hit in my family. Everything was so delicious! Grandma Ruth came strong with her amazing Chocolate Pudding Delight that I thought to share with you!
Excuse the photo quality as I took these on my phone….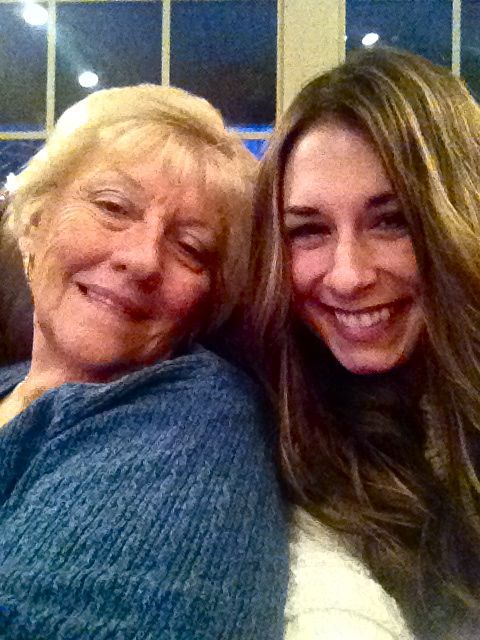 Thanks for another yummy recipe, Grandma! Love ya!
Chocolate Pudding Delight
2014-01-01 19:01:51
Serves 12
Crust
1/2 cup softened butter
1 cup of all purpose flour
1/4 cup of finely minced walnuts
First Layer
1 (8 ounce) package of cream cheese, softened at room temperature
1 cup of powdered sugar
1 cup of whipped topping
Second Layer
2 (3.9 ounce) packages of instant chocolate pudding
3 cups milk
Top with
2 cups of whipped topping and crushed walnuts.
Instructions
Preheat oven to 350 degrees
Mix together the flour, walnuts and butter, press into the bottom of a 9 x 13 baking dish.
Bake for approx 15 minutes or until lightly browned. Let cool.
Mix together the cream cheese and powdered sugar. Fold in 1 cup of the whipped topping. Spread over the cooled crust.
Mix together the two boxes of pudding with the 3 cups of milk until slightly thickened, spread over the cream cheese layer.
Top with remaining cup of whipped topping and crushed walnuts. Cover and refrigerate until ready to serve!
Notes
You can use Cool Whip or homemade whipping cream as desired. Grandma Ruth uses Cool Whip -so if ya have an issue with it, take it up with the boss....hahaha. Enjoy, sweet friends!!!!
Comfy in the Kitchen http://comfyinthekitchen.com/