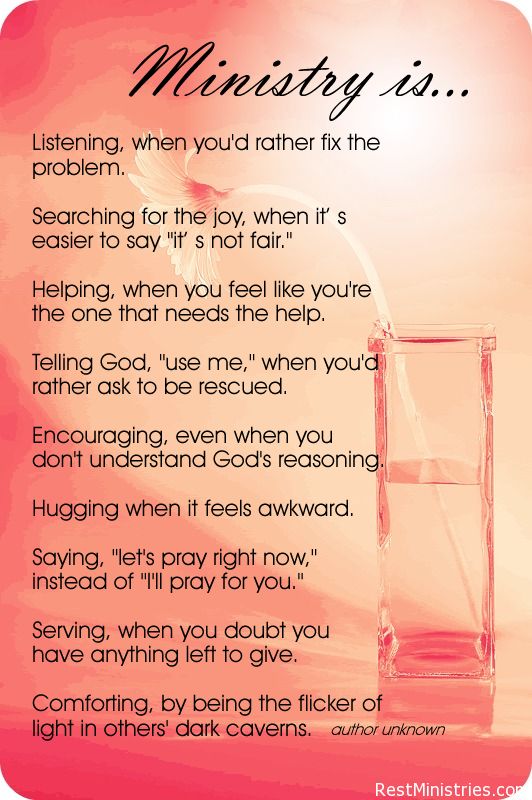 Credit to goes to RestMinistries.com– Bless YOU!!!!! 
Do I have any "Wounded Healers" in the room?
You've been there– you would have never signed up to have gone there, but it happened and it's now a part of your life song. You would never, ever choose to go back to that awful time, but because it happened….you know how to better minister to others. 
Whether it was divorce, abuse, neglect, abandonment, drug use, failed relationships, depression, an accident or illness….you have felt pain beyond your coping ability.
It might have been your choosing, or you could have suffered pain from someone else's choosing. That's beside the point. You suffered. Big time. 
There was probably a point in time you just couldn't see through the pain, the struggle, or the trauma -it seemed as though it would never end. You got to the point where you lifted your hands and said, "God, you've got a problem here because I cannot ….I mean cannot…cope any longer- take this mess and give me the strength to live day by day." 
Oh, sweet friends…..you too? 
Having "been there", when we see someone who is currently there, let it burden us to move. 
Almost 44,000 people viewed this image that was placed on my FB wall yesterday… I was so taken back by the response, I had to address it. There is so much beauty in this message…and so much scripture that backs it. 
Ministry is…
1. Listening when you'd rather fix the problem.
"My dear brothers and sisters, take note of this: Everyone should be quick to listen, slow to speak and slow to become angry" ~James 1:19 
They'll remember your grace.
2.  Searching for the joy when it's easier to say "It's not fair." 
"Consider it pure joy, my brothers and sisters,whenever you face trials of many kinds, because you know that the testing of your faith produces perseverance.  Let perseverance finish its work so that you may be mature and complete, not lacking anything." ~James 1:2-4
There is always something left when everything seems to be taken…
3. Helping when you feel like the one who needs help.
"He gives strength to the weary and increases the power of the weak." ~Isaiah 49:20
Sometimes helping others gets our minds off of ourselves. It's a blessing to serve.
4. Telling God "use me" when you'd rather be rescued. 
"For I am confident of this very thing, that He who began a good work in you will perfect it until the day of Christ Jesus." ~Phillipians 1:6
If you're sucking air, God isn't done with you yet.
5. Encouraging, even when you don't understand God's reasoning. 
"And I will do whatever you ask in my name, so that the Father may be glorified in the Son." ~John 14:13 
Lord, let your will be done, but please give them the strength to get through this. They can do this with You.
6. Hugging when it feels awkward.
"Rejoice with those who rejoice and weep with those who weep." – Romans 12:15 
Sometimes we need human touch, it releases emotions helping us to not feel so alone. 
7. Saying "let's pray right now", instead of "I'll pray for you". 
Be anxious for nothing, but in everything by prayer and supplication with thanksgiving let your requests be made known to God. And the peace of God, which surpasses all comprehension, shall guard your hearts and your minds in Christ Jesus. ~Phil 4:6-7
The best thing you can do for someone is pray for them. Then, ask how God can use you to help.
8. Serving, when you doubt you have anything left to give.  

"Come to me, all you who are weary and burdened, and I will give you rest. Take my yoke upon you and learn from me, for I am gentle and humble in heart, and you will find rest for your souls.  For my yoke is easy and my burden is light." ~Matthew 11:28-30 
If it's God's will…He will give you the strength, and the rest.
9. Comforting by being the flicker of light in other's dark taverns.
"You are the light of the world. A town built on a hill cannot be hidden."~Matthew 5:14 
His love stands out in us…
 
Can you think of more, my friends? What is ministry to you?