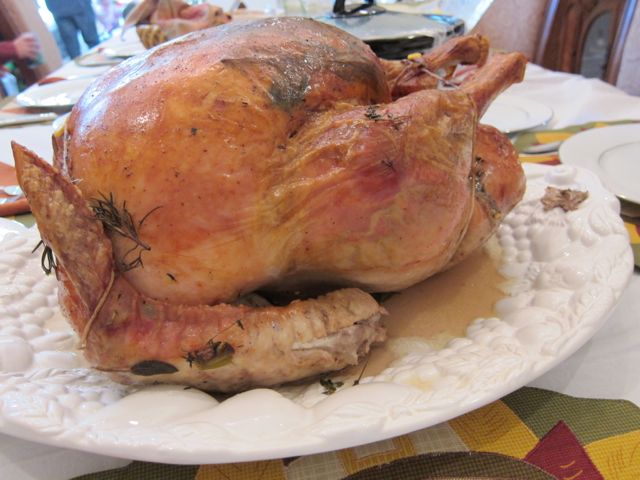 I've been getting a lot of e-mails asking me after I thaw and brine my turkey…how do I roast it the next day?  This recipe comes from The Food Network's Giada DeLaurentiis and it has become my absolute favorite way to roast a turkey. The first time I had this was at my dad's house a few years ago and I've made it every year since. It's incredibly flavorful, makes the turkey moist and even the people who say they don't like turkey…..love it. Not kidding. 

Stuff, season, and butter as directed.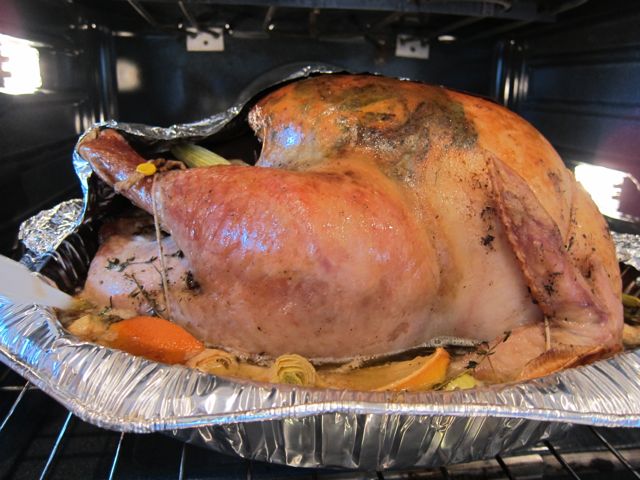 Cover and roast for 20 mins, then add broth.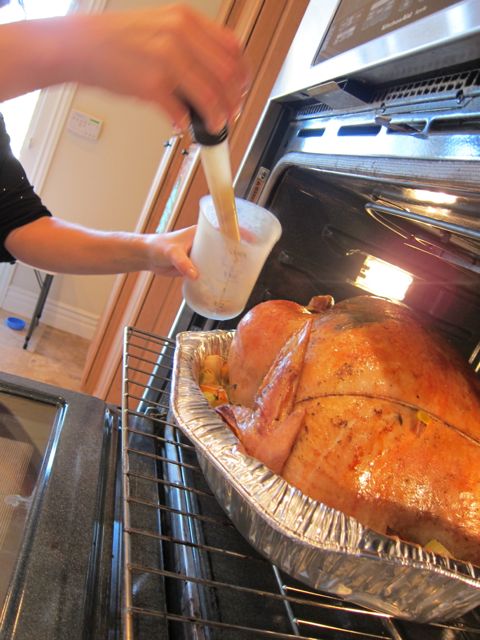 Baste as directed.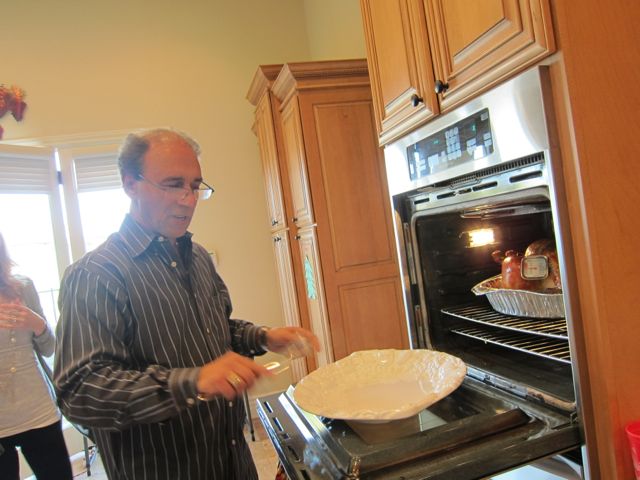 Roast until the internal temperature is at 165 degrees. Cover with foil after it is done roasting and let it sit for 30 mins before carving. 
The Best Thanksgiving Turkey Recipe Ever
http://www.foodnetwork.com/recipes/giada-de-laurentiis/turkey-with-herbes-de-provence-and-citrus-recipe.html
Ingredients
1 (14 to 15-pound) turkey, neck and giblets reserved
1 orange, cut into wedges
1 lemon, cut into wedges
1 onion, cut into wedges
6 fresh rosemary sprigs
6 fresh sage sprigs
6 fresh oregano sprigs
7 tablespoons unsalted butter
2 tablespoons herbes de Provence
1 tablespoon olive oil
1½ teaspoons salt
1½ teaspoons freshly ground black pepper
6 cups canned low-salt chicken broth (approximate amount)
⅓ cup all-purpose flour
Read more at: http://www.foodnetwork.com/recipes/giada-de-laurentiis/turkey-with-herbes-de-provence-and-citrus-recipe.html?oc=linkback
Instructions
To make the turkey: Position the rack in the lowest third of the oven and preheat to 400 degrees F.
Rinse the turkey and pat it dry with paper towels.
Place the turkey on a rack set inside a large roasting pan.
Place the orange and lemon wedges, onion, and 2 sprigs of each fresh herb in the main turkey cavity.
Tie the legs together to hold the shape of the turkey.
Stir 2 tablespoons of butter, the herbes de Provence, oil, and 1½ teaspoons of each the salt and pepper in a small saucepan over medium heat just until the butter melts.
Rub the butter mixture all over the turkey and between the turkey breast meat and skin.
Place the turkey neck and giblets in roasting pan.
(Recipe can be prepared up to this point 1 day ahead.
Cover and refrigerate. Let stand at room temperature 30 minutes before roasting.)
Cover the turkey breast with foil.
Roast for 20 minutes.
Pour 3 cups of broth into the pan and stir to scrape up any brown bits on the bottom of the pan.
Add the remaining sprigs of fresh herbs to the pan.
Roast the turkey for 40 minutes.
Reduce the oven temperature to 350 degrees F.
Remove the foil from the turkey; pour 1 more cup of broth into the pan.
Continue roasting the turkey until a meat thermometer inserted into the thickest part of the thigh registers 165 degrees F to 175 degrees F or until the juices run clear when the thickest part of the thigh is pierced with a skewer, basting occasionally with pan juices, about 1 hour and 30 minutes longer.
Transfer the turkey to a platter and tent with foil. Let stand 30 minutes while preparing the gravy.
To make the gravy: Strain the turkey pan juices from the roasting pan through a sieve and into a 4-cup glass measuring cup; discard the solids. Spoon off the fat from atop the pan juices. Add enough chicken broth, about 1 to 2 cups, to the pan juices to measure 4 cups total. Melt the remaining butter in a heavy large saucepan over medium-high heat. Add the flour and whisk for 1 minute. Gradually whisk in the broth. Simmer until the gravy thickens slightly, whisking often, about 10 minutes. Season with salt and pepper. Serve the turkey with the gravy.
Read more at: http://www.foodnetwork.com/recipes/giada-de-laurentiis/turkey-with-herbes-de-provence-and-citrus-recipe.html?oc=linkback