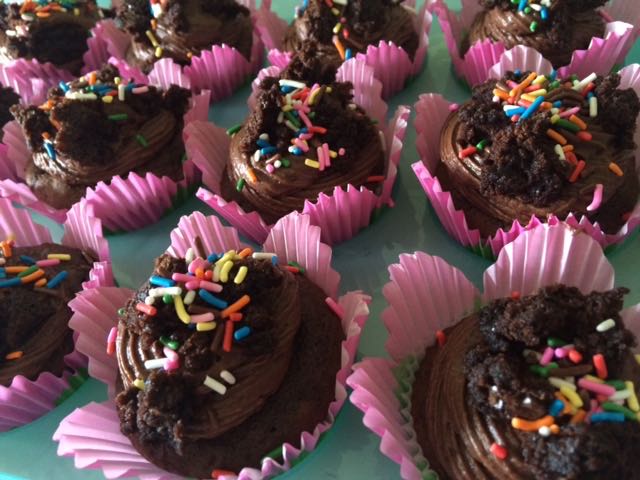 I'm going to say it until I'm blue in the face…it's not the recipe, it's the memories that go along with the recipe. This particular recipe brings a smile to my face because it was shared celebrating with friends who I don't get to see very often. These women strengthen me, make me laugh, keep me grounded, and they like to eat cupcakes. I like women to say yes to dessert, you know what I'm talking about- I know you do.
So we had a bloggy conference a couple weeks ago and it happened to be our dear friend Mandy Young's birthday. I asked her what her favorite kind of cake was and she said she actually preferred brownies (thata girl) so, as a fan of "Cupcake Wars" I thought I would try to mix the two. But, low and behold there was a recipe out there that did just that- a huge shout out to Your Cup of Cake ! My friends said these were the best cupcakes they have EVER had! Wohoooo!!!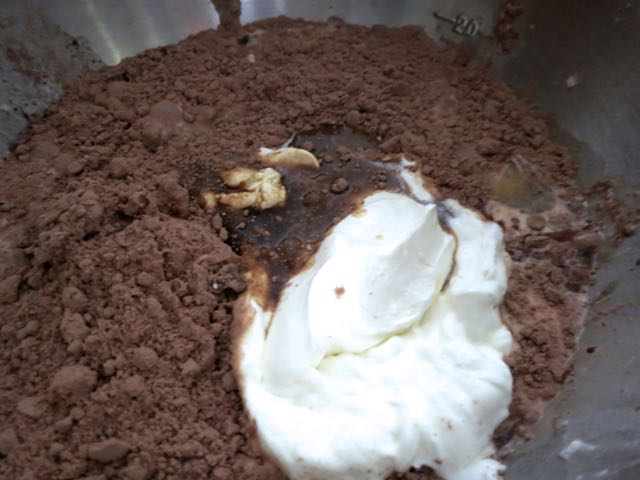 I love to "doctor" up cake mixes – the best way to do it is to add sour cream. I knew this recipe was going to be a winner when I saw this method being used. This is 1 box Devil's Food Cake, 1/2 cup melted butter, 3 eggs, 2 tsp vanilla, 3/4 cup milk, 1/2 cup sour cream and 1 cup mini chocolate chips.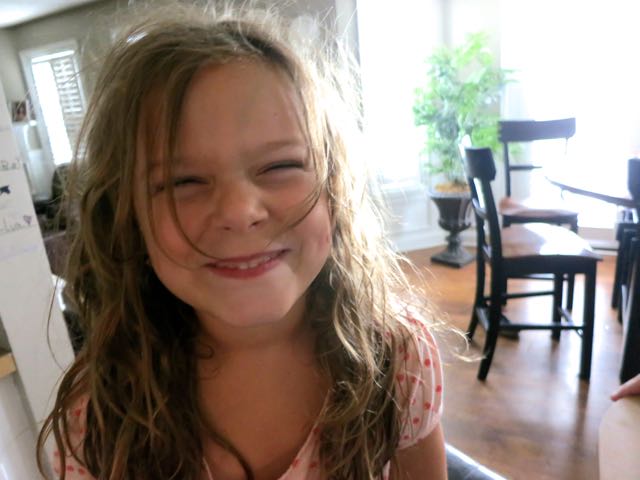 And a professional stirrer and licker of the bowl.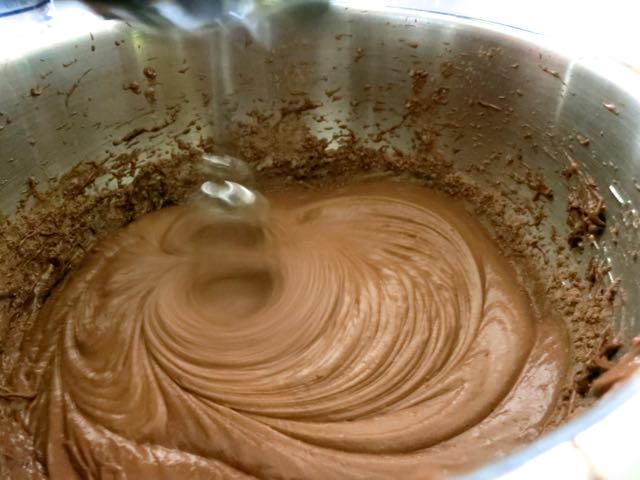 As you can see these ingredients instead of using the boxed ingredients make for a denser batter, thus denser cupcake. This is called yum.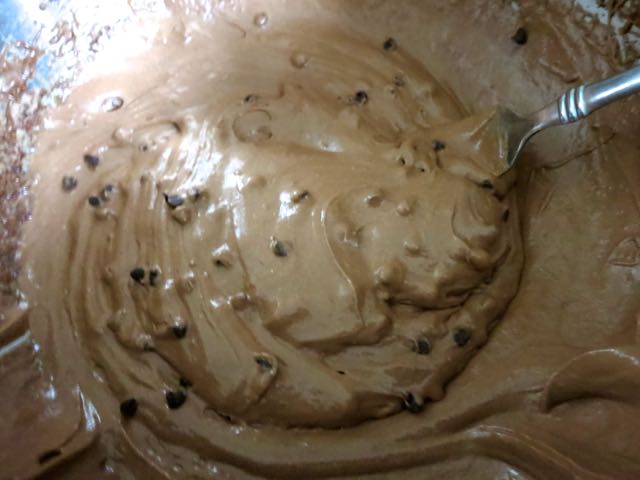 More chocolate= more yum.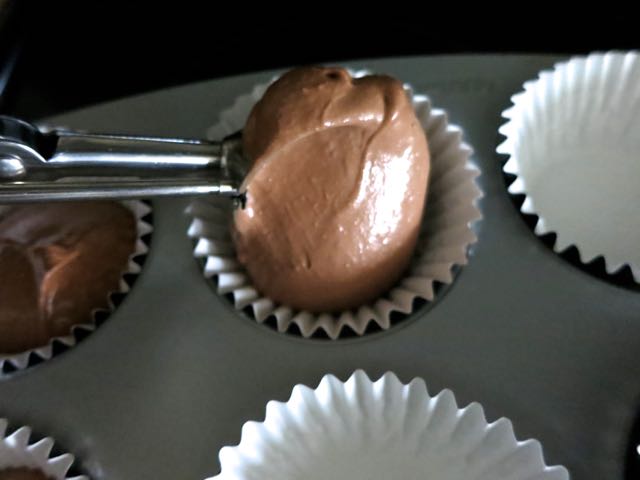 To get your cupcakes portioned evenly, use a cookie scoop. This also helps eliminate any mess spilling onto the cupcake pan.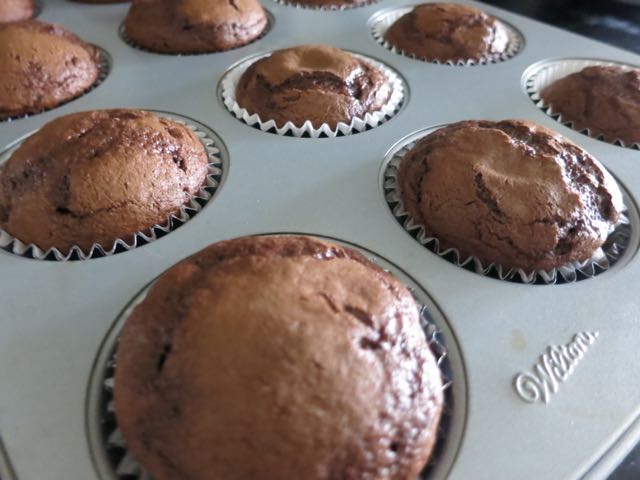 Bake in a cupcake pan for approximately 15 mins or until set. Remember, they will continue cooking a couple mins longer. Let cool a couple mins, then place in the refrigerator.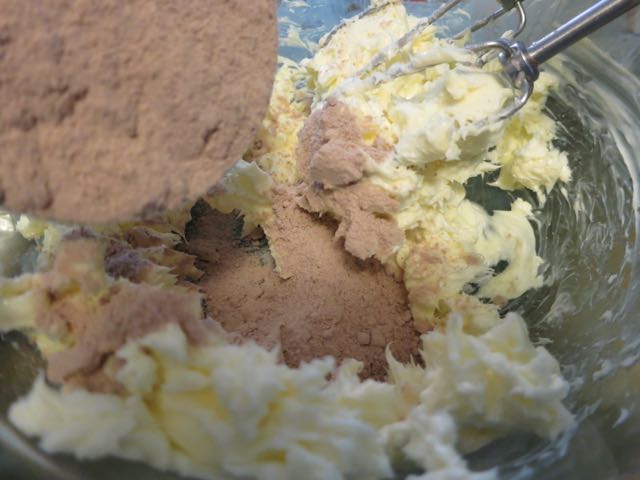 This homemade brownie batter butter cream is amazing. You make your brownie garnish by making brownies with 1/2 the brownie mix and halving the ingredients of course. Then you take the other half of the mix and mix it right into the frosting.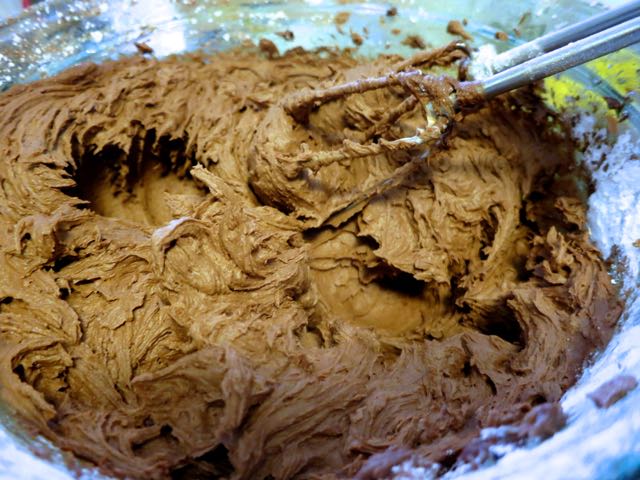 It's butter, brownie mix, unsweetened cocoa powder, vanilla, milk and powdered sugar that makes this frosting amazing.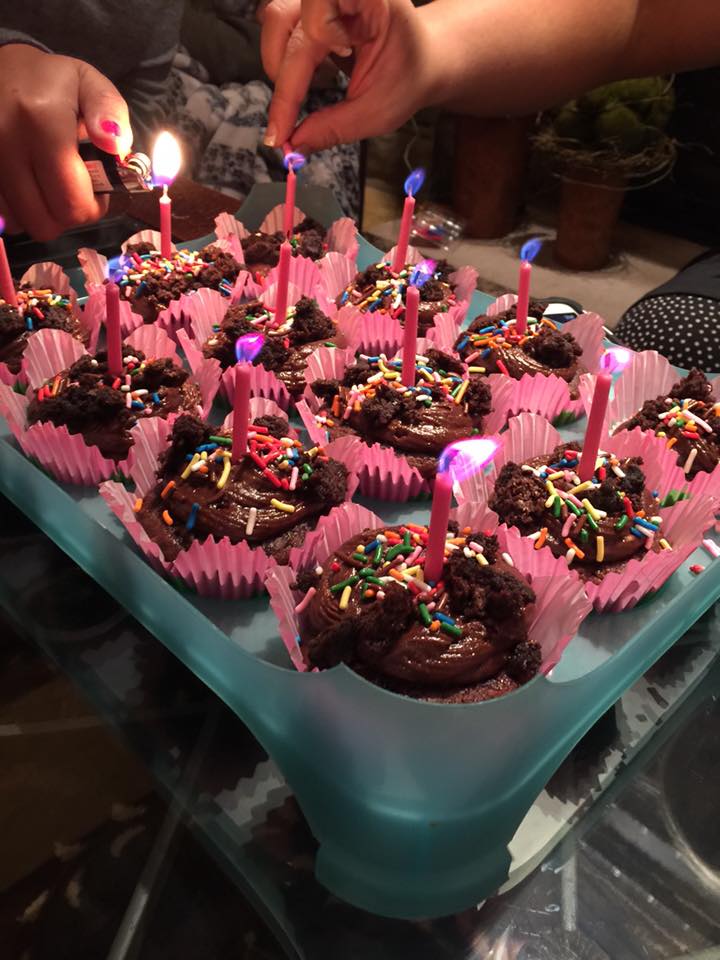 I bought the most beautiful pink color flame candles- I didn't realize how pretty they would be! And I used cute Wilton flower cupcake cups. Mandy loves her pink! hehe.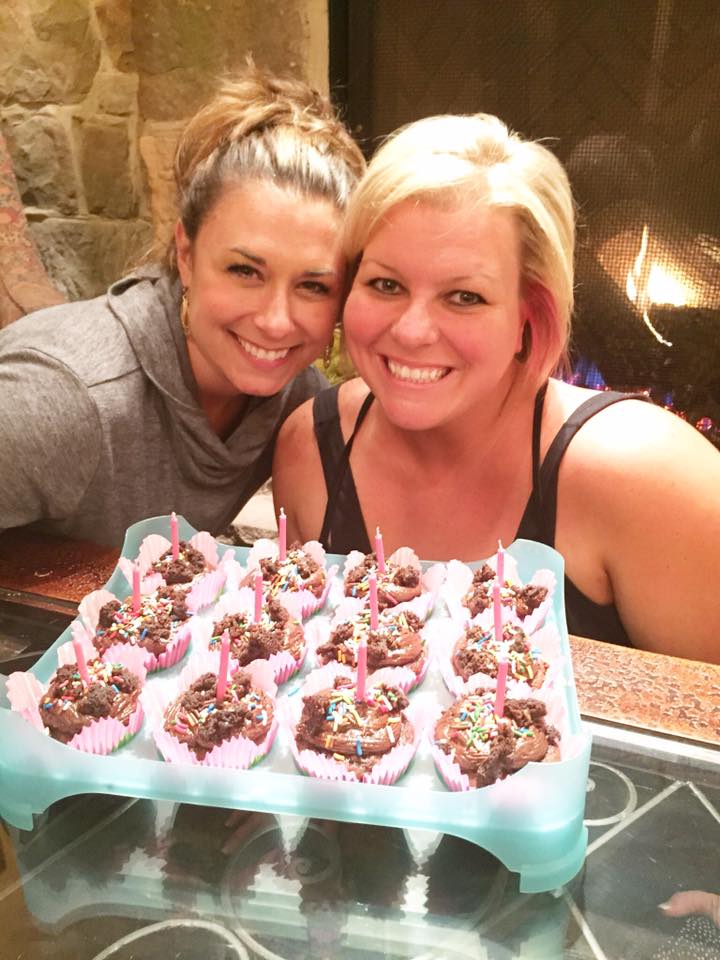 Happy Birthday Dear Friend!!!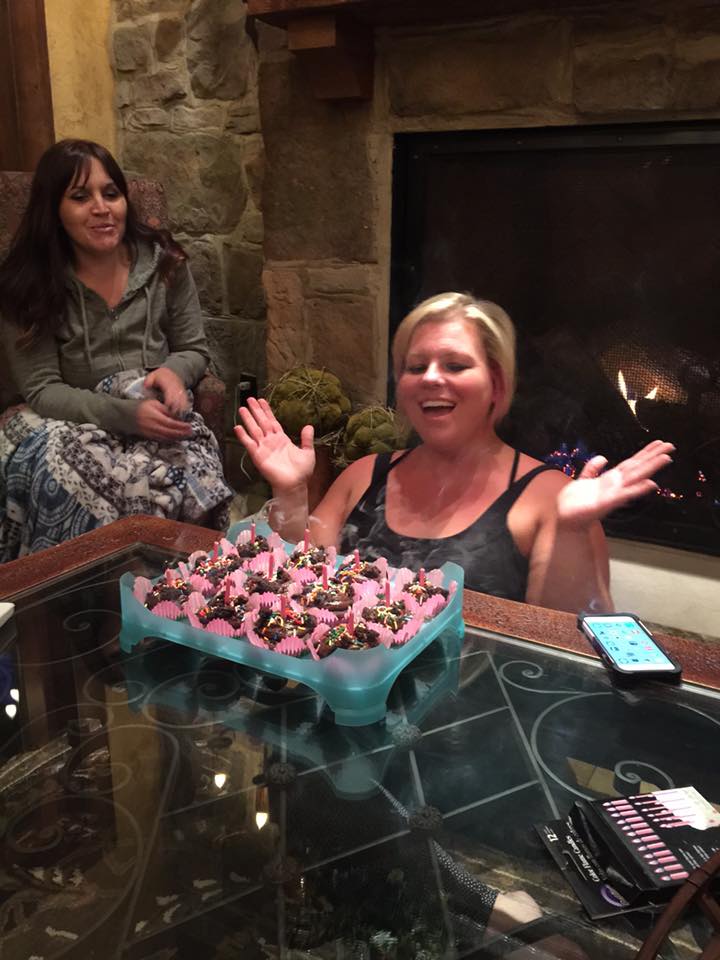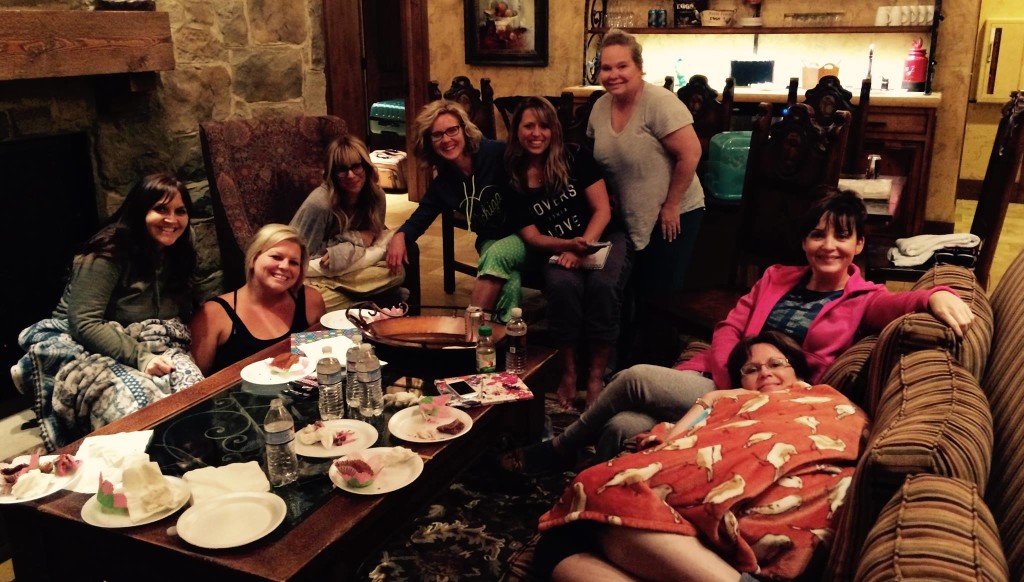 My Buddies from left to right: Katina, Mandy, Summer, Clare, Courtney, Darlene, Ruth and Karen. Love you girls!!! So, here you have it- HERE is the experience….all cuddled up with brownie cupcakes in our bellies and a song in our heart.
It's such a blessing- that "meal ministry".

Double Chocolate Cupcakes with Brownie Batter Frosting/Brownie Garnish
Ingredients
1 box Devil's Food Cake Mix
½ C. melted butter (or oil)
3 eggs
2 tsp. vanilla extract
¾ C. milk
½ C. sour cream
1 C. mini chocolate chips
Brownie Batter Frosting:
1 C. butter, room temperature
½ C. brownie mix, dry (from the box)
⅓ C. unsweetened cocoa powder
2 tsp. vanilla extract
2 Tbsp. milk, more if needed
2-3 C. powdered sugar
Brownie garnish (Make ½ brownie mix according to package instructions) You can either crumble the brownies and place on top, or cut a small brownie and place on top. Your choice.
Instructions
Preheat oven to 350 degrees and line pan with cupcake liners.
In a large bowl add cake mix, melted butter, eggs, vanilla extract, milk and sour cream. Mix well.
Stir in mini chocolate chips.
Fill cupcake liners ¾ full with a cookie dough scoop. Bake for about 15 mins.
Let cool and place in refrigerator
Brownie Batter Frosting: Beat butter. Add brownie mix, cocoa powder, vanilla and milk and beat again. Slowly add in powdered sugar until you reach your desired consistency. You can add more milk if it becomes too thick, but remember the butter in the frosting will soften even more, so a little thick isn't a bad thing.
Pipe onto cooled cupcakes and top with brownie pieces and sprinkles.