"But just as you excel in everything—in faith, in speech, in knowledge, in complete earnestness and in your love for us—see that you also excel in this grace of giving. … Our desire is not that others might be relieved while you are hard pressed, but that there might be equality. At the present time your plenty will supply what they need, so that in turn their plenty will supply what you need. Then there will be equality …"

~2 Corinthians 8:7,13-14
Hi Ladies!
Some of you may be intimidated by the idea of having your own "meal ministry"…please don't be! Yes, A meal ministry can be a lot of work and preparation…but it doesn't have to be. You can make double of what you are planning for your own family one evening and bless another family.  You can even make something simple like a batch of cookies, a loaf of bread, or even cheese and crackers. If you get too nervous to make something you can send a pizza on a Friday night to a family…what a blessing that would be!
The best advice I have for someone who feels led to this ministry is to pray that God leads you to a person who could use a meal.Then, decide if you want to start with desserts, meals, pre-made food, etc.  God will provide you with people in need and the means to provide for them…I am living proof that this happens. Remember, I started this ministry while my husband was unemployed and was (and still is) so blessed because of it.
Now, please help me welcome Lindsey to Meal Ministry Monday! Here is a sweet letter I received from her…
Hi Janelle,

  I'm a follower of your blog and love your recipes.  I found you by also following Courtney's Women Living Well blog.  Not too long ago I mentioned to you that I made your crescent chicken for an expecting Momma and you asked if I took any pictures.  Well that got me thinking, I'm part of a spouse group for military women whose husbands are attending flight school and we have a "Meals for Moms' group that we make meals for expecting/new Momma's.  So anyways, I made another crescent chicken today for an expecting Momma who is on bedrest for the rest of her pregnancy and remembered to take some pics this time.  I don't know if its something you're looking for on your Meal Ministry Mondays or if you were just looking for more pics from your blog followers.

  I also brought her some homemade banana bread, strawberries and angel food cake for desert.  I do blog myself but keep it set for private family viewing.  So let me know if you would like to see the pics.  Hope you are having a great week!!

~Lindsey
OF COURSE I wanted pictures! And here they are…..

Lindsey and her beautiful family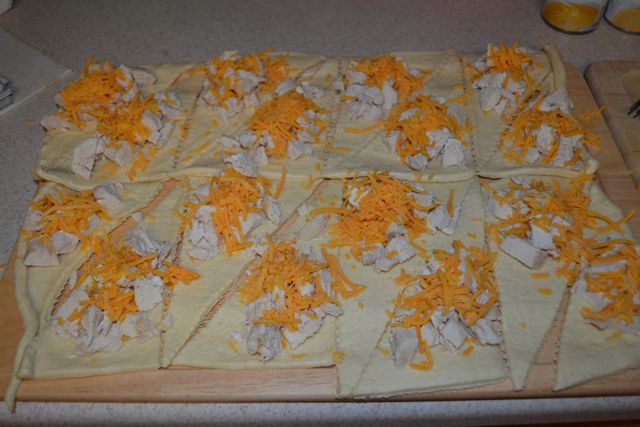 The "making of" Crescent Chicken (this is my MOST popular recipe).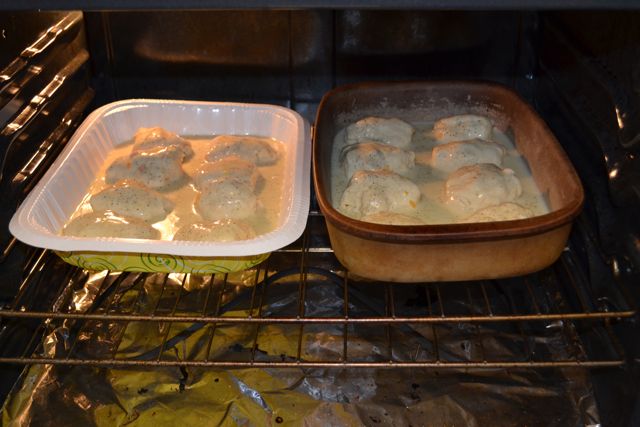 It looks like she made double- one batch for her family and one batch to give away. It is VERY important to remember that your own family is your FIRST ministry. Sometimes our "ministries" can take us away from our family…this is not what God wants. This is a great example Lindsey…love it.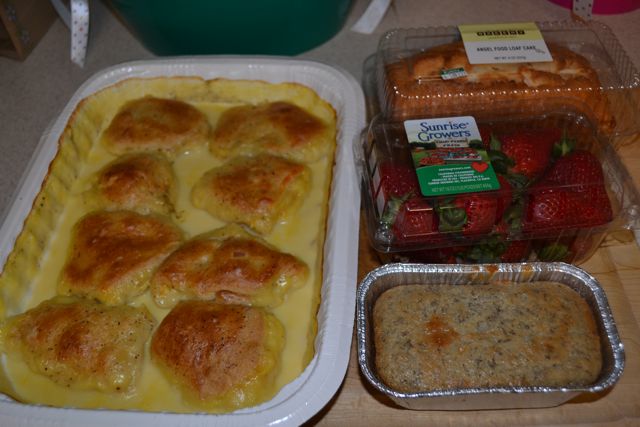 Here we have a homemade meal, banana bread, strawberries and angel food cake. Again, a perfect example of homemade mixed with store bought. You don't have to make everything homemade! Some things are easier and just as tasty bought from the store.
Lindsey, thank you so much for being a part of Meal Ministry Monday. This family was surely blessed by your act of kindness. What a blessing it is to know that there are women like you reaching out to other women who may be overwhelmed with life changes. This post is a huge blessing to me!
Who could use a meal?
A new mother
A military family
A person going through a divorce
A family whose spouse is out of town
A disabled person who may have difficulty cooking
Anyone who is out of work
The needy
Church clergy
A new neighbor
Any neighbor
An elderly person/relative
A family who just lost a loved one
A friend
A co-worker
A teacher
Anyone who God leads you to!