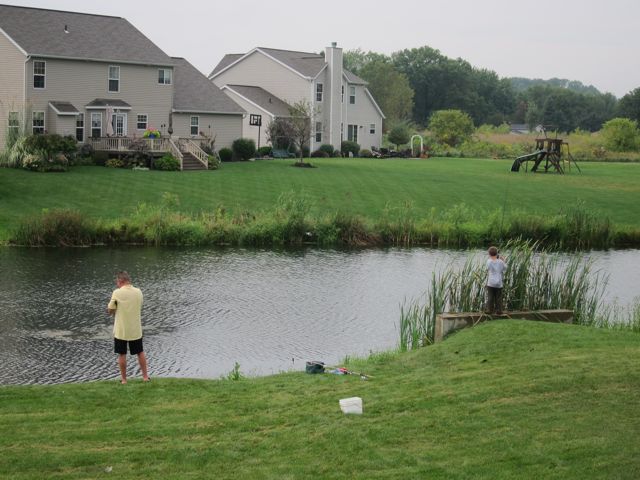 We had such a busy week last week…with school starting and football season in mid swing it felt like we were saying "hi and bye" and just making it to all the places we had to be. We woke up this morning exhausted and in need of a "family day". It was the perfect rainy Sunday to stay home.
This evening my husband's parents came over to fish and have dinner for the holiday ! My in-laws were such a huge bonus when I married Geoff…I love them like like my own and can't say enough about them. So, naturally I show my love for them by cooking for them…
Here is what we had:
Marinated Pork Tenderloin , fresh green beans with slivered almonds, baked apples, mashed redskins, and rolls.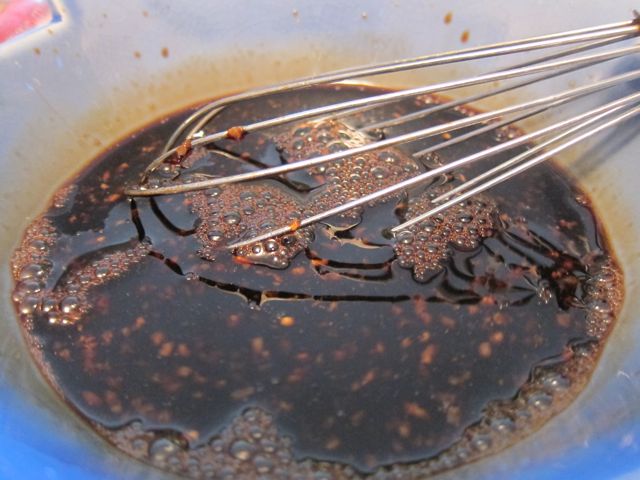 The marinade for the Pork Tenderloin: Soy Sauce, brown sugar, balsamic vinegar, fresh garlic.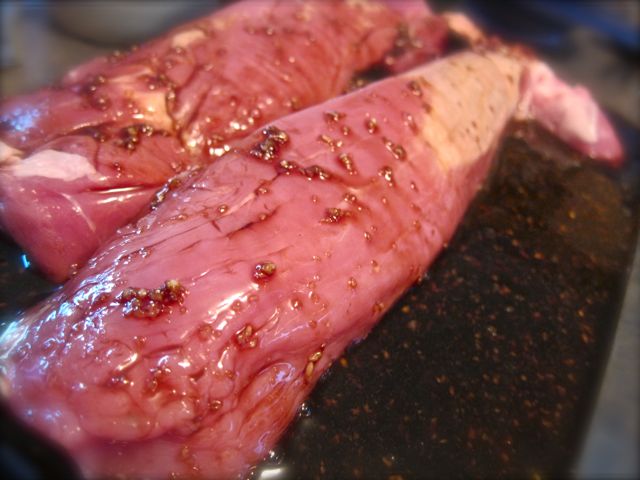 I marinated the pork in this mixture (in the refrigerator) for about 6 hours. I turned the meat over every hour or so.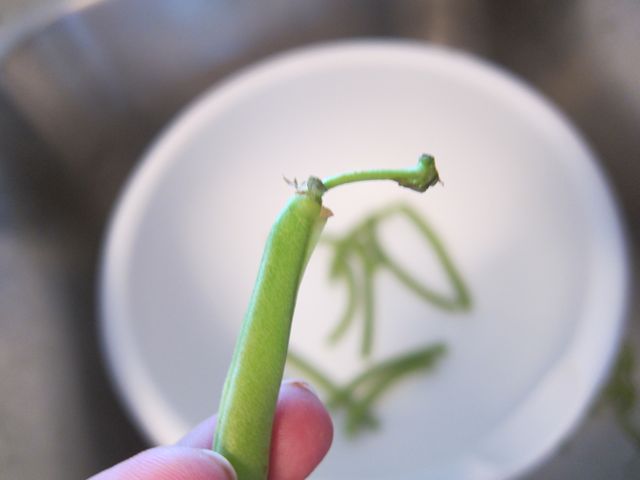 I made "fresh" green beans tonight ( they were on sale!) Remember to snap the ends off!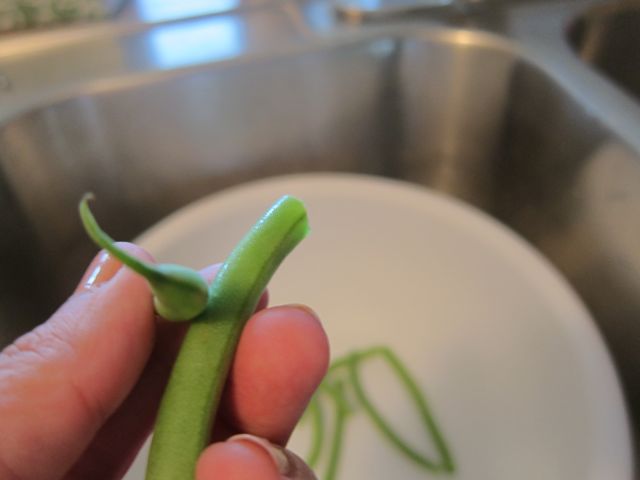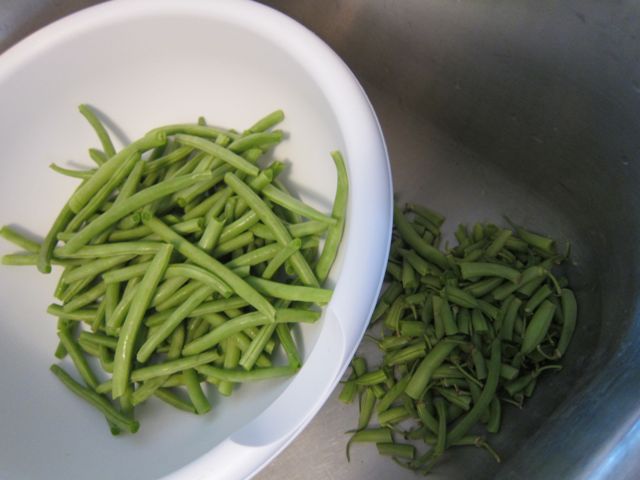 This takes a little time..but fresh green beans are crisp and delicious and well worth the effort if you have the time. I boiled them in water for 5 mins, then made them the same as I make the Speedy Gourmet Green Beans with almonds.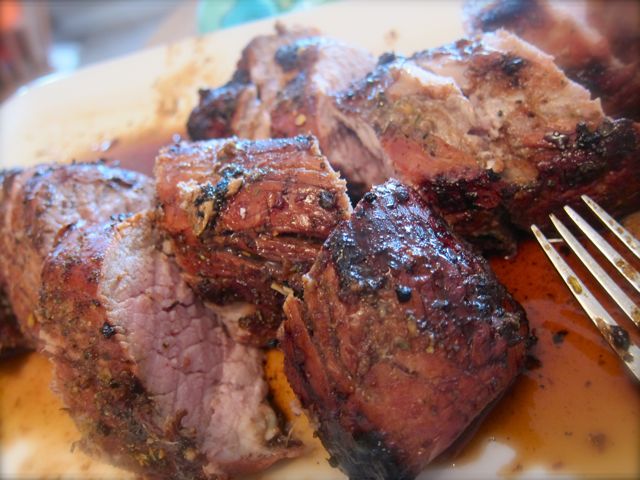 I heated the grill to med-high heat and covered it in foil. I placed the 2 tenderloins on the grill and sprinkled them with a pork rub. I grilled the meat 7 mins x 4 turns= 28 mins total. Then, I took the meat off the grill and covered it with foil and let it stand for 5 mins before I sliced it. You can see in the photo the meat is still juicy and not overcooked. Whatever you do…don't over cook pork! It gets very dry!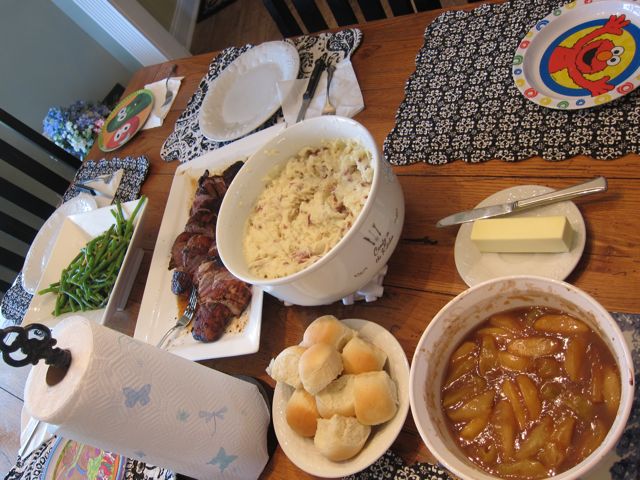 This was our meal! Marinated Pork Tenderloin, Mashed Redskins, Baked Apples, Green Beans with Almonds, and warm Rhodes rolls..Mmmm..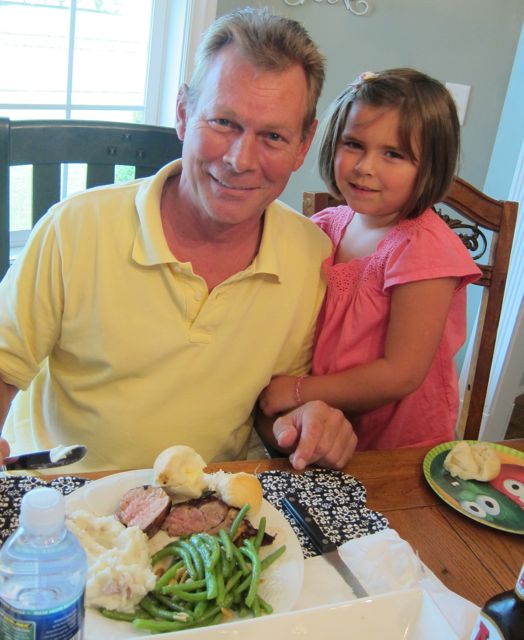 My daughter with one happy Grandpa! (doesn't he look like Kevin Bacon? Let's embarrass him…why not!?)
Thanks Grandma/pa "Puppies" for coming over tonight! We love you! Kathy..here's the recipe you requested 😉 Glad you liked it!
Marinated Pork Tenderloin
Ingredients
2 pork tenderloins
1 cup Soy Sauce
½ cup Balsamic Vinegar
4 cloves of garlic (chopped)
½ cup brown sugar
Pork rub (pre-packaged)
Horseradish sauce for dipping-optional)
Instructions
Combine soy sauce, balsamic vinegar, garlic and brown sugar together.
Pour over pork tenderloins and marinate at least 4 hours or overnight.
Turn meat over every so often to distribute the marinade.
Take the tenderloins out of the refrigerator about 10 mins before you are ready to grill.
Heat grill to med-high heat and cover with foil.
Place tenderloins on grill and sprinkle with rub.
Grill for 7 mins on all four sides=28 mins total.
Take off of grill and cover with foil to keep warm -the meat will continue to cook.
Slice and serve!
Notes
This recipe is adapted fromThe Grilling Companion. http://www.grillingcompanion.com/grilled-pork-tenderloin/