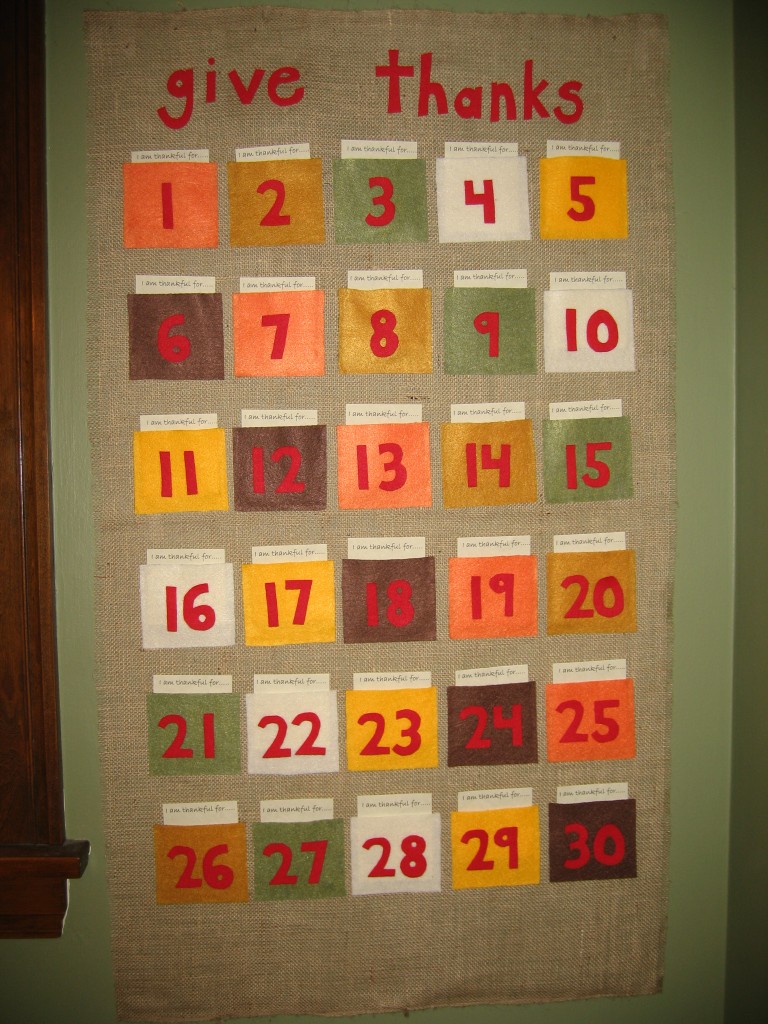 I was talking with my dear friend Katina the other day and she mentioned that she just finished making a "Give Thanks Calendar" with her children. Not knowing what this was, I was intrigued! She was so kind to put together a post for me to share …..I will let her take us though this beautiful craft. 
She writes:
I decided this year that I wanted to start a Thanksgiving tradition with my children.  I was inspired to create this "Give Thanks Calendar" for the month of November.  It's so easy sometimes to focus on negative things and complaining, so I wanted to do something to help turn that mindset around for my family and have thankful attitudes.
  "Give thanks in all circumstances, for this is God's will for you in Christ Jesus."

—1 Thessalonians 5:18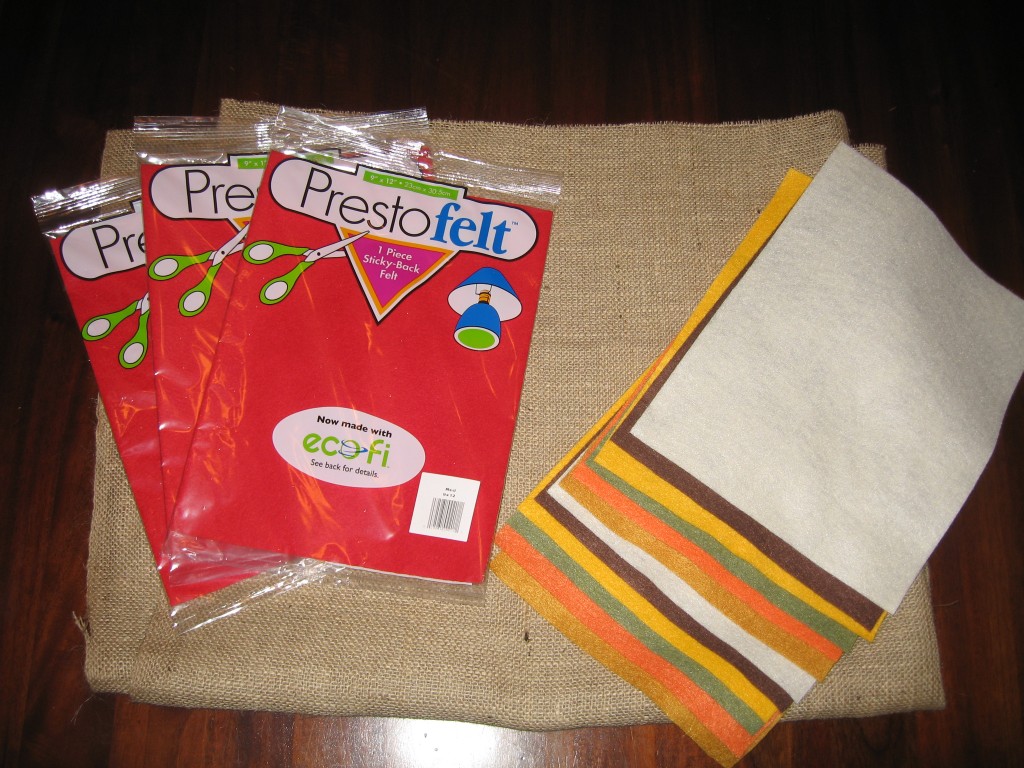 I went to the local craft store and bought one yard of utility natural burlap fabric, an assortment of colored felt, three packs of Prestofelt (felt with a sticky back), and poster strips.  You can use any kind of fabric…..I chose utility fabric because I like the look of it and it's really cheap!  It cost about $14 for all of the supplies.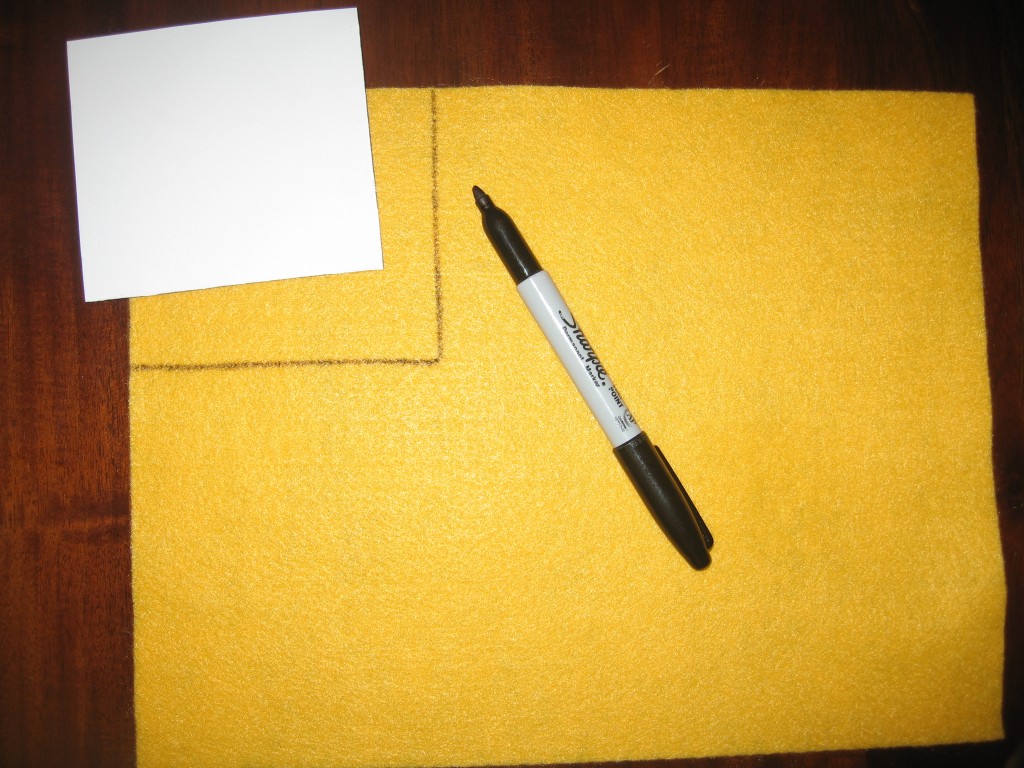 Cut out a 4×4 square and trace with a marker on the colored felt.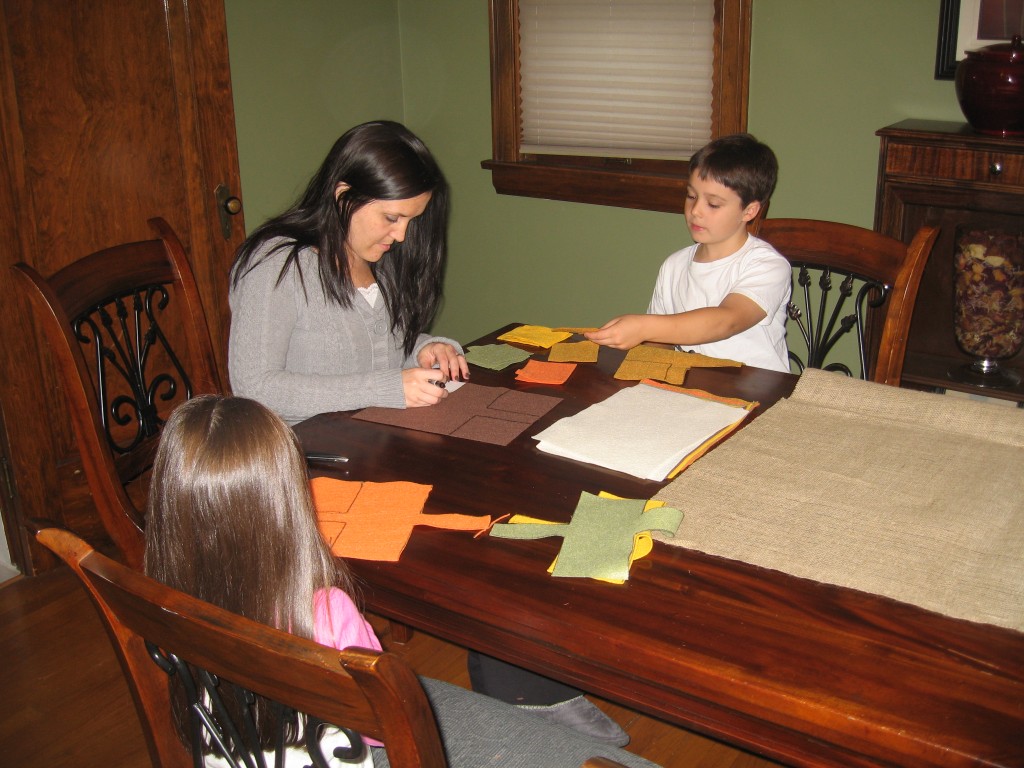 Depending on the ages of your children, this is a great step to have the kids help out with.  I traced all the squares and my children cut them out.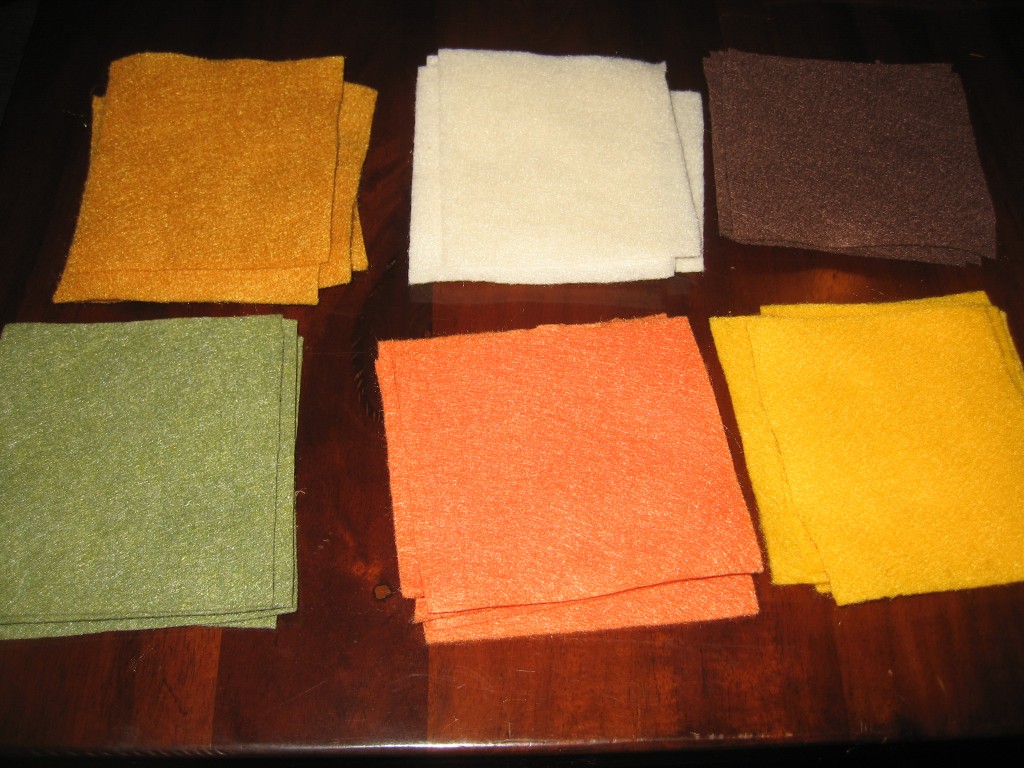 Make 30 squares for the month of November.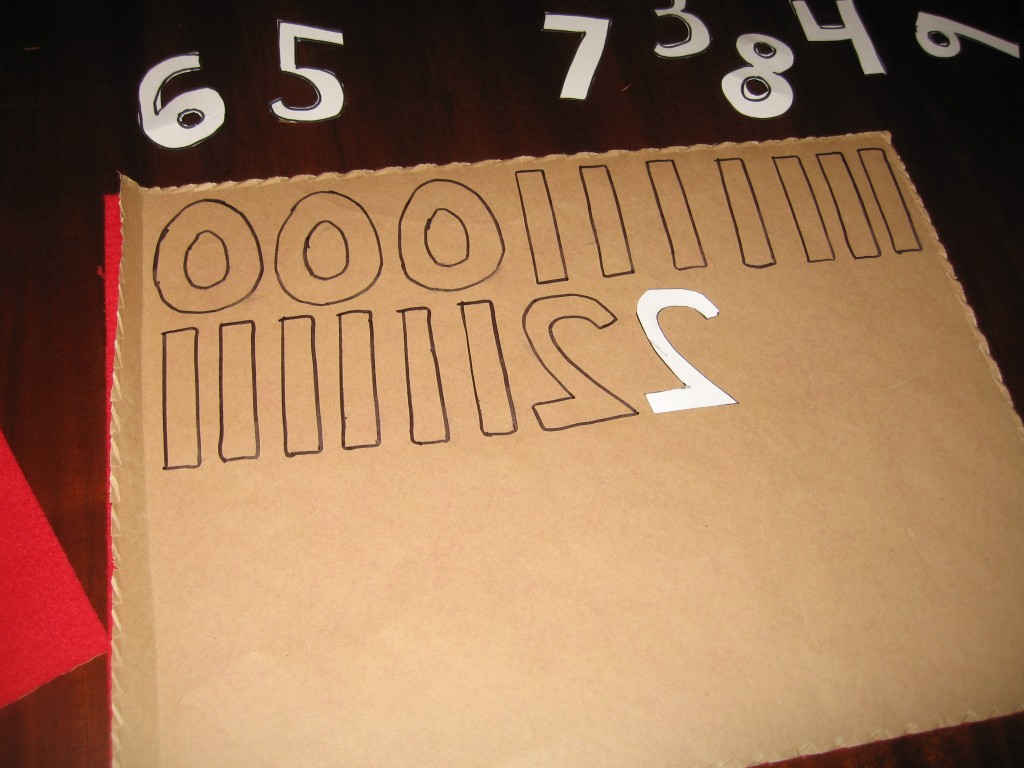 I drew my numbers by hand and traced them onto the back of the Prestofelt.  To make it easier, you can print off numbers from the internet or use a cricut machine if you have access to one.  *Make sure you trace the numbers backwards on the back of the Prestofelt.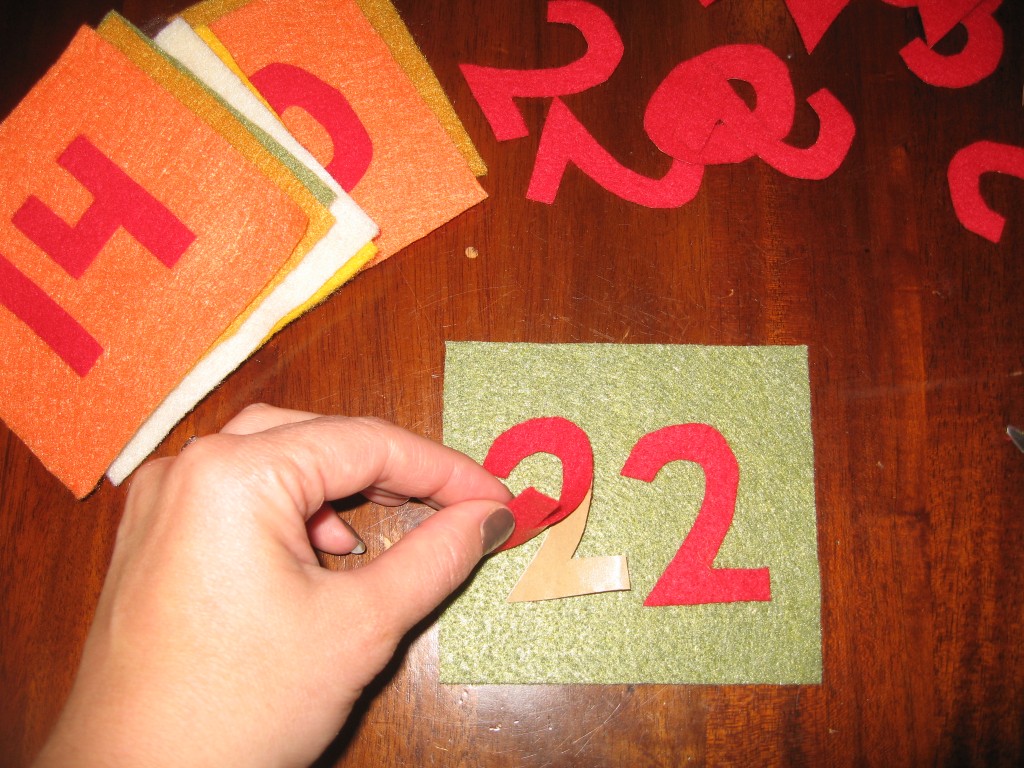 Peel the numbers off and place them on the 30 squares.
Before you glue the squares on, center them on the fabric to your liking.  I chose to make mine more vertical because of the space on my wall.  Cut off any extra fabric.
The great thing about utility fabric is that you can fray the ends to give it a different look.  Start on the bottom and take a couple strings and pull upwards.  Or you can leave it as is…whichever you prefer!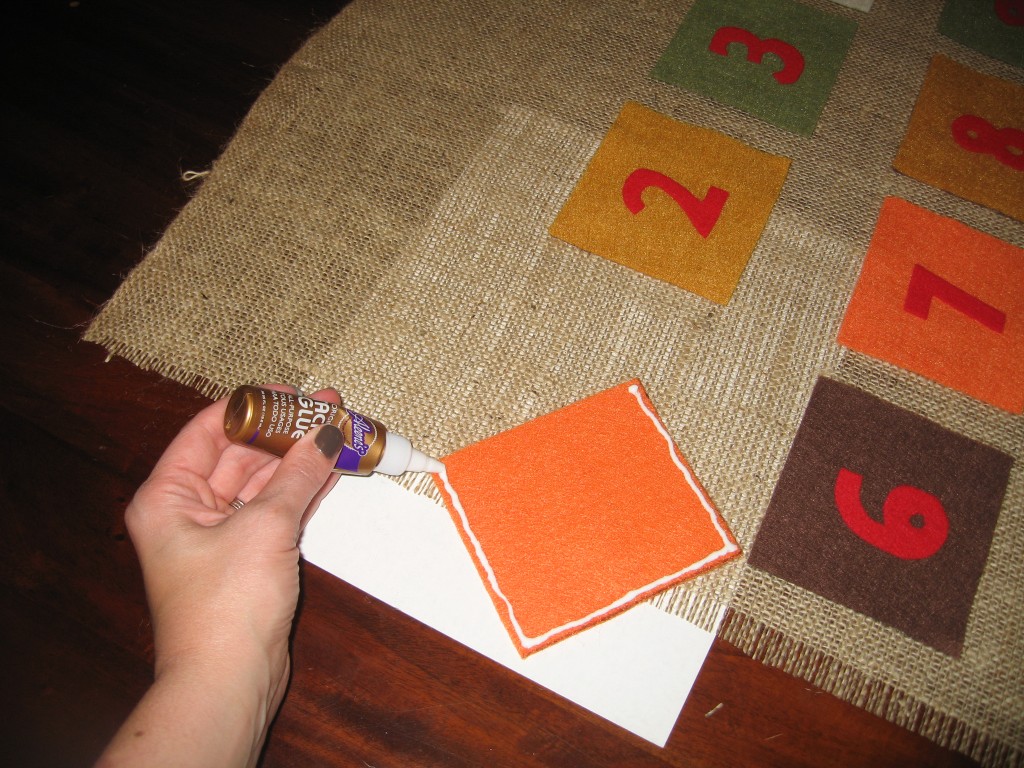 I used tacky glue to glue each pocket on.  If you're using utility fabric, make sure you put a piece of cardboard or paper underneath the fabric so that the glue does not get on the surface under the fabric.  Just keep moving the cardboard/paper along the way as you glue each pocket on, so that they don't adhere to the piece of paper underneath.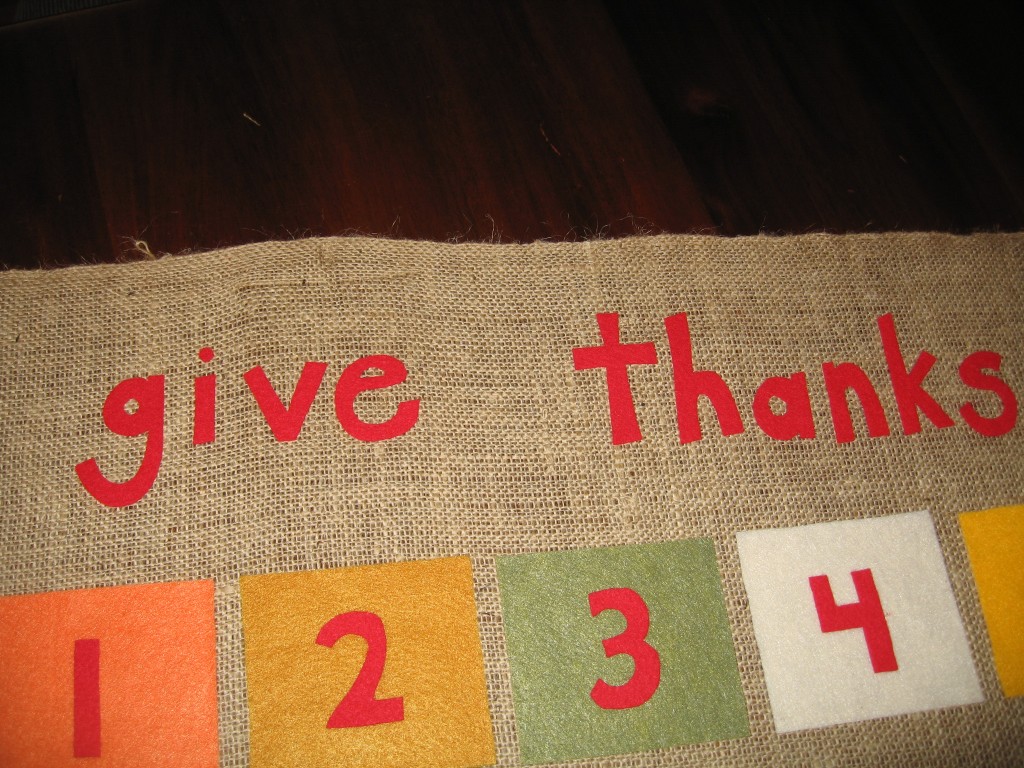 I used the Prestofelt again to cut out the words 'give thanks'.  Make sure you trace the letters backwards on the back of the Prestofelt.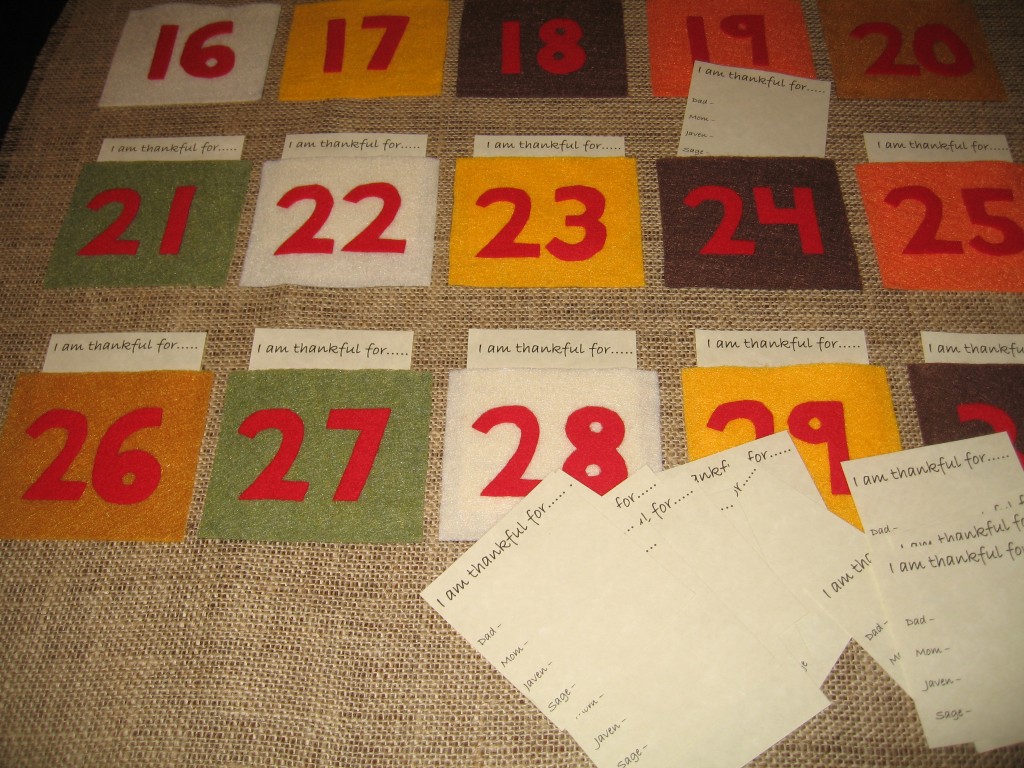 Make 30 squares of paper to insert into every pocket with your family's names on each of them.  For each day in November, you will pull out the "thankful" paper and each family member will write down what they are thankful for.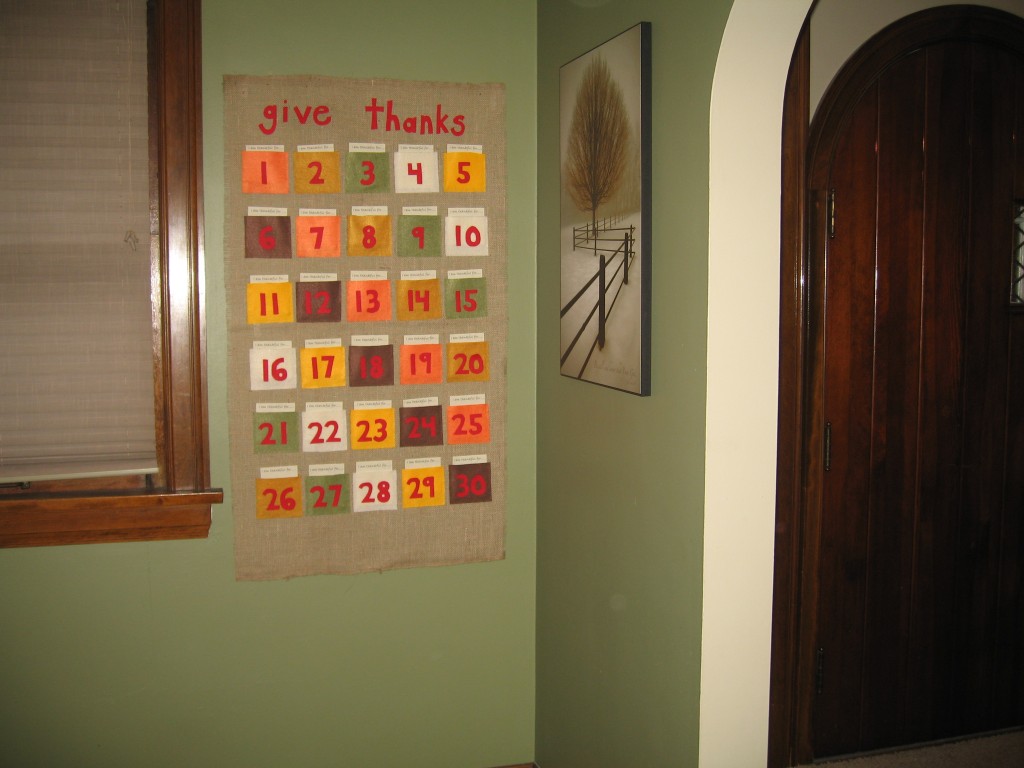 Once everything is dried, find a spot that works for your family to hang up the calendar.  I used Damage-Free Hanging Poster Strips to apply the calendar to the wall, so that it can easily be removed.
I will be praying that this will be a blessing to each of your family's and help each of us to get in the habit of being thankful every day of the year!!
"Enter his gates with thanksgiving and his courts with praise; give thanks to him and praise his name."

                   –Psalm 100:4
Dear Katina, I can't thank you enough for taking the time  and energy to share this with me and all the women out there  reading. What an important reminder it is to us moms to take the time to teach our children the beauty of thanksgiving. There is so much to be grateful for in our lives and so often we take advantage of it all because of the hustle and bustle…children and grown-ups alike.  Love you!
I hope you ladies will enjoy this craft with your children in the month of November!!!! This is the perfect time to start gathering up supplies. I will be saving all the cards my children write out and placing them in their baby books….what a great craft.
This craft is featured on All FreeHolidayCrafts.com!