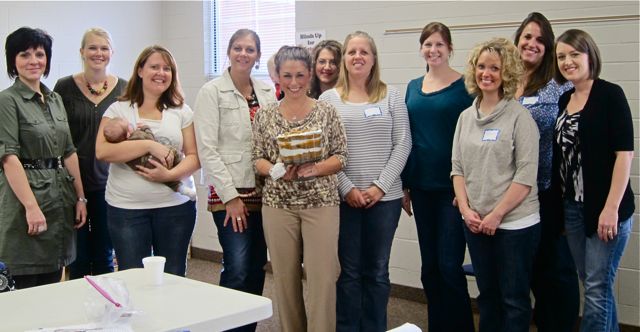 I had the blessing of being invited to speak at our church's MOPS (Mother's Of Pre Schoolers) group today! The topic? Holiday Meal Planning! Wohoo! I had such a great time with these sweet moms. They were so great at asking questions and participating.
The Key Topics:
Choosing Your Menu: The "givens" are a salad, a bread, a dessert. Then choose a meat, starch (potato, rice, etc) and vegetable. You can have more than one of these, but make sure to have at least one of these when entertaining.
Ask for Help! No one can do everything, but everyone can do something! Ask family members to bring their "signature dish" or even let them know what you need made. Many times people enjoy making and bringing something.
Grocery Planning: Make a list of your recipes and ingredients- mark down the items that you do not have stocked. Double check the items you do have stocked (ex. flour). If you are buying a turkey for Thanksgiving- Make sure to start thawing it in the fridge 4 days in advance!
Prep– MANY things can be made the night before (Salads- do not add dressing or croutons until serving, desserts, and prep work such as dicing veggies) or the morning/afternoon of ( breads, and anything that can be kept warm in the crock pot for example, green beans) Do not be afraid to use your microwave to warm things up (I do this with mashed potatoes). Meats however, should ALWAYS be made last and served fresh and piping hot!
Introduced Comfy in the Kitchen's FREE online E-book for ideas! 
Then, we walked over the the kitchen for a food demonstration. I choose to make the Pumpkin Trifle because it is super easy, tasty, and looks beautiful. These girls were so happy to step in and get cookin!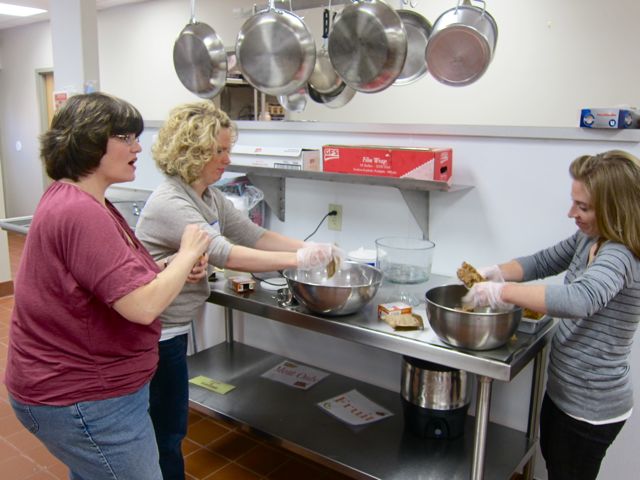 Pudding being made in one bowl and the cake being crumbled in another.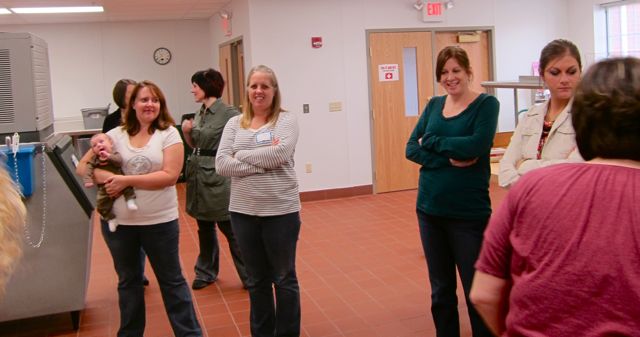 Some of the ladies watching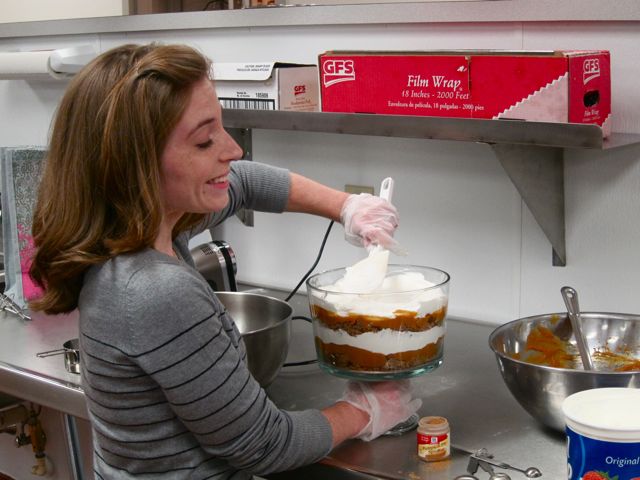 This sweet friend of mine is comfy in the kitchen! She did awesome!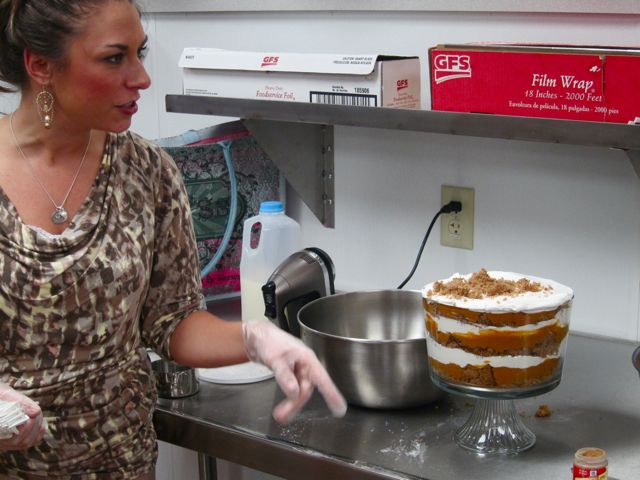 I have no idea what I'm doing and I'm never wearing that shirt again. But, I am loving the plastic gloves! LOL! Oh dear….help me.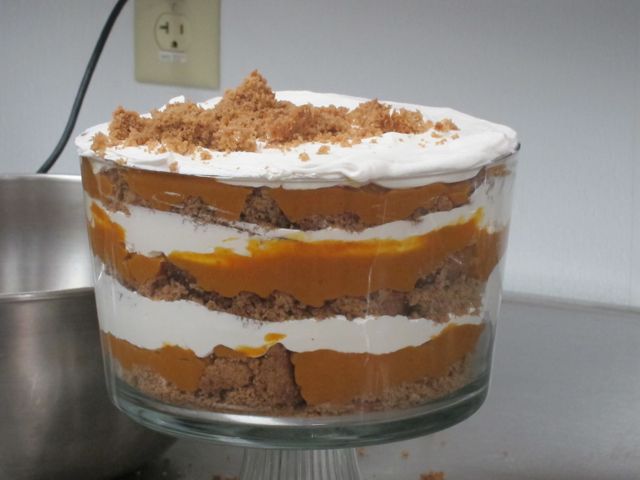 Whala!!! This Pumpkin Trifle only stayed pretty for a couple seconds before it was taken back to the room and taste tested 🙂 We had enough ingredients left over to make an extra dessert to bless a special preschool teacher in the church.
Ladies, I strongly encourage you to look up and join your local MOPS (Mother's Of Pre Schoolers) group if you are not already in one. It is a fantastic way to get out of the house and meet other moms in person. The internet is a wonderful thing, but nothing can replace real in -person relationships…By the way, many of these MOPS meetings are in churches that offer child care. (just sayin!)
Friday's Top 3
Made By: Kimberly's Notebook
Made By: Homegrown Cozy
Made By: A.Whole.New.Mom
It's a Feasting in Fellowship Link UP!
Please post as many recipes as you like. Simply add my button on the side to your post please. Tweet and FB that you are sharing on Feasting in Fellowship Fridays on Comfy in the Kitchen to get more viewers!!! Wohoo! Have a wonderful weekend ladies.