Can you BELIEVE it's November?!!! I don't know about you, but when I think of autumn I think of pumpkin pie…I love the taste, smell, texture- you name it…. I even have a candle lit reminding me of one one of my favorite treats.
My hand is raised that this is no secret recipe…credit goes out to Libby! Wohoo! But, I have found that when I don't have a lot of time I can make a delicious (and I am not kidding) 4 ingredient pie  and STILL have a  little piece of heaven.
Some may be offended that this isn't completely homemade….thankfully I covered myself by stating that I am "Comfy in the Kitchen" and not a "Chef in the Kitchen" hehehe. I am a busy mom among a million other things (anyone, anyone?) So, to be completely transparent I want you to know my tricks of getting it all done….and this pie is one of them.
Top this pie with delicious homemade whipped cream and you will be a crowd pleaser indeed! Enjoy, sweet friends!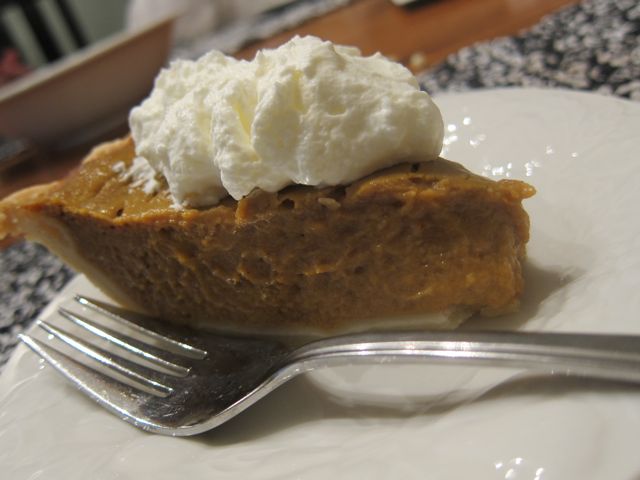 Ingredients
1 can (30 oz.) LIBBY'S Easy Pumpkin Pie Mix
⅔ cup (5 fl.-oz can) Evaporated Milk
2 large eggs, beaten
1 unbaked 9-inch pie shell (I use Marie Calendar's in your grocer's freezer)
Instructions
Preheat oven to 425
Mix pumpkin pie mix, evaporated milk and eggs in large bowl.
Pour into pie shell
Bake in oven for 15 minutes.
Reduce temperature to 350 and bake appx 50 mins more. Shake slightly to check if it is baked through.
Cool on wire rack for 2 hours.
Refrigerate before serving
Notes
Top with homemade whipped cream!
*Recipe credit goes to LIBBY'S
Want more recipes like this one for Thanksgiving? Check out The Better Mom where I am sharing my FIRST E-Book!!! It's FREE!