This recipe is excellent for feeding a crowd, a lazy Sunday, a meal ministry, or for having company over! It can be served as an appetizer, in addition to a brunch, for lunch or for dinner. Delicious and easy….you just can't ask for more than that! I made these for friend this week and for my step-dad who had surgery. He texted me stating that these were his new favorite sandwiches! (and HE is picky, hehe).
* A special thanks my friend Faith for this yummy recipe that was placed in my mailbox 😉
Make ham and cheese sandwiches with dinner rolls.
In a medium saucepan add 1/2 cup butter, 2 Tbsp mustard (yes, the kind you put on hotdogs), 1 Tbsp Worcestershire, 1 Tbsp poppyseeds, 1/3 cup brown sugar.
Bring to just boiling over medium heat.
Pour sauce ONTOP of sandwiches, cover with foil and bake in a 350 oven for appx 20 mins. YUUUUMMM!!!! A sweet yet buttery flavor will soak into your sandwiches …who doesn't love sweet and savory? A winner recipe girls! You have to try this one!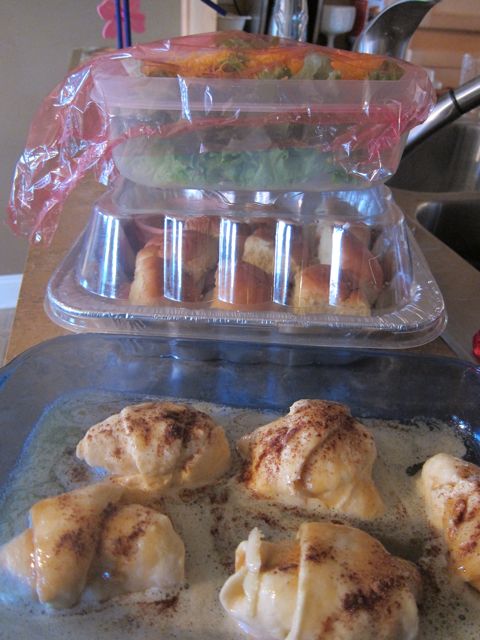 Here is the meal I sent home with my mom to my Step-dad (his second knee replacement, owch!) Unbaked ham and cheese sliders with sauce on the side and baking directions, a simple salad (the way he likes it), and unbaked apple dumplings.
Poppyseed Ham and Cheese Sliders
Ingredients
1 lb deli ham thinly sliced
½ lb baby swiss cheese
2 pkgs (24 count total) dinner rolls
½ cup butter
2 Tbsp prepared mustard
1 Tbsp Worcestershire
1 Tbsp poppy seeds
⅓ cup brown sugar
Instructions
Make sandwiches with rolls, ham and cheese -fill a 9x13 pan with these (you can squeeze them in)
In a medium sauce pan on the stove bring to a soft boil: butter, mustard, worcestershire, poppy seeds, and brown sugar.
Pour sauce over top of sandwiches
Cover with foil and bake at 350 for appx 20 mins
style="display:inline-block;width:250px;height:250px" data-ad-client="ca-pub-9840836411947727″ data-ad-slot="1996367497″>