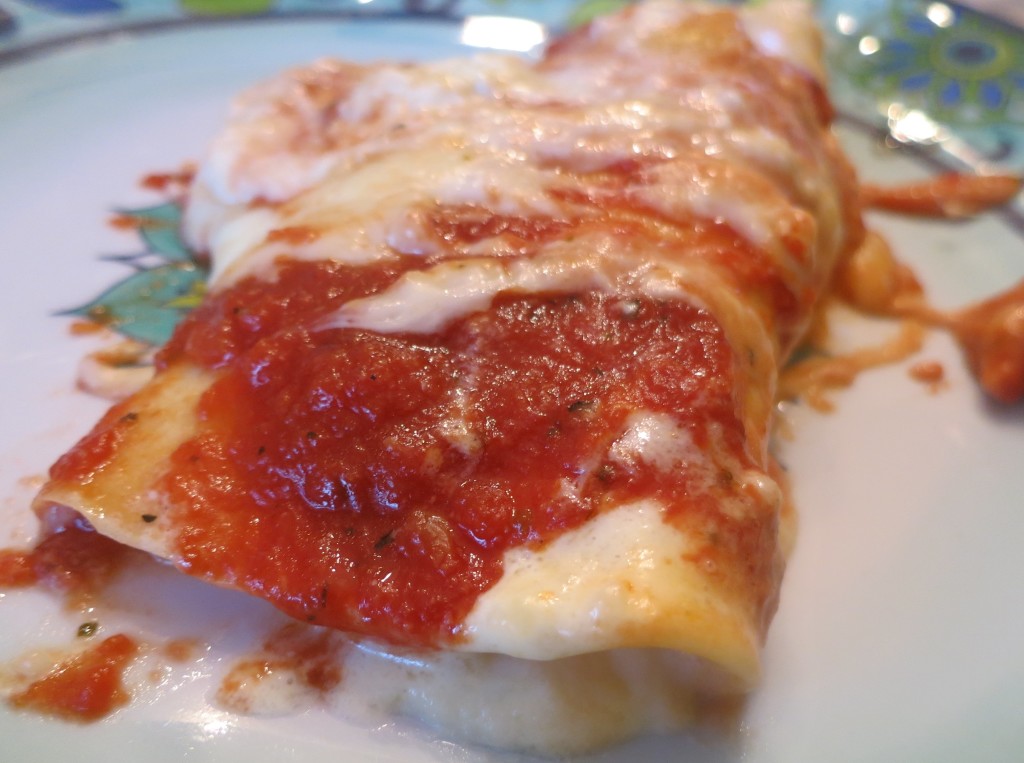 Hi Ladies, Well…tis the season for special guests and dinner parties. I wanted to share with you an amazing recipe that I believe will be memorable for anyone dining. This manicotti isn't typical because it is made with homemade egg-based crepes.
Now, if you've made crepes in the past and are concerned, don't be. These crepes don't stick to the pan and are so quick and easy to make and assemble. They make a world of difference in comparison to the typical manicotti noodle.
The crepes have a soft, delate texture that pairs beautifully with the creamy cheese filling and the mix of both homemade Alfredo and Spaghetti Sauce.  You'll be asked to make this again and again. Enjoy.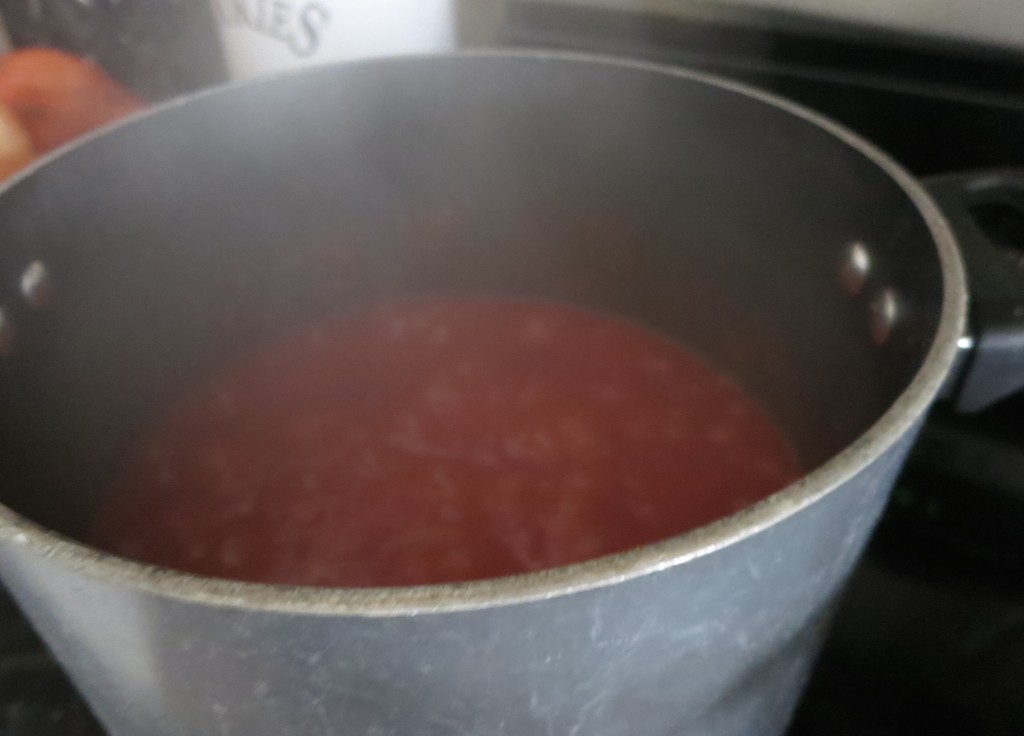 Make up a batch of Grandma Ruth's Spaghetti Sauce. Or, you can used your favorite jarred sauce (not judging).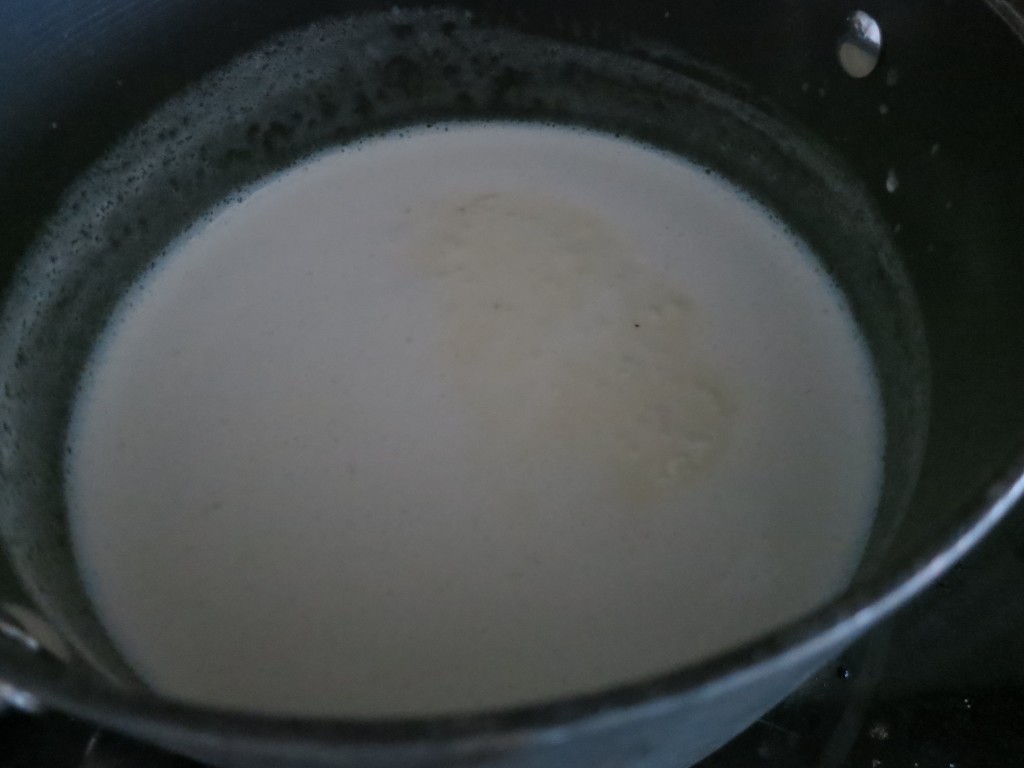 Then make a batch of Homemade Alfredo Sauce (super easy- I do suggest this to be homemade because it makes a huge difference).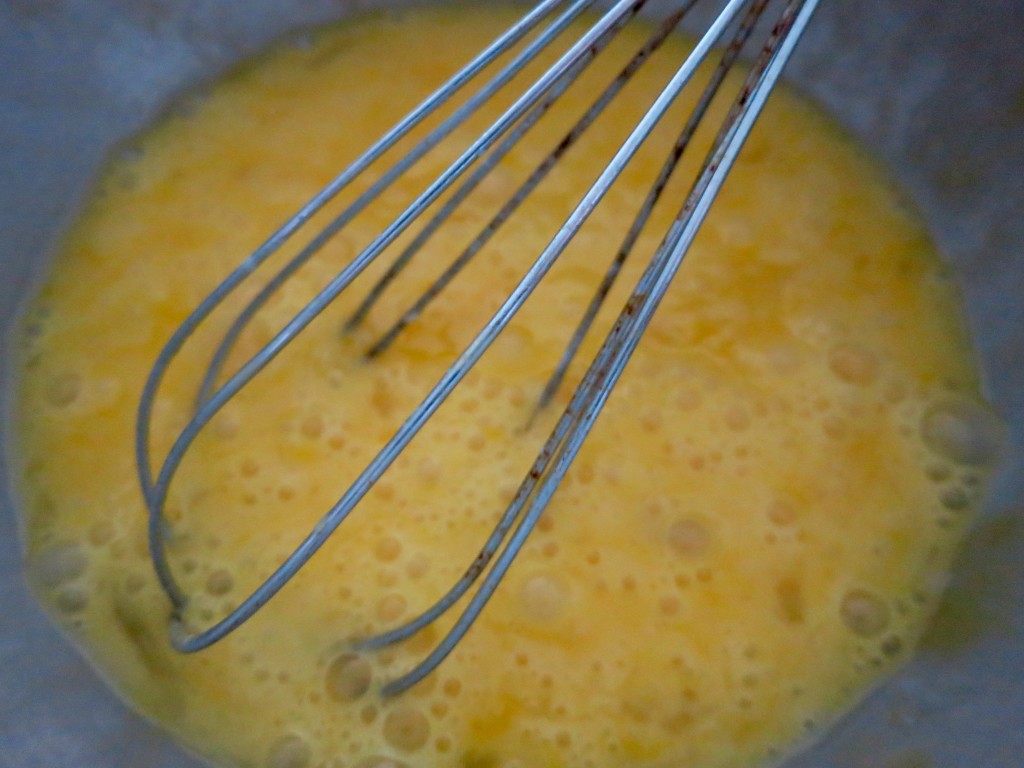 Start making your crepes….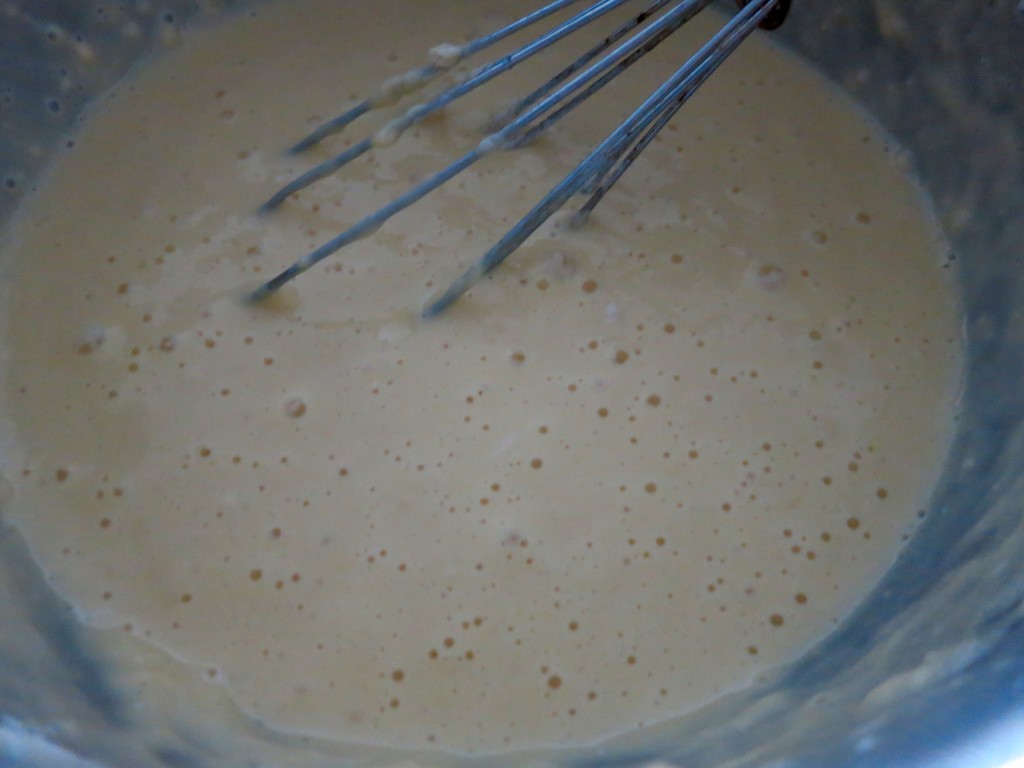 Whisk together the eggs, water, flour and sugar and let sit in the refrigerator for a half hour.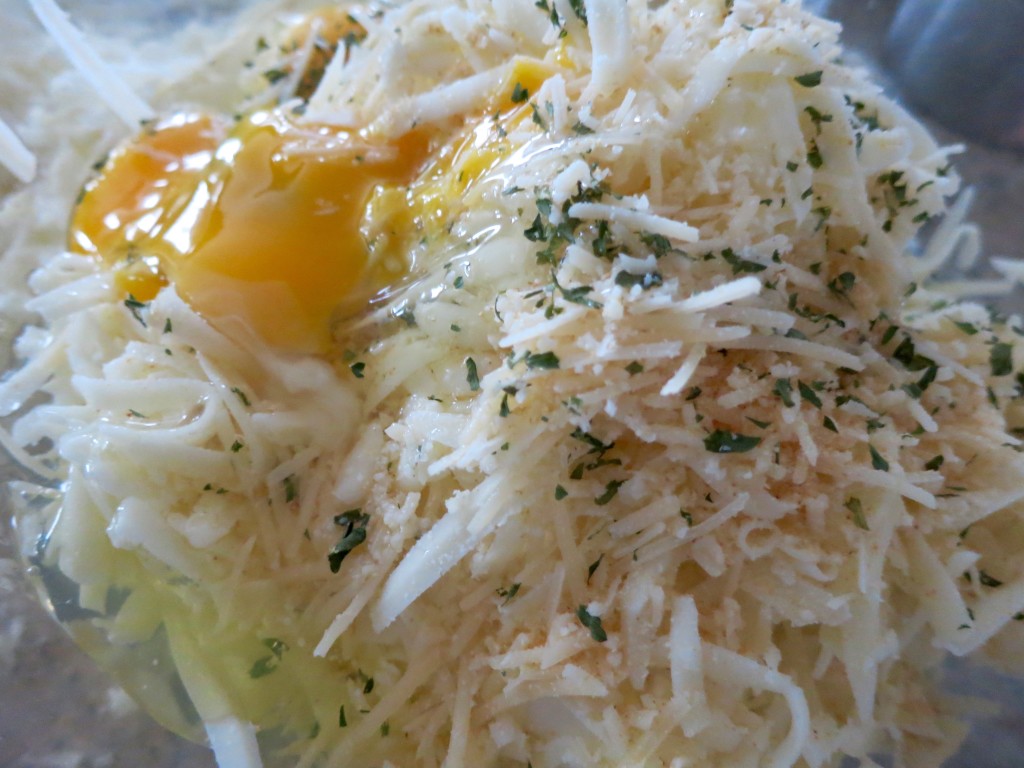 For filling, in a medium bowl mix together eggs, ricotta cheese, parsley, mozzarella cheese and fresh parmesan. Set aside.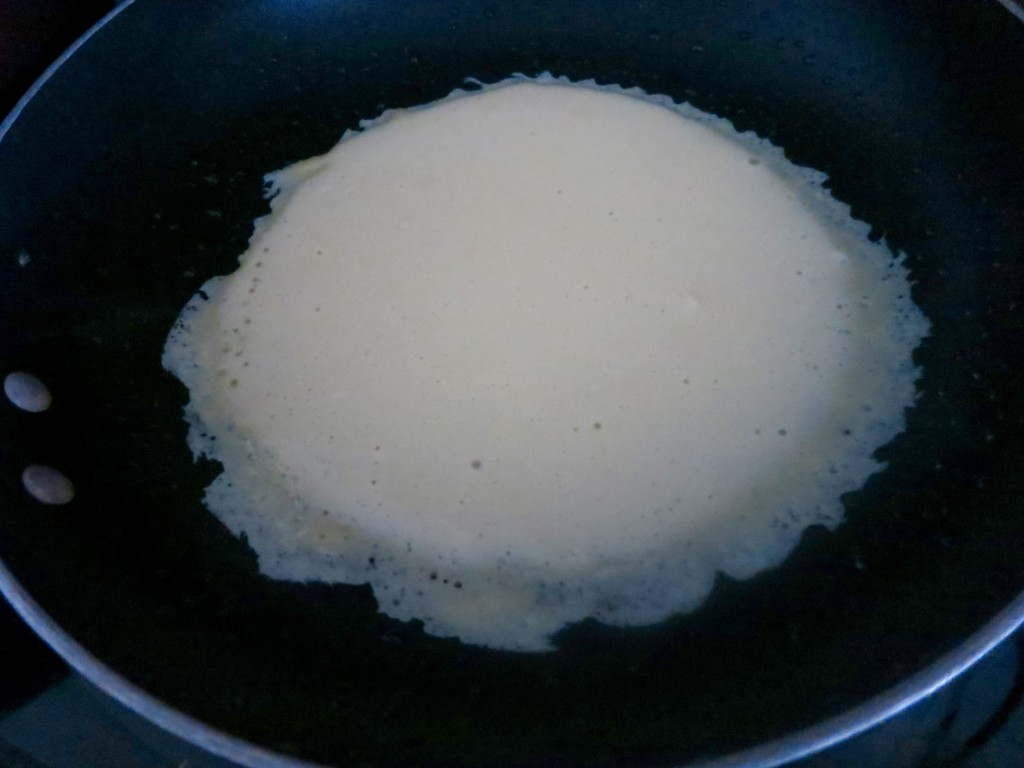 Lightly oil a 6″ pan and heat over medium high heat. Ladle about 1/2 cup of batter into pan and swirl around. Cook and flip. Repeat- this makes about 10-12 crepes.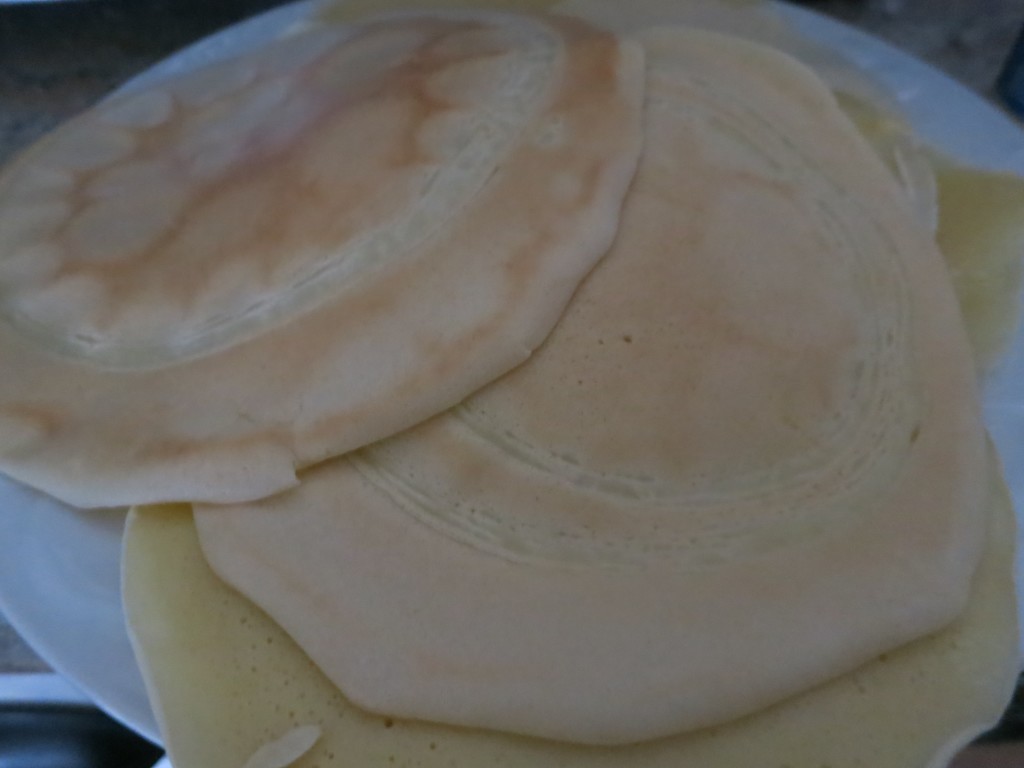 Again, this crepe recipe is super easy and quick. Stack them up on a plate- they will not stick together and they don't tear apart easily. They work excellent.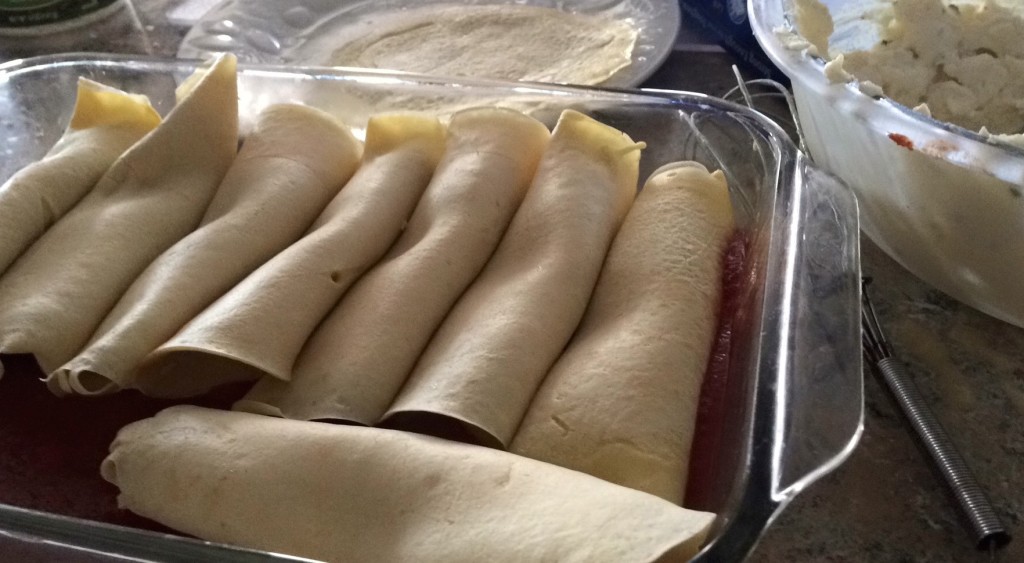 Fill the center of your crepes with cheese mixture and roll up. Ladle spaghetti sauce at the bottom of a 9×13 pan, then fill up with your prepared manicotti. Top with both sauces, mozzarella and parmesan cheese. Cove and bake at 350 for 40 mins until bubbling.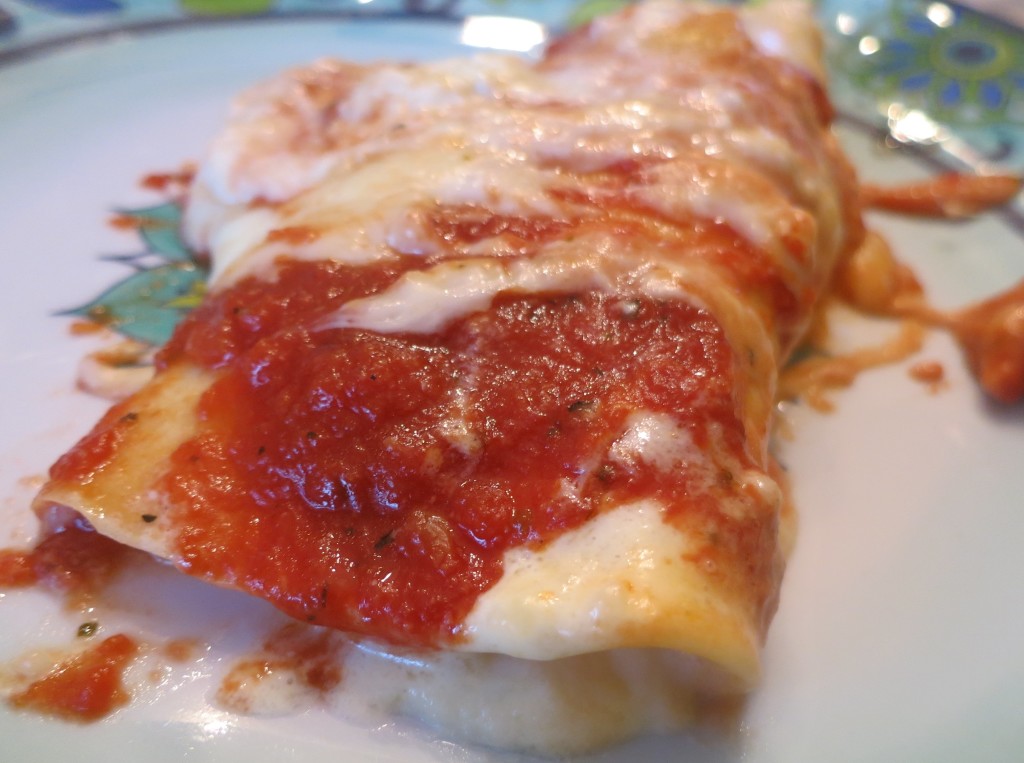 One of the best things you'll ever taste….my mouth is watering reliving how good this was.

Three Cheese Manicotti with Homemade Crepes
Ingredients
Crepes:
6 eggs
1½ cups water
1½ cups flour
½ tsp salt
1 Tbsp sugar
Filling:
2 Lbs Ricotta
2 cups freshly shredded mozzarella
1 cup parmesan
1 tsp parsley
2 eggs
1 Batch Grandma Ruth's Spaghetti Sauce
1 Batch Alfredo Sauce
1 cup mozzarella for topping
Instructions
Crepes:
In a large bowl, whisk six eggs with 1½ cups of water.
Gradually add flour, salt, and sugar, whisking gently until smooth.
Cover and refrigerate for 30 minutes.
To make the crepes:
Remove batter from fridge and whisk it briefly.
Heat about ½ teaspoon vegetable oil in an 8-inch nonstick pan over medium heat. Add about a half cup of batter to the pan and coat. Cook about 30-40 seconds, then carefully flip crepe over and continue cooking for another 30 seconds. Transfer to a plate. The crepes will not stick together. Repeat with remaining crepe batter, you should not need any additional oil.
Cheese Filling:
In a large bowl, combine ricotta, mozzarella, Parmesan, two eggs, parsley, 1 teaspoon salt and pepper.
Assembly:
Spread 3 to 4 tablespoons filling down the center of a crepe. Roll it up and place it, seam-side-down in a 9x13. Repeat with remaining crepes and filling. Ladle both sauces over top of manicotti, add mozzarella and parmesan cheese. Cover and bake 350 for 40 mins until bubbling.